If you have tried Cheesecake Factory's pumpkin cheesecake and wondered how you could recreate it at home, you can put your curiosity to rest. This copycat Cheesecake Factory pumpkin cheesecake recipe makes a great version of the menu item. Our take also has an irresistible cinnamon-flavored graham cracker crust and a creamy pumpkin filling. When adorned with whipped cream, it will have everyone at the table humming with delight! 
We guarantee that this pumpkin cheesecake recipe from Cheesecake Factory is one of the best fall dinner ideas worth trying at home. For the ultimate sweet ending to your meal, enjoy this dessert alongside a glass of Starbucks pumpkin spice latte.
What's in Our Copycat Cheesecake Factory Pumpkin Cheesecake?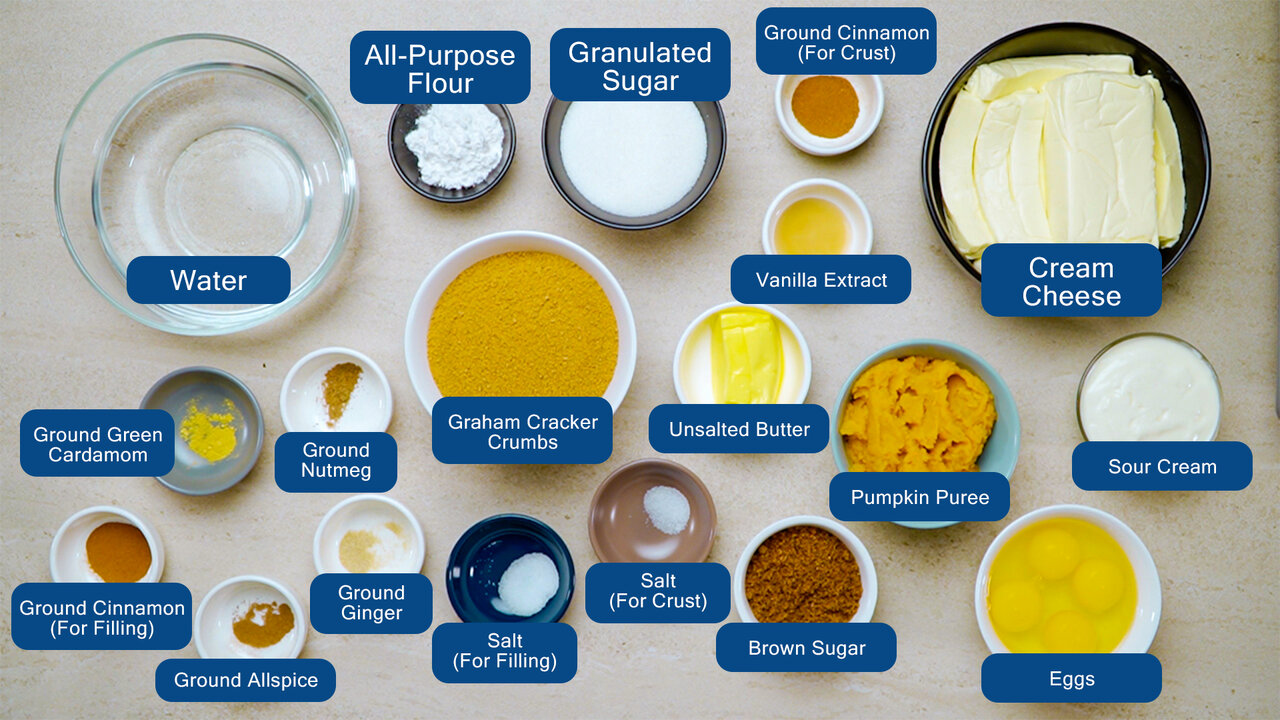 It's no question that you can find some of the best cheesecakes at Cheesecake Factory. Among our favorites is their best-selling pumpkin cheesecakes. It's full of pumpkin flavor, impressive, and what's more, it's so easy to put together. It's undoubtedly the best pumpkin cheesecake recipe for Thanksgiving ever!
Here are the ingredients you need to make Cheesecake Factory's pumpkin cheesecake:
Graham Cracker Crust

– To make the crust, we combined

graham cracker crumbs

,

unsalted butter

,

ground cinnamon

, and a dash of

salt

. 

Cream cheese

– We highly suggest using full-fat cream cheese for a more delicious result. And make sure to buy a high-quality brand! 

Eggs

– To give the cheesecake a smooth texture. 

Sugar

– We used

granulated

and

brown sugar

for this

copycat Cheesecake Factory recipe

. 

Pumpkin puree

– Use canned pumpkin puree! Although y

ou can also make a homemade version. Simply roast a small baking pumpkin, then puree it in a food processor until smooth.

Sour cream – To add a bit of tang to your cheesecake. If you don't have sour cream, go for yogurt. 
All-purpose flour

– To prevent cracks and make your cheesecake firmer and sturdier! 

Vanilla extract

– Use pure vanilla extract for better flavors. 

Fall Spices

– We used a blend of

cinnamon

,

ginger

,

allspice

,

green cardamom

, and

nutmeg

. 
Don't be intimidated by the length of this Cheesecake Factory cheesecake recipe. It might take some time, but rest assured that you can master this recipe in no time. You just have to fill the graham cracker crust with a luscious cheesecake filling. Then, bake the cheesecake in a water bath. Don't forget to let your pumpkin pie cheesecake cool for 6 hours up to overnight before serving!
Tips for Making Cheesecake Factory Pumpkin Cheesecake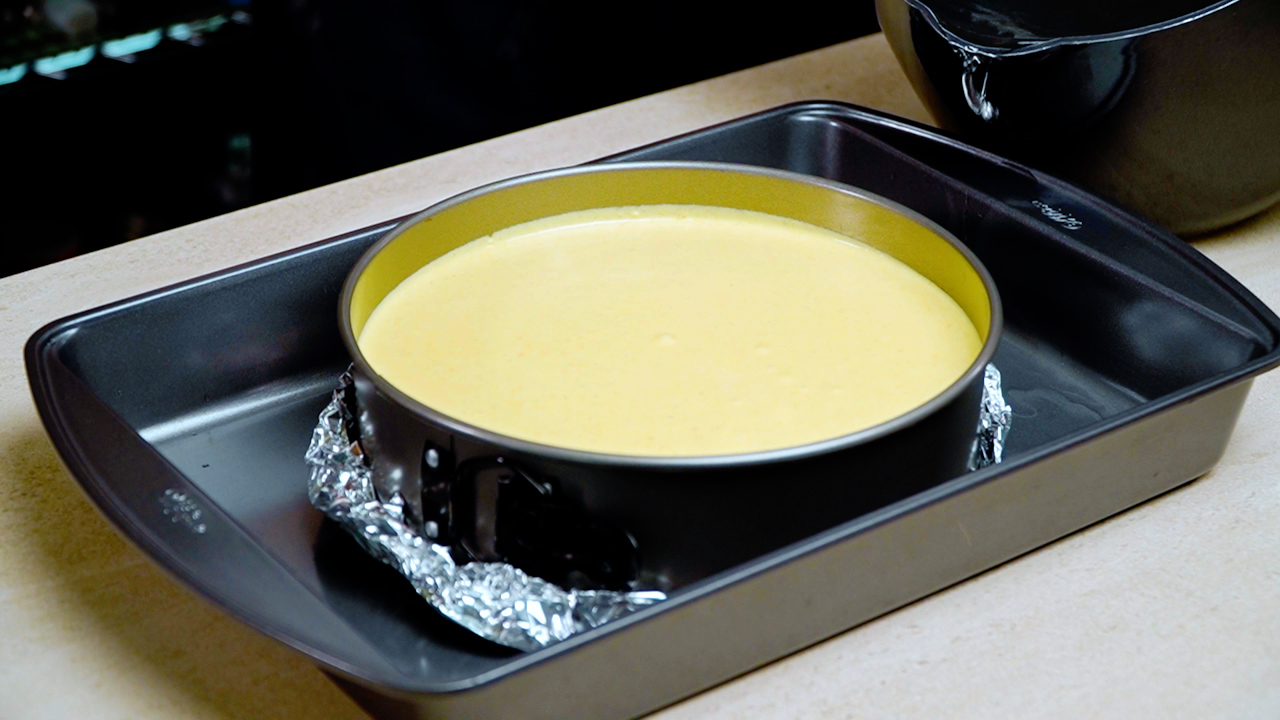 Pumpkin cheesecakes, alongside desserts like crustless pumpkin pie, are a classic fall dessert. Pumpkin cheesecake is actually a delicious cross between cheesecake and pumpkin pie. And having this recipe for cheesecake in your back pocket guarantees an impressive holiday dessert every time. Each bite is seriously delicious and worthy of any celebration.
Here are some tips to make the best cheesecake at Cheesecake Factory:
For better results, avoid using ingredients straight from the fridge.

As with any baked goods,

it's best to use room temperature ingredients because they're much easier to blend. This will certainly prevent the cheesecake from forming unappealing cracks.

Use sour cream for a creamier pumpkin cheesecake.

In addition to the creamy texture, sour cream also delivers an extra tang, balancing out the sweetness of the cheesecake. 

Baking the cheesecake in a water bath is a recommended must.

It ensures that your cheesecake comes out smooth and creamy.

Explore some crust options!

If you want, you can also replace the graham cracker with vanilla or chocolate wafer cookies. Gingersnap crust, meanwhile, has a delicious crunch that pairs well with creamy cheesecake filling. 

Add a layer of pecan filling to make the ultimate fall dessert!

Cheesecake Factory's pumpkin pecan cheesecake

combines pecan and pumpkin pie in one heavenly dessert.

Spruce up your cheesecake with various cheesecake toppings.

This pumpkin cheesecake is already delicious on its own. But it's even more decadent when you top it off with whipped cream. Make it over-the-top impressive by drizzling caramel sauce or chocolate ganache on top.
With just one bite, you will see why this copycat Cheesecake Factory pumpkin cheesecake recipe is worth the effort. Want to try other mouth-watering Cheesecake Factory cheesecake flavors? You might want to start with their original cheesecake recipe. Their strawberry cheesecake with strawberry glaze topping is also a showstopper!
Frequently Asked Questions
How many calories are in a pumpkin cheesecake from Cheesecake Factory?
Generally, one slice of Cheesecake Factory Pumpkin Cheesecake contains 680 calories. Meanwhile, a whole serving can contain up to more than 1000 calories, most of which come from fat.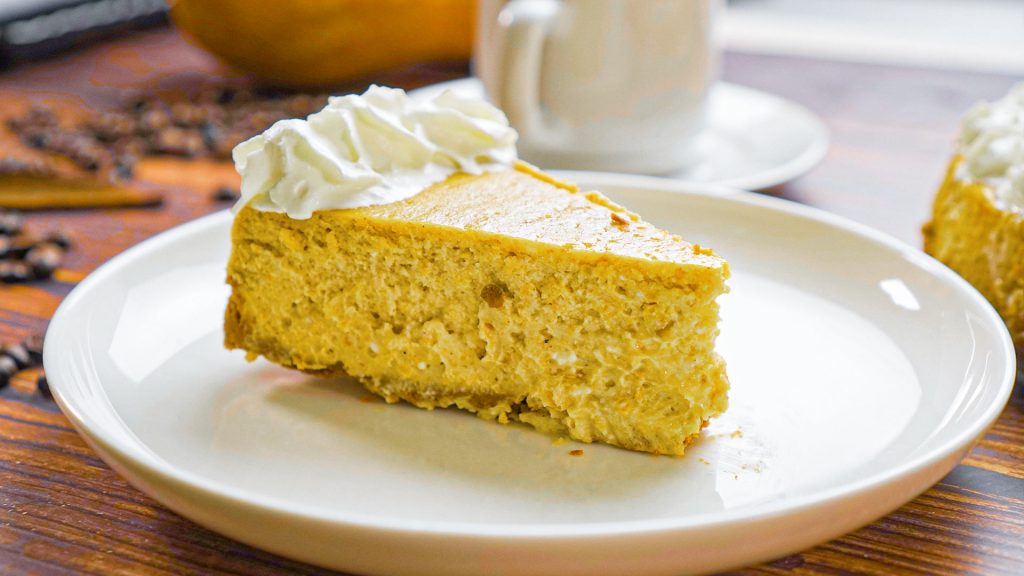 Copycat Cheesecake Factory Pumpkin Cheesecake Recipe
How To Make Copycat Cheesecake Factory Pumpkin Cheesecake
Save a few bucks by making this Cheesecake Factory pumpkin cheesecake recipe at home. Top with whipped cream or drizzle it with caramel for the ultimate Thanksgiving and fall dessert!
Ingredients
For Crust:
1¾

cups

graham cracker crumbs

½

tsp

ground cinnamon

⅛

tsp

salt

4

tbsp

unsalted butter,

at room temperature
For Filling:
⅓

tsp

salt

1½

tbsp

all purpose flour

⅓

tsp

ground cinnamon

⅛

tsp

ground ginger

⅛

tsp

ground allspice

⅛

tsp

ground green cardamom

⅛

tsp

ground nutmeg

1½

lb

cream cheese,

at room temperature

½

cup

brown sugar

¾

tbsp

granulated sugar

¾

cup

pumpkin puree,

preferably from a can (avoid pumpkin pie filling)

½

cup

sour cream,

or yogurt

4

eggs

1½

tsp

vanilla extract
To Serve:
Instructions
Crust:
Combine all the ingredients for the crust in a large mixing bowl. Mix until the texture resembles wet sand.

Press the mixture onto the bottom of a 9-inch springform cake tin and set it aside in a chilled area. Allow to firm up for at least 1 hour. Ensure that the sides are much thicker than the bottom base.
Filling:
In a small bowl, sift together the salt, flour, and all the dried spices. Set aside.

In a mixing bowl attached to a hand beater, add the cream cheese, brown sugar, and granulated sugar. Cream for roughly 5 to 7 minutes until pale and light.

Add the pumpkin puree and sour cream. Continue creaming.

Next, add the eggs and vanilla extract. Continue creaming until evenly incorporated.

Fold the sifted flour mixture into the cream cheese mixture until evenly incorporated.
To Assemble:
Preheat the oven to 300 degrees F.

Once the crust has firmed up, wrap the bottom of the cake tin with aluminum foil.

Pour the filling into the crust and spread evenly. Lightly tap to release any air.

Place the cake tin into a roasting or braising pan and pour enough hot water to cover at least ⅓ of the cake tin.

Bake for roughly 1½ hours or until a cake tester comes out clean. You may need to add more hot water in between baking.

Once the cheesecake is baked, drain from the roasting or braising pan and cool at room temperature.

Once cool, set aside in a chilled area and allow the cheesecake to firm up, anywhere from 6 hours to overnight.

Once chilled and set, remove the springform brace. Portion accordingly and garnish with roughly ½ ounce of whipped cream per slice before serving.

Serve and enjoy!
Recipe Notes
Don't overmix the cheesecake batter!

Overmixing introduces too much air into the batter, causing it to fall and crack.

Once done baking, shake the pan gently while keeping an eye on the cake's center and edges. The perfect cheesecake should have firm, puffed-up edges and a jiggly center.
Nutrition
Sugar:

23g

:

Calcium:

146mg

Calories:

558kcal

Carbohydrates:

37g

Cholesterol:

191mg

Fat:

42g

Fiber:

1g

Iron:

2mg

Monounsaturated Fat:

11g

Polyunsaturated Fat:

2g

Potassium:

265mg

Protein:

10g

Saturated Fat:

23g

Sodium:

563mg

Trans Fat:

1g

Vitamin A:

5101IU

Vitamin C:

1mg
Nutrition Disclaimer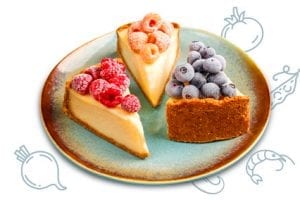 Conclusion
This Cheesecake Factory pumpkin cheesecake recipe yields the perfect pumpkin cheesecake. Silky, creamy, and delicious. It's gorgeous when crowned with some whipped cream and caramel sauce. Perfect for fall dinner parties, Thanksgiving, and other occasions!