No need to drive by the nearest Sonic Drive-in thanks to our Original Sonic Onion Ring Recipe! With this recipe, we'll show you how to make onion rings just like the ones served at Sonic's. Although they're a fast-food chain that's more famous for their staple food like hamburgers and French fries, many people also love their take on deep-fried onions.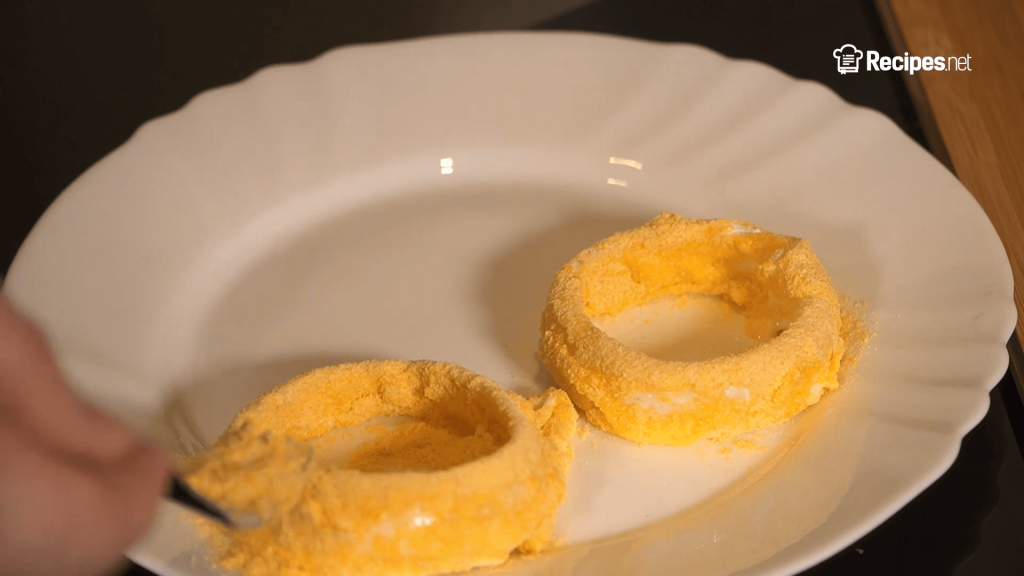 Different Identities of Onion Rings
Onion rings are a popular and favorite snack enjoyed at fast-food restaurants, carnivals, and even at the cinemas. Sometimes they're served as side dishes, accompanying burgers, pizza, sandwiches, seafood meals, as well as beer. Other times, they're eaten as a main dish.
You can find fried onions in places like the U.S., Canada, UK, as well as South Africa, Latin America, and some parts of Asia. Needless to say, these crispy onions are a popular dish that many parts of the world enjoy. As a result, many places have their own onion ring recipe. Some versions use a different kind of onion, and also have a different onion ring batter recipe.
One popular onion ring recipe uses beer batter to make the fried onions tastier and crispier. That's because the beer's chemical composition—from the carbon dioxide to the alcohol—helps boost the flavor and ensures that the batter is fried perfectly. If you're interested in finding out what it tastes like, you can try our Beer Batter Onion Rings Recipe. While some eateries serve fried onions coated in beer batter, Sonic's popular crispy onions snack uses a totally different ingredient for its onion ring batter recipe— melted ice cream!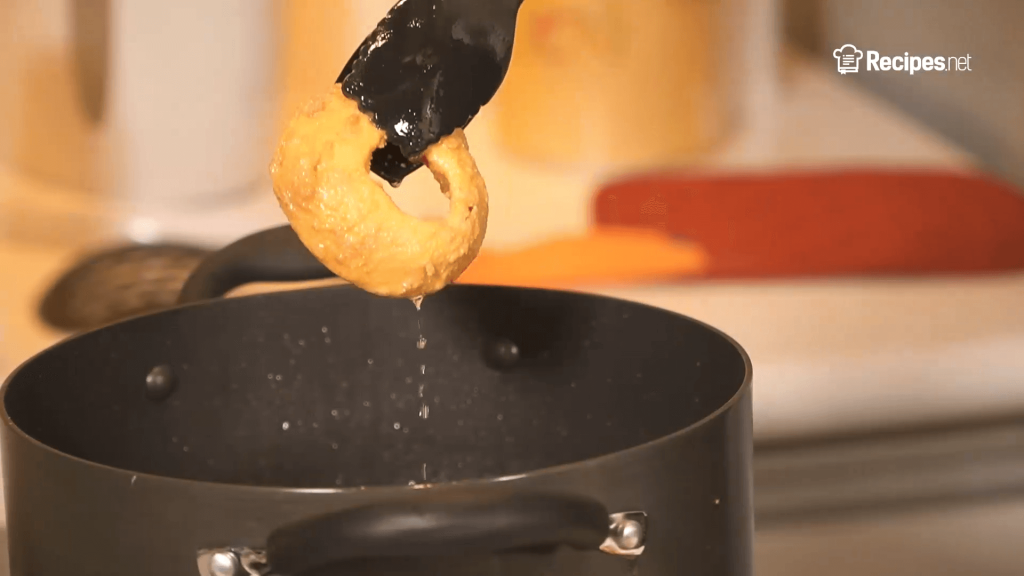 How To Make Sonic Drive-In's Onion Ring Recipe
Most onion rings taste savory because of its delicious, deep-fried batter. But Sonic's version is one of a kind because of its extra sweet taste! It's all thanks to their creative use of melted ice cream, as well as cornbread for breading. Because of this, Sonic's fried onion snacks have become a fan-favorite among many customers. And who wouldn't love these addicting onion treats? Nothing beats the feeling of eating still-hot onion rings that are fried to a crisp, golden-brown finish.
That's why in this recipe, we show you how to recreate Sonic's sweet onion snacks. With our recipe, you can chow down on homemade onion rings anytime you have a craving. Making it is easy as pie, and you only need 4 simple ingredients to satisfy your taste buds. This deep-fried finger food is perfect for movie nights, game day, or as a fun snack to serve when friends and family come over. So if you liked this version of ours, try another popular take on this crispy snack with our Burger King Copycat Onion Rings Recipe! Pair this dish with a creamy, sweet and tangy dipping sauce to complete.

Tip:
Use vanilla ice-cream for the perfect Sonic onion ring flavor.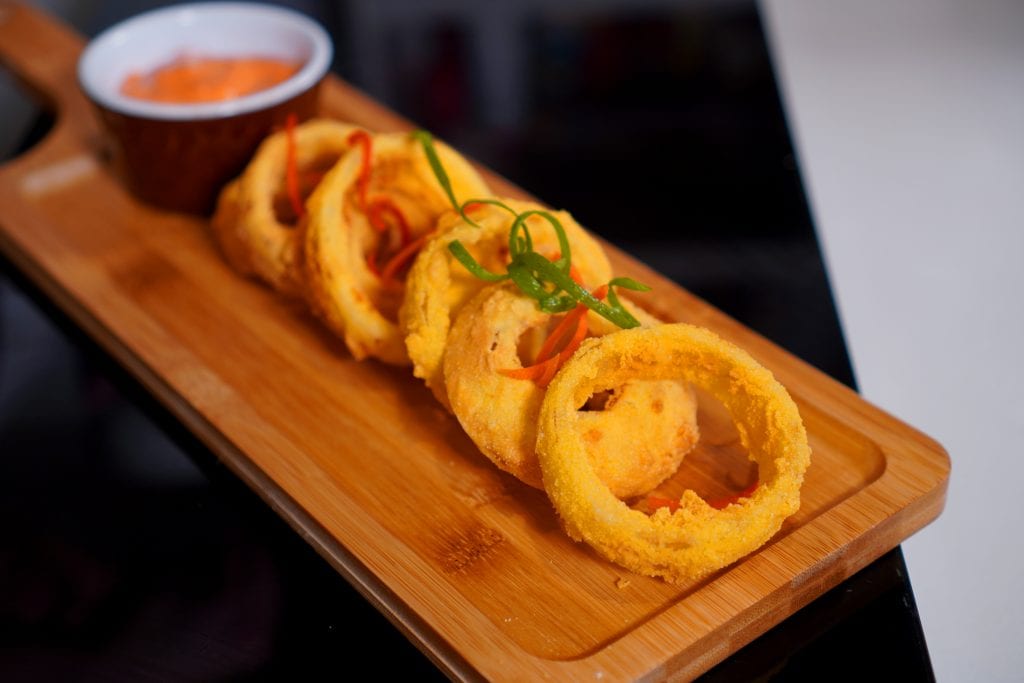 Original Sonic Onion Ring Recipe
How To Make Original Sonic Onion Ring
These crunchy and sweet copycat onion rings are worth every bite! In this Original Sonic Onion Ring Recipe, we recreate the drive-in restaurant's unique onion ring snacks.
Ingredients
12

oz

ice cream,

melted

2

cups

flour,

sifted

2

lbs

Spanish onions,

sliced into ½ inch rings and separated

8

oz

cornmeal
Instructions
Wash the sliced onions in water.

Toss the onion rings in separate bowls of flour, melted ice cream, and cornmeal, while making sure you coat them evenly.

In a large pot, heat vegetable oil to 350 degrees F.

Deep fry the onion rings in vegetable oil for 1 to 2 minutes, or until golden brown.

Drain excess oil. Arrange on a platter and garnish with bell pepper, carrots, and spring onions.

Serve while hot!
Recipe Notes
Avoid cooking too many onion rings all at the same time. When the pan gets crowded, the rings have a tendency to stick together, which can lower the temperature of the oil. Cooking them in oil that's not hot enough can result in soggy onion rings. So, it's best to be patient and to cook in batches.
Nutrition
Sugar:

29g

:

Calcium:

174mg

Calories:

712kcal

Carbohydrates:

130g

Cholesterol:

37mg

Fat:

14g

Fiber:

11g

Iron:

5mg

Potassium:

750mg

Protein:

18g

Saturated Fat:

7g

Sodium:

81mg

Vitamin A:

358IU

Vitamin C:

17mg
Nutrition Disclaimer
Frequently Asked Questions
How to cut an onion into rings?
To cut the onion into rings, first remove the stem and root ends, peel off its skin, and lay the onion on its side. Cut a thin slice off one side of the onion to create a flat side and keep it from moving as you cut. You can skip to cutting the onions immediately if you feel it's unnecessary. Place the onion flat on its cut side. Then slice the onion in the same direction as when you cut the stem and root ends. Once you've sliced the onions, pop the rings out of them and proceed to the first recipe instruction.
What can I use to substitute cornmeal?
Cornmeal is simply made up of ground dried corn kernels. Many recipes use cornmeal for the breading for its sweet taste. However, if it isn't available, there are other ingredients you can use as a substitute. You may use semolina, ground oats, or simply breadcrumbs for the onion ring batter. Although, keep in mind that these may alter the taste of your fried onion rings.
What kind of onions for onion rings?
We used Spanish onions for this onion ring recipe. Spanish onions are the most common type of yellow onions. Generally, the kinds of onions used for making onion rings are either yellow onions or white onions. In terms of taste, yellow onions taste sweeter than white onions. White onions also have a sharper taste and papery skin. However, if the first two aren't available, you may also use sweet onions or red onions as alternative ingredients.
Can I cook the onion rings using an air fryer?
Many people are now turning to air fryer onion rings since they lack the fat and calories usually found in deep-fried onion rings. For this recipe, you can swap the oil-deep pot with an air fryer to cook your onion rings. After coating the rings with batter, spritz cooking spray on the air fryer and cook your onion rings on 375 F degrees for 10 minutes. Don't forget to flip the rings halfway through while cooking.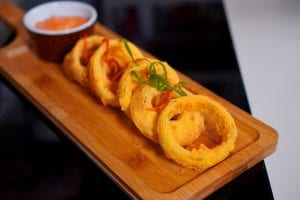 Conclusion
Our delicious onion ring recipe will satisfy any Sonic Drive-In cravings your taste buds may have. These homemade onion rings are easy to make and absolutely addicting to eat! You won't be leaving the house any time soon once you master making this yummy snack.
Topics: