"Would you like fries or onion rings with that?" is a common question we Americans use when ordering a burger. While we usually opt for fries (probably because of the extra charges), the guilty part of us wants the onion rings oh so badly! In addition, it's the calories of the onion rings we are afraid of. Onion rings are an excuse for us to just eat fried stuff to our heart's content. And one of the best fast food onion rings out there are Sonic Onion Rings. Anytime you miss their onions rings, you can easily remake them with this Sonic Onion Ring recipe right here for you!
Yes, with this simple recipe, you will be able to make this fast food favorite at your home today! That's right, we're giving you all the tricks of the trade so that you can make your fast-food favorites right at home, like this simple Copycat Culver's Fried Chicken Basket, for a perfect accompaniment to these sweet onion rings.
Furthermore, you don't have to be too exact in measuring everything out. However, making these original Sonic onion rings can be messy. Hence, we suggest trying to use one hand for dry ingredients and the other for dipping the onion rings into the melted ice cream. It will go easier this way! These are messy, but they taste so good and you will never opt for store-bought onion rings again.
Original Sonic Onion Ring Recipe Video
How To Make Original Sonic Onion Ring
This easy to make Sonic onion rings are so addictive, you're not going to want to share them with anyone!
Ingredients
12

ounces

melted ice cream

2

cups

flour

sifted

2

pounds

onions

sliced ½ inch rings

8

ounces

cornmeal
Instructions
Peel 2 lbs of Spanish onions. Slice into ½ an inch.

Separate and place the rings into a large bowl of water. Allow onion rings to soak for a few minutes before draining them in a colander.

First, dredge your onion rings in flour (2 cups). Shake to remove excess flour.

Next, dunk the onion rings in melted ice cream (12 ounces). Tip: use vanilla flavored ice-cream for the perfect Sonic onion ring flavors. Then dip into the cornmeal and gently shake off excess cornmeal.

Now, place your onion rings on a plate and set aside to fry later.

In a large pot, heat vegetable oil to 350°F. Next, deep fry onion rings for 1-2 minutes or until golden brown.

Moreover, you want to make sure the heat is not too high or you may have raw onions and burnt batter instead. Now, remove your onion rings from the oil and drain. Next, place on a paper towel to remove excess oil.

Finally, arrange on a platter and garnish with slivers of red bell pepper, carrots, and scallions. Perfect with a tall glass of chilled beer!
Nutrition Facts
Calories:
712
kcal
|
Carbohydrates:
130
g
|
Protein:
18
g
|
Fat:
14
g
|
Saturated Fat:
7
g
|
Cholesterol:
37
mg
|
Sodium:
81
mg
|
Potassium:
750
mg
|
Fiber:
11
g
|
Sugar:
29
g
|
Vitamin A:
358
IU
|
Vitamin C:
17
mg
|
Calcium:
174
mg
|
Iron:
5
mg
Commonly Asked Questions
What can I substitute Panko breadcrumbs with?
You can always substitute cornmeal for Panko breadcrumbs. You will get the texture that everyone looks for when biting into crunchy goodness.
Can I use this recipe with other ingredients?
This recipe is not just perfect for onion rings. Try it with any other vegetable; asparagus, mushrooms, or even sweet potato. Just thinking about the possibilities will make your mouth water.  Dredging ingredients can be a messy job, it is best to keep a hand free for dry ingredients and the other for dipping into wet ingredients. Although messy, these onion rings are guaranteed to taste finger-licking good!
What kind of onions to use?
You can use white or yellow onions to make onion rings. Keep in mind that white onions are generally more pungent than yellow onions. If you are a fan of sweet onions, consider Maui, Vidalia, or Walla Walla onions, which are usually available during the spring and summer.
What does soaking onions in water do?
You can get rid of the strong taste by soaking sliced onions in ice water for 20 to 30 minutes or by sprinkling them with an acid such as vinegar. Onions soaked in ice water will get very crisp while those sprinkled with vinegar will soften a bit, but they will lose the strong taste and become sweeter!
Is this copycat Sonic onion rings recipe vegan?
Sonic's onion rings are vegan! Even the store-bought frozen onion rings have milk in them so finding that Sonic's onion rings are vegan is a real win. Pair these fried circles of deliciousness with one of the many vegan Sonic sauces.
Can I make onion rings from scratch without a deep-fryer?
Preheat the oven to 450°F. Cover 2 baking sheets with aluminum foil; spray evenly with cooking spray. Separate onion slices into rings. Dip into milk, then into the flour, turning to evenly coat both sides of each onion ring. Bake for 12 to 15 minutes or until onions are tender and golden brown.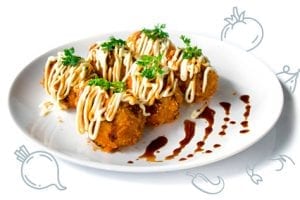 Conclusion
So versatile, you can also use this onion rings recipe as a burger topper to add an element of crispy sweetness. Furthermore, these onion rings are perfect for giving your salads a little crunch. Now you know how to make these well-loved onion rings right at home. Craving a little heat? Then spice things up a notch! Add a teaspoon of cayenne pepper to your flour batter for added flavor.