Burger King has been serving this crunchy side on their menu from the very beginning. Our favorite BK onion rings have become a must-try side and known to be the best fast food onion rings. People love to pair it with a whopper, and we can all approve of it.
Forget the boredom of having to fall in line and wait for takeouts, dine-ins, and drive-thrus at Burger King, but instead, make these crispy, and salty-sweet onion rings at your own home with this recipe along with other Burger King copycat recipes.
In this recipe, we opted for real onion bulbs and sliced them into thick rings. We dredge them in a flavorful batter and coat them with breadcrumbs for crunchier results.
Once deep-fried, simply wait until the onions give you that golden brown look. Dry the excess grease and it's now ready to serve. Our fried onion rings are best-paired with ketchup and mayo for a sweet, tangy, and creamy dip. Enjoy this with BK's Big Fish Sandwich for a loaded and satisfying meal. 
Best Onions To Use In Making Burger King Onion Rings
Onions are a must in almost all types of cooking. They fill our kitchen with their fragrant smell, add color to our dishes, and complement savory flavors well with their sweet and mellow taste. But they aren't just good add-ons alone, they are also fantastic snacks when coated in a flavor-packed batter then fried or baked. 
There are also a handful of varieties of onions to choose from, and needless to say, we want to know what would be the best onions to use for our onion rings recipe.
Yellow onions

– They might be the most common onions to use in cooking. Yellow onions have thin layers of white flesh. It tastes sharp, a little spicy, and with a slip of sweetness. These are perfect for roasted meat dishes, savory sauces, and creamy soups. 

White onions

– These crunchy bulbs have the sharpest taste, and they aren't as sweet as other onions. They're also bigger in size which is why they go well in stir-fried meat, salsa, and pasta salads.

Red onions

– These brightly-colored onions have a milder taste and smell compared to other varieties. It's crispy and sweet that makes a good ingredient for grilled sandwiches and burgers. You may eat them cleaned and raw.

Sweet Onions

– These bulbs have thick layers that are great for slicing into rings. They taste sweet but not too sharp or spicy. To say, they are our best contender to make our delicious and crispy

fried onion

rings. 
Deep-Frying Onion Rings
Now that we've chosen the best type of onion to use in making this recipe, let's move on to prepping the ingredients and deep-frying them. In deep-frying, we cook at a high temperature to achieve that crispy exterior while remaining the flesh tender and intact. Here are some tips to get you started cooking our onion rings. 
Soak your onions in cold water to subdue their sharp taste.

If you want a sweeter and milder taste for your onions, you can submerge them in cold water for 30 minutes to 1 hour after peeling. This process subdues the strong and sharp taste of the onions to allow their pure sweetness to dominate.

Prepare the oil for frying.

We suggest using canola, peanut, or vegetable oil for frying. After you've cut them into thick big rings, ready your deep pot and make sure that the oil is hot, while you add the onions, otherwise, the onions will soak the oil and will become soggy. 

Dry your onion rings before serving.

Once you fry the onions, dry them using a paper towel so that it absorbs the unnecessary grease and extra oil.
Must-Try Dipping Sauces For Burger King Crispy Onion Rings
Burger King onion ring sauce choices offer us delicious dipping sauces. But as we've said, you don't need to experience the hassle of going out, as we have them all lined up for you. Here are some dip recommendations you can easily make at home to serve it with your onion rings. These homemade dipping sauces will take your favorite snack to a whole new level.
Burger King Zesty Onion Ring Dipping Sauce

–

BK's crispy onion rings wouldn't be possible without their zesty dipping sauce. Recreate this copycat recipe to go full-on Burger King meal. It's creamy, spicy, and peppery. 

Easy Salsa Ranch Dip

– Elevate the flavors of your crispy onion rings with this rich and sweet ranch and salsa combination. 

Honey Mustard Sauce

– Dip your freshly cooked onion rings into this sweet and thick sauce made with dijon mustard and honey. 
Preparing an appetizing snack has never been this easy and tempting before. You'll love every bite of these crispy onion rings. So let's go straight into our quick and easy recipe.
How To Make Burger King Copycat Onion Rings
Recreate the crowd's favorite Burger King onion rings in less than an hour. Enjoy our sweet and crunchy onion rings together with a creamy dipping sauce.
Ingredients
Vegetable oil ,

for frying

12

oz

onions,

(1 large onion) cut into thick rings

¼

cup

all-purpose Flour

¼

cup

cornstarch

1

tsp

baking powder

1

tsp

salt

1

large egg

1

cup

milk,

plus more as needed

1

cup

breadcrumbs

garlic salt ,

to taste
To Serve:
Instructions
Preheat your deep pot with frying oil until it reaches 365 degrees F.

Combine the flour, cornstarch, garlic salt, baking powder, and salt in one bowl and set aside.

In a separate bowl, whisk together the egg and milk. Set aside.

Next, spread out the breadcrumbs in a bowl or in a baking dish.

Dredge each onion ring into the flour mixture, then dip it in the egg and milk mixture, and coat in the breadcrumbs.

Fry a few onion rings at a time for about two to three minutes each or until golden brown.

Once finished, drain on paper towels.

Sprinkle them with garlic salt and serve hot with a ketchup or mayonnaise dip on the side.
Recipe Notes
You can also choose to mix ketchup and mayonnaise for your dip if you prefer.
Nutrition
Calcium:

171mg

Calories:

203kcal

Carbohydrates:

35g

Cholesterol:

38mg

Fat:

4g

Fiber:

2g

Iron:

2mg

Potassium:

225mg

Protein:

7g

Saturated Fat:

1g

Sodium:

758mg

Sugar:

7g

Trans Fat:

1g

Vitamin A:

128IU

Vitamin C:

5mg
Nutrition Disclaimer
Commonly Asked Questions
How to store cooked onion rings?
To store cooked onion rings properly, place them in an airtight container or resealable plastic bags. You can keep them in the refrigerator for 3 to 5 days or freeze them for up to a year.

How to reheat cooked onion rings?
Cook them in the oven for 5 to 6 minutes at 350 degrees F. Serve them with your preferred dipping sauce.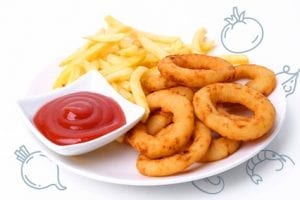 Conclusion
This homemade BK onion rings recipe is helpful to have at hand. You can satisfy your Burger King cravings with this easy recipe or impress your guests with an addicting appetizer. It tastes the same as the original ones, or even better. It's easy-to-make at home and ingredients are readily available in your kitchen. Serve this delicious crunchy side with your choice of hot or creamy dipping sauce and enjoy.