Mcdonald's Copycat McDouble Recipe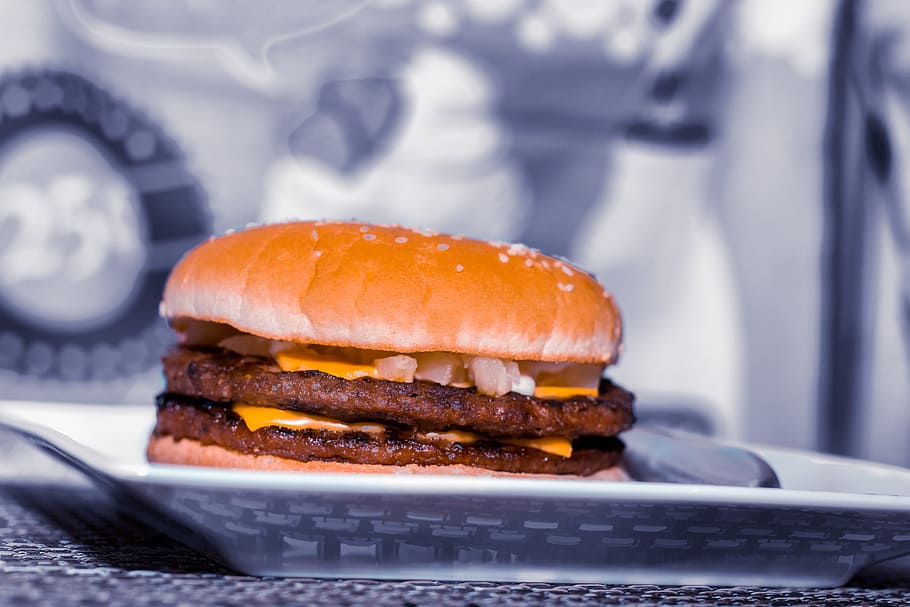 Looking for your fill of McDonald's burgers? We're here to satisfy your cravings with our easy McDouble recipe! It's a classic take on the beloved burger and comes with ingredients you already have on hand. Skip the fast-food line and make these at home anytime! 
What is a McDouble?
A McDonald's McDouble contains two beef patties that encase a slice of American cheese that softly melts into the meat. The patty is topped with the usual pickles, onions, ketchup, and mustard. It may look like just any ordinary burger, but it's one of the biggest favorites in McDonald's. With a burger that comes with two patties, what more could you ask for? Luckily, we've got just the copycat recipe that can help you recreate this at home. Don't forget to enjoy your McDouble burger with our Chicken McNuggets for a classic McDonald's meal! 
Why Americans Love the McDouble
Americans adore McDonald's, especially with stores placed on almost every street. The McDouble has become one of the best-selling burgers of McDonald's. It's a classic burger anyone would love but with twice the savory patties. You can devour these burgers in-store or when you're in a rush. Talk about multi-purpose! 
Besides being a time-saving sandwich, the McDouble burger also has enough calories to be a filling meal! Even more, the patties themselves are made of pure beef and only seasoned with a pinch of salt and pepper. It's a burger bursting with that classic McDonald's flavor, and we're lovin' it!
But what sets our McDouble recipe apart from others is that we won't just be using salt and pepper. We'll be using bouillon granules as the seasoning for extra richness and flavor! We promise it'll taste just like McDonald's, but with added umami.
If you're looking to complete a whole McDonald's meal set with our McDouble recipe, not to worry! We've got everything just for you. Try them with a side of our Fresh Rosemary French Fries recipe. Finally, to complete, take a sweet sip of the Copycat McDonald's Chocolate Shake.
So what are you waiting for? Have these for your next lunch or make a bunch of them and share it with your friends and family. Serve these McDouble burgers with your favorite sides and enjoy!
How To Make McDonald's Copycat McDouble
You never have to worry about waiting in line for your McDouble burger again with our recipe! Make this delicious double-patty delight at home, topped with your favorite toppings.
Ingredients
¼

lb

ground beef

1

tsp

onion powder

2

burger buns

ketchup

mustard

½

tsp

bouillon granules
Instructions
Mix the beef and onion powder together in a bowl.

Roll the beef into two equally sized balls.

Press each ball in between sheets of wax paper by flattening with a rolling pin or by hand. Do this until they become extremely thin (about 1/8 inches thick).

Over medium heat, briefly toast the buns in a frying pan and then transfer them onto a plate.

Layer the ketchup, mustard, and any other toppings you want inside the buns.

Grill the patties in the frying pan for 2 to 3 minutes per side, making sure to season them with bouillon as you go.

Lastly, place the patties in the buns, serve them with some fries, and enjoy!
Recipe Notes
To get the classic McDouble burger feel to your meal, add onions and pickles to your toppings and a slice of American cheese in between the patties!
Nutrition
Calcium:

169mg

Calories:

537kcal

Carbohydrates:

45g

Cholesterol:

81mg

Fat:

26g

Fiber:

2g

Iron:

5mg

Potassium:

415mg

Protein:

28g

Saturated Fat:

9g

Sodium:

748mg

Sugar:

6g

Vitamin C:

1mg
Commonly Asked Questions
What can I use in place of the bouillon granules?
Boullion granules are essentially a mix of dehydrated vegetables, meat stock, fat, MSG, seasonings, and a bit of salt. They will give your McDouble patties added flavor, and can be found at any grocery store. However, in place of this, feel free to use ½ teaspoon of salt and pepper or adjust to your taste.
How do I reheat my McDouble burger?
Reheating this burger is simple! Wrap your McDouble burger in a paper towel, place them on a plate, and reheat them in the microwave. It should only take 35 seconds, and afterward, you've got yourself a perfectly warmed burger.

What kind of ground beef should I use for this McDouble recipe?
In making burgers, it's best to use ground beef with high-fat content. For this recipe, we recommend using regular ground beef which has around 20 percent fat. This will give you moist and juicy burger patties. But, you can also use lean ground beef which has about 10 percent fat. Both types of ground beef are perfect for burgers and the majority of beef dishes. Just remember to avoid using extra lean ground beef since they tend to cook up dry and tough.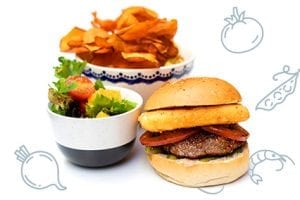 Conclusion
Don't ever worry about ordering your favorite McDouble burger in-store or online again when you can make them at home! You can impress your cookout guests with these burgers. It'll knock their socks off knowing that while they taste like McDonald's, they're absolutely homemade by you. Serve this McDouble recipe with a side of fries and shake, and you're off to a full McDonald's meal!
Related Hamburger Recipes