It's high time to give your good ol' baked potato wedges a cheesy kick! With this easy recipe, you will later have a scrumptious meal with a delicious baked cheesy potato wedge on the side. These perfectly baked potatoes are bursting with cheesy flavors.
These homemade baked potato wedges are perfect for any get-together or family dinners, and they really couldn't be any easier. Just follow the easy steps, do some baking, and please the cheesy potato-lover in you!
What We Love About Crispy Baked Cheesy Potato Wedges 
You can never go wrong with making a dish using potatoes. This starchy vegetable can be prepared in so many ways and is endlessly versatile. Some like their potatoes fried, mashed, or roasted like our Roasted Potatoes With Fresh Dill And Shallots. And all are equally delicious. But baked potatoes cut in wedges and stuffed with melted cheese? Yes, please! Because who wouldn't love this cheesy dish baked to absolute deliciousness? And these baked potatoes are not only yummy, they're even heartier! 
Though potatoes are sometimes shunned because they're high in carbohydrates, you might still want to give them a try. Baking potatoes rather than frying them brings out their natural taste, plus, it's a healthier cooking method  too! So, you can munch on these oven baked potato wedges without any guilt.
If you'd like to try other potato recipes, check out our Tender Garlic Parmesan Sliced Baked Potato.
Roasted potato wedges are also an easy side dish that'll take your meal into another level. Crisp on the outside with pillowy potato insides, this side will go perfectly well with any dishes. Plus, you can be experimental with roasted potato wedges and throw in some ingredients for a delicious twist. Glaze it with honey, and the result is absolutely luscious! Learn how to make Honey-Roasted Potatoes And Carrots with our easy recipe. 
Moreover, baked potato fries are always a hit with both kids and adults alike. Who wouldn't love this classic side dish that's perfectly crisp without the hassle of deep frying? If you are craving for potato fries, try our Honey Baked Sweet Potato Fries Recipe. It's sweet and super crunchy!
How To Make Baked Cheesy Potato Wedges
Now, are you up for some baked potato wedges with a cheesy twist? Try this easy recipe for baked potato wedges. Crunchy on the outside and soft on the inside, these potato wedges are made even better with our Cheddar cheese melting as it bakes. Utterly finger-licking good, right? And it's awesomely easy to prepare!
This potato wedges recipe only needs simple ingredients that you probably have in your pantry already. A drizzle of olive oil, some spices, and for added taste, a sprinkle of salt, and you're good to go. In this recipe, we'll be using medium-sized potatoes that can be more easily sliced into wedges. Plus, they are mealy enough.

Tip:
Russet potatoes are the ideal potatoes for baking because they have a light, mealy texture. Since these potatoes are thick-skinned, they will crisp up perfectly in the oven.Also, they are high-starched which makes them perfect for baking. For more russet potato recipes, check out our Chicken Alfredo Baked Potatoes Recipe. Serve this for an intensely satisfying and filling entrée.
For our recipe, we will use Cheddar cheese because it's the ultimate versatile cheese. Sprinkle it atop a dish or melt it into a dip and it'll taste delicious! But of course, feel free to use any type of cheese you want or you can even combine two! Just imagine the cheese deliciously melting over the crispy potato skin.
Moreover, for added taste, we can mix in some minced garlic. Also, you can serve this crispy baked potato with sweet chili sauce or sour cream, avocado or guacamole, chives, or green onion on top. You can also level up your crispy baked potato wedges by topping them with chopped bacon! 
This potato wedge recipe comes with easy instructions so your baked potato wedges will surely turn out perfect.  Serve these baked cheesy potato wedges with our Black Bean and Radish Burgers to complete your deliciously healthy meal.
How To Make Baked Cheesy Potato Wedges
Create a cheesy twist to baked potato wedges with our simple recipe! It'll burst with cheesy flavors you'll surely love. And you can enjoy this hearty, yummy dish without the guilt.
Ingredients
6

potatoes,

medium

1

onion,

sliced

2

tbsp

oil

2

tsp

onion powder

½

tsp

parsley

½

tsp

oregano

½

tsp

rosemary

½

tsp

paprika

1

tsp

salt

1

cup

Cheddar cheese,

shredded
Instructions
Preheat the oven to 425 degrees F.

Cut each washed potato into 8 wedges.

Place the wedges in a bowl together with the sliced onions. Add the oil and the seasonings, then toss to coat.

Place the potatoes in a greased baking dish and bake for 45 minutes. Turn them half way and sprinkle the cheese over the wedges.

Bake until the cheese is melted and potatoes are golden brown. Then, serve with ketchup or ranch dressing to enjoy this luscious dish.
Recipe Notes
Since we are not peeling the potato skin, it is important to remove the dirt from your potatoes. Rinse them under cool water then gently scrub each potato using a vegetable brush or your hands. Avoid scrubbing too hard or the skin will go away, too. 

Keep the wedges in a single layer

on the baking dish

. Piling the wedges on top of each other will prevent them from having crispy brown exterior and they will cook unevenly. And you want your baked potatoes crispy on the outside, right?
Nutrition
Calcium:

253mg

Calories:

438kcal

Carbohydrates:

60g

Cholesterol:

30mg

Fat:

17g

Fiber:

8g

Iron:

3mg

Potassium:

1425mg

Protein:

14g

Saturated Fat:

7g

Sodium:

778mg

Sugar:

4g

Vitamin A:

302IU

Vitamin C:

66mg
Nutrition Disclaimer
Commonly Asked Questions
How to keep baked potato wedges from sticking?
To keep your baked potato wedges from sticking to the baking sheet, just line your baking sheet with parchment paper. Aside from parchment paper, you can also try using aluminum foil or a silicone mat. Another way to prevent your baked potatoes from sticking is to grease the baking sheet prior to lining up the potatoes.
How to cut potato wedges?
Cut each potato in half (long ways), then slice each half in half lengthwise to make quarters. After that, cut those quarters into eighths for the perfect wedges. Make sure that all wedges are approximately the same size so that they'll cook evenly.

How to reheat leftover baked potato wedges?
When reheating potato wedges, you'll want to keep the crispy exterior. And the best way is to reheat them using the oven or a heated skillet. Sprinkle the wedges with olive oil, then arrange them on a baking sheet. Toss the potato wedges in a preheated 350 degrees F oven for 10 to 15 minutes until hot and crispy.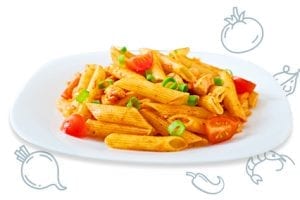 Conclusion
If you are sick of the same old baked potato wedges, try leveling it up with a shredded cheese which melts deliciously on top. These cheesy oven baked potato wedges are delicious on their own and can be the star in your dinner tables. It also makes an incredible complement to almost every meal and it's just as filling.