Munching on onion rings is a different gastronomic experience altogether. Unlike the french fries, onion rings are a perfect blend of sweet, tangy, strong yet aromatic flavor that can complement grilled foods.
Speaking of onion rings, one of the fast food restaurants famous for its onion rings is A&W. Although this famous restaurant chain is also popular for their root beer and root beer floats, their onion ring recipe is to die for. It is very easy to make too!
Learn how to recreate this iconic and crunchy side dish by following these easy steps. All you need is a fresh batch of onions and you're good to go. This onion ring recipe can not only be a side dish but can be served as a snack as well.
How To Make Copycat A&W Onion Rings
Enjoy A&W's delicious onion rings with this easy to follow recipe.
Ingredients
1

cup

tempura batter mix

1/4

tsp.

onion powder

1/8

tsp.

ground black pepper

1/2

cup

water

1/4

cup

beer

1

white onion

sliced

6

cups

vegetable oil
Instructions
Preheat the deep fryer to 375 degrees F.

Combine the tempura mix with your spices, along with the water and beer, to make the batter.

Slice the onion, and separate all of the rings.

Dip the rings in the batter, and drop into the preheated oil.

Fry 3-5 minutes until golden brown.

Place on a paper towel-lined plate. Salt lightly and serve.
Nutrition Facts
Calories:
411
kcal
|
Carbohydrates:
28
g
|
Protein:
1
g
|
Fat:
33
g
|
Saturated Fat:
27
g
|
Sodium:
78
mg
|
Potassium:
40
mg
|
Fiber:
1
g
|
Sugar:
1
g
|
Vitamin C:
2
mg
|
Calcium:
6
mg
|
Iron:
1
mg
Commonly Asked Questions
How to reheat onion rings?
The best way to reheat fried onion rings is in the oven. Keeping your oven heat to a high temperature (at around 440-450 degrees F) will help retain the crispiness of your onion rings.
What sauce goes with onion rings?
There are many dipping sauces that go well with onion rings. You can make a lime mayo sauce for something tangy, or you can make something sweet and spicy with a chili sweet sauce if that's more up your alley. Alternatively, you can go for a ranch dip or even some barbecue sauce to complement your crunchy onion rings.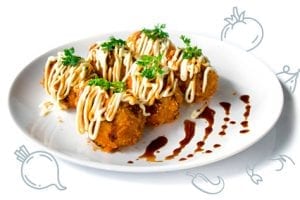 Conclusion
There's no doubt that onion rings are a great add-on to any dish for some extra crunch and flavor. Enjoy them as an appetizer, a midday snack, or even something to munch on with a cold bottle of beer.
No matter how you choose to enjoy them, these A&W onion rings are a versatile side dish that many are sure to enjoy. Make sure you make enough for you and your guests, because with your superb cooking skills, they're sure to go quick at any party!