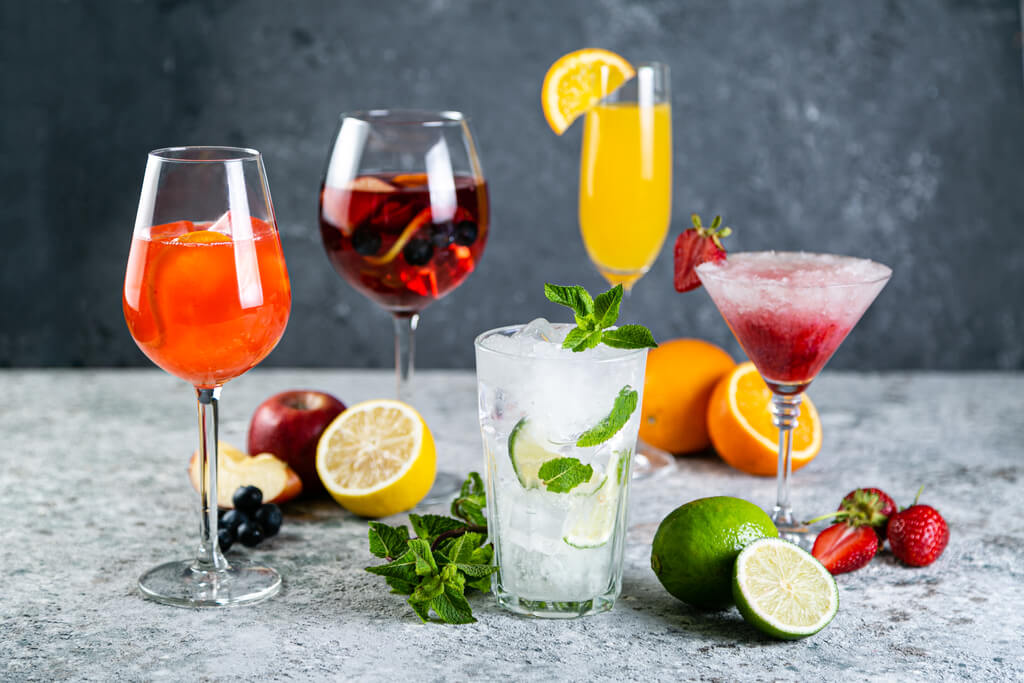 13 Elegant Prosecco Cocktails To Make at Home
The truth still stands: Prosecco certainly adds a festive sparkle to your cocktails. But for those who don't know, Prosecco is an Italian sparkling wine made in the Northeastern Italian town it was named after. The "extra brut" ("very dry" in terms of Champagne lingo) bottle has a distinct fresh floral taste with a zingy citrus taste and lemongrass undertones. Meanwhile, a brut bottle of this sparkling wine tastes strongly of green apple, sweet peach, and honeydew. In general, Prosecco cocktails have a strong floral taste and aroma that complements seafood and morsels found on an elegant charcuterie board.
On its own, this wine is already a treat. But cocktails with Prosecco? Even more so. Nevertheless, they prove to be just as elegant and festive as any pink alcoholic drink. So join us in exploring cocktails you can make at home with this fruity and fizzy drink —  no experience needed!
---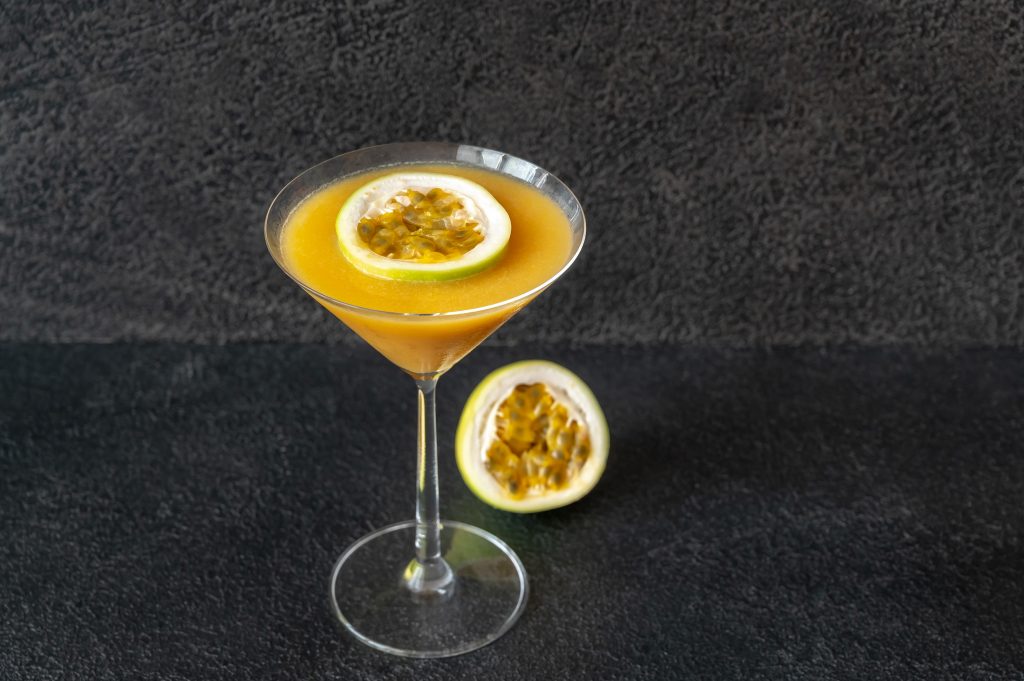 01 of 13
Pornstar Martini
With its foamy top and sliced passion fruit for garnish, we're sure this visually appealing drink will give delight to its drinker. Pornstar martini features a wonderful combination of vanilla-flavored vodka and passion fruit liqueur sitting in a sophisticated martini glass. Its sweet and tart flavor from passion fruit followed by the sweet yet intoxicating flavor of vodka will truly satisfy you. Served with a shot of Prosecco wine on the side, this drink gets even more exciting!

But how exactly do you drink this unique cocktail? Unlike some cocktails, the pornstar martini has specific instructions on how it's consumed. You can start by eating the passion fruit resting at the top of the glass and down it with a shot of the Prosecco. To bind the flavor together, quickly follow with a sip of the martini. You can finish the rest at your own pace. That's it!

Try Recipe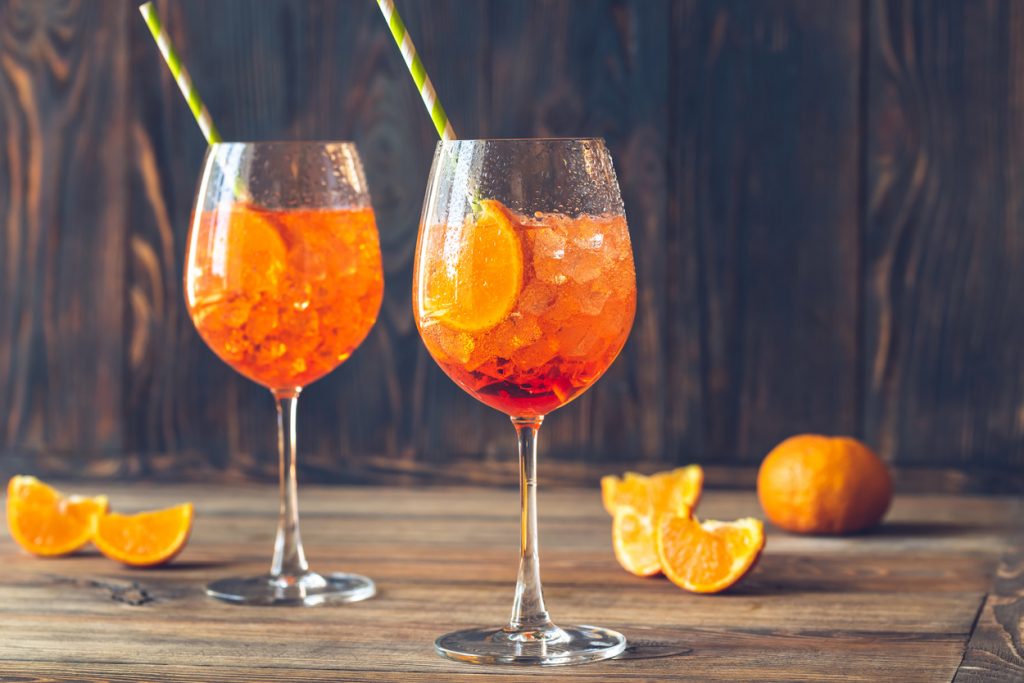 02 of 13
Aperol Spritz
A long-established tradition, you'll often spot Aperol Spritz in the streets of Milan and Venice enjoyed by adults after work. Its light alcohol content makes this drink the ideal sipping treat before dinner. Fortunately, you don't have to visit Italy to enjoy this drink. Not only does it contain easy-to-find ingredients, but it's also easy to mix. What's more, you only need three minutes to whip this up. Or less, if you know your way around alcohol.

That said, this drink combines an equal amount of Aperol and Prosecco in a glass. Topped with club soda and an orange slice, we bet this drink is as much a thirst quencher as the famous Piña Colada.

Try Recipe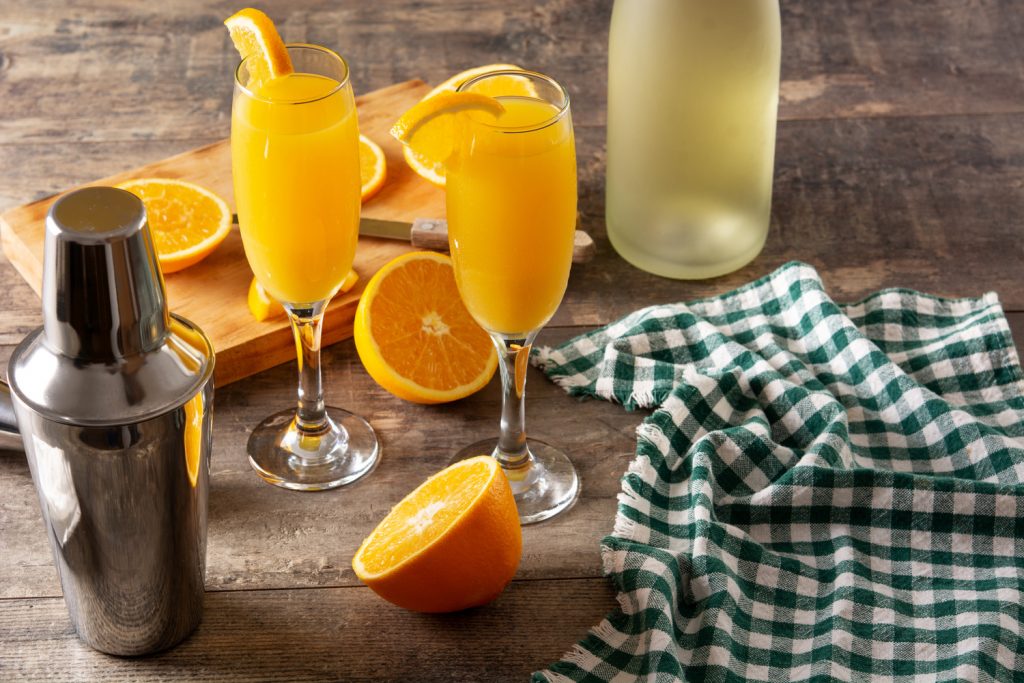 03 of 13
Prosecco Mimosa
This classic cocktail mixes Champagnes like Prosecco or Cava (Spain's most popular sparkling wine) with a well-chilled orange juice. In this version, we use a combination of mimosa with Prosecco. This version also has a sweet, peachy flavor that complements well with orange juice.

Considered a classic, the Prosecco mimosa is dubbed as the most iconic brunch cocktail. Aside from fancy parties, you can also serve this bubbly cocktail on casual days. You can even replace your usual morning coffee and/or orange juice with a mimosa every once in a while! With its bubbly and fruity concoction paired with its striking orange color, you'll be refreshed in no time. Pair this drink with a simple waffle and French toast. Or better yet, with a cheese board at parties.

Try Recipe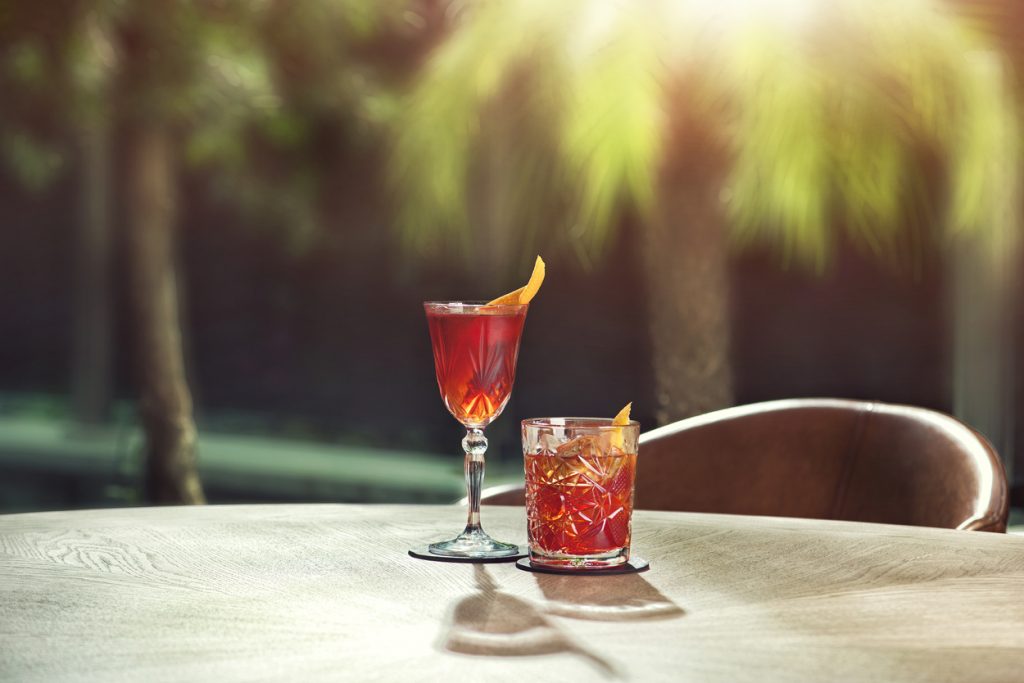 04 of 13
Negroni Sbagliato
This one resembles Negroni, and for a good reason too! As you can see, sbagliato actually means "bungled" or "wrong" in Italian. In other words, this recipe directly translates to "wrong Negroni". Perhaps it's because this drink was created using sparkling wine instead of gin? Luckily, this 'bungled' drink tasted so delicious that it became a whole cocktail on its own.

The original Negroni had always been considered bitter thanks to its gin component. However, this version is sweeter because we swapped gin with Prosecco, which is sweeter and more fruity in taste. Aside from gin, there's not much difference between the two versions. The way they're served is also similar: on the rocks or in a Champagne flute. Either way, always garnish it with a lemon peel for the perfect finish!

Try Recipe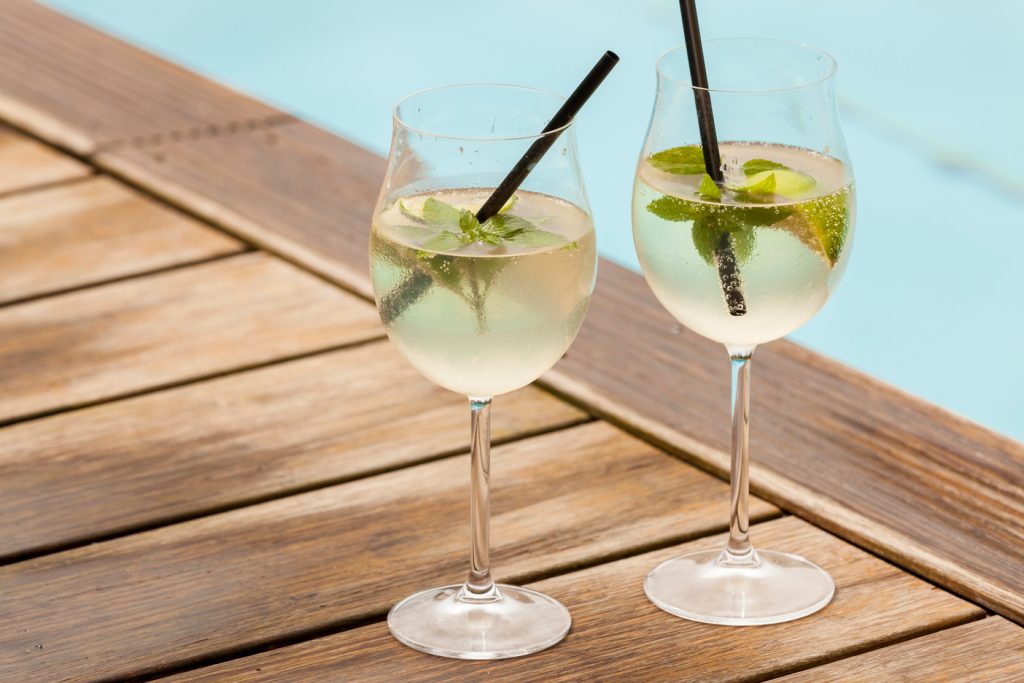 05 of 13
Hugo Cocktail
Next on our list of Prosecco cocktails is this Hugo cocktail accompanied by a ton of floral scent and flavor. How is that possible? By mixing elderflower cordial and mint leaves, of course! However, despite how it looks, this drink is drier than most on this list. In the world of alcoholic drinks and cocktail making, this means the drink has little to no sugar content. It's also high in alcohol. If you want a toned-down version that has a more sweet flavor, you can also add elderflower syrup and soda water.

Try Recipe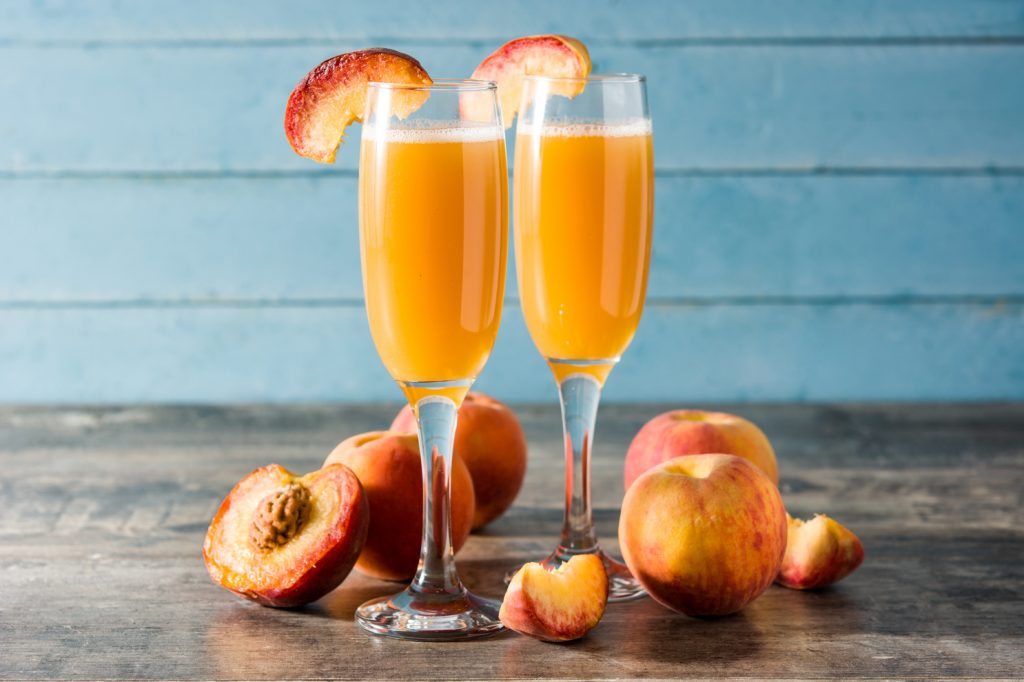 06 of 13
Peach Bellini
What's not to like with Peach Bellini? It combines the sweet flavor of white peach puree, the bubbly texture of Prosecco, and the pink color of raspberry for a drink deserving of an Instagram post. Aside from its bright color, one of its known features is its foamy top — the result of blending peach and raspberry together. However, some people find it difficult to maintain the foam. So our tip? Always start with chilled ingredients. In this recipe, chill the puree, the Prosecco, and even the glass.

Another issue when it comes to this Prosecco drink is the availability of white peaches. Fortunately, you can swap it with yellow peaches. The only downside? The color might not be as visually appealing, especially when blended with raspberry.

Try Recipe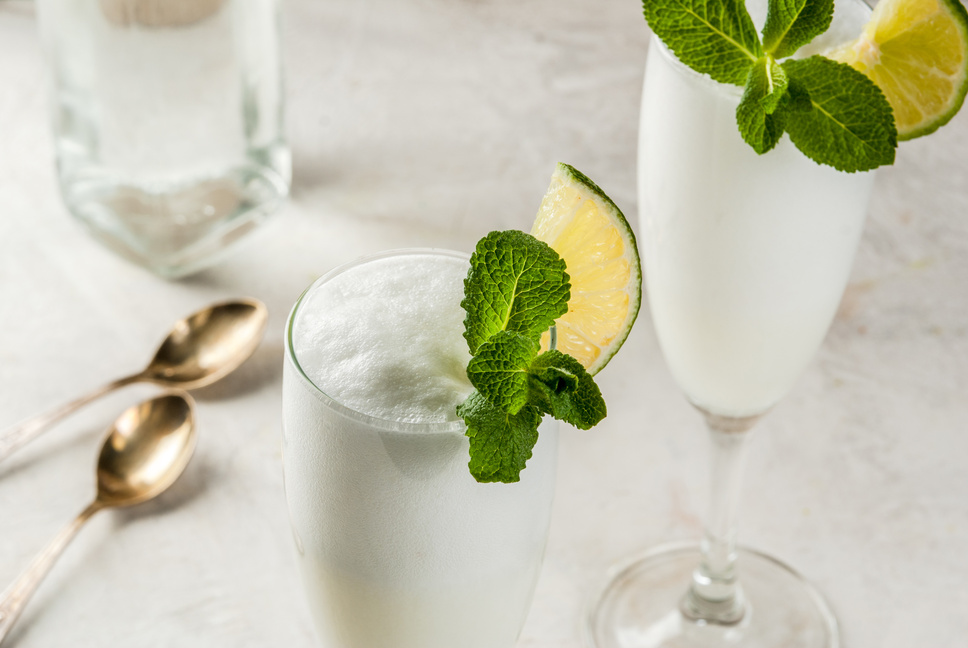 07 of 13
Sgroppino
Indeed, Italian cuisine has so much to offer when it comes to cocktails and bartending including Negroni and Aperol Spritz. So why don't we add another one to this list of Prosecco cocktails? Introducing the Sgroppino, a wonderful fusion of Prosecco, chilled vodka, and frozen lemon sorbet. You'll be surprised though. Although it doesn't look like it, Italians consider it as a cocktail and a dessert all in one glass! With the addition of sorbet, we say it all makes sense.

Try Recipe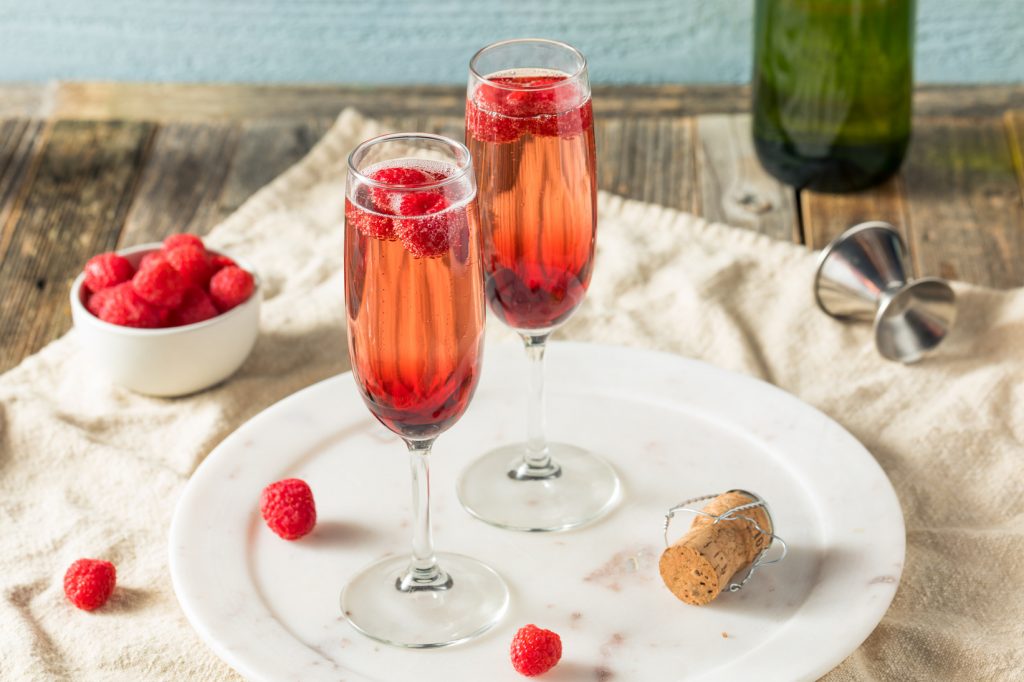 08 of 13
Kir Royale
Like French 75, Kir Royale is another bubbly drink that uses Champagne or other sparkling wines like Prosecco for an effortless, delicious glass of cocktail. Aside from Prosecco, you only need crème de cassis and a lemon twist. However, its simplicity is what makes this drink loved by many.

Mind you, this drink doesn't even need a cocktail shaker. Start by pouring crème de cassis on a Champagne flute, quickly followed by Prosecco, then garnish it with a lemon twist. And you're done! Remember, you don't have to stir this cocktail to bind the ingredients together. By pouring the liqueur first, followed by the sparkling wine, just let it do its thing and mix naturally in the glass.

Try Recipe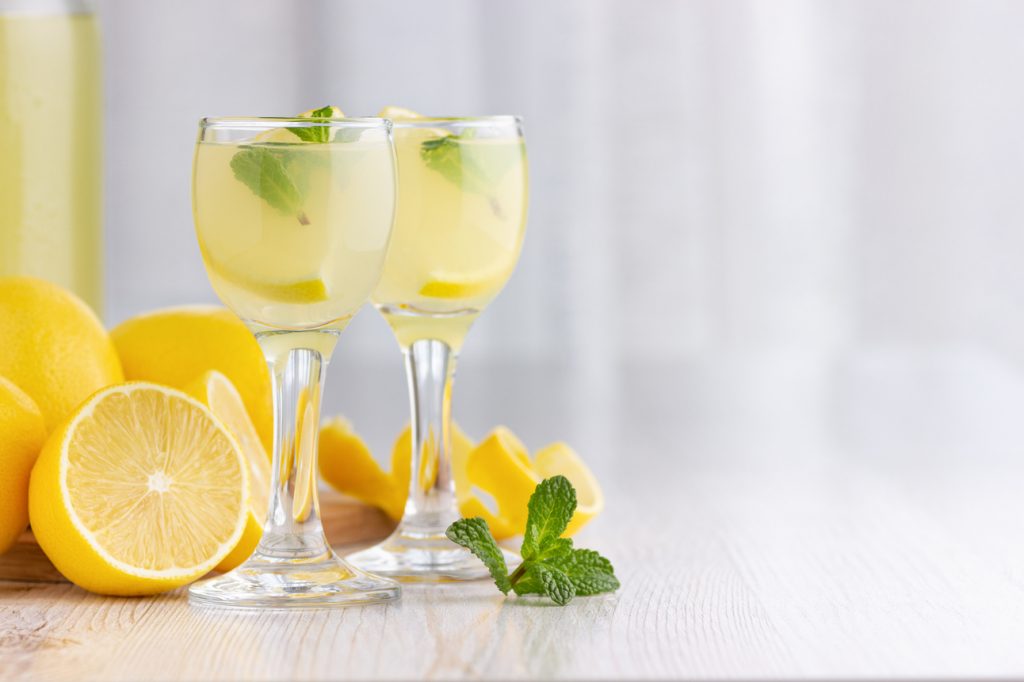 09 of 13
Limoncello Spritz
This bubbly citrus drink is a carefully crafted cocktail with an unmistakable lemon flavor. It's made with limoncello liqueur (an Italian lemon liqueur), sparkling wine, and soda water. Judging from its color, you'd think that this drink has a strong bite of citrus. But overall, limoncello has the right balance between sweetness and tartness that's crisp and refreshing. Like the famous Aperol Spritz, limoncello is also good for after-work sipping because of its highly refreshing concoction. Because of that, we're sure it'll be perfect for summer cookouts as well!


Try Recipe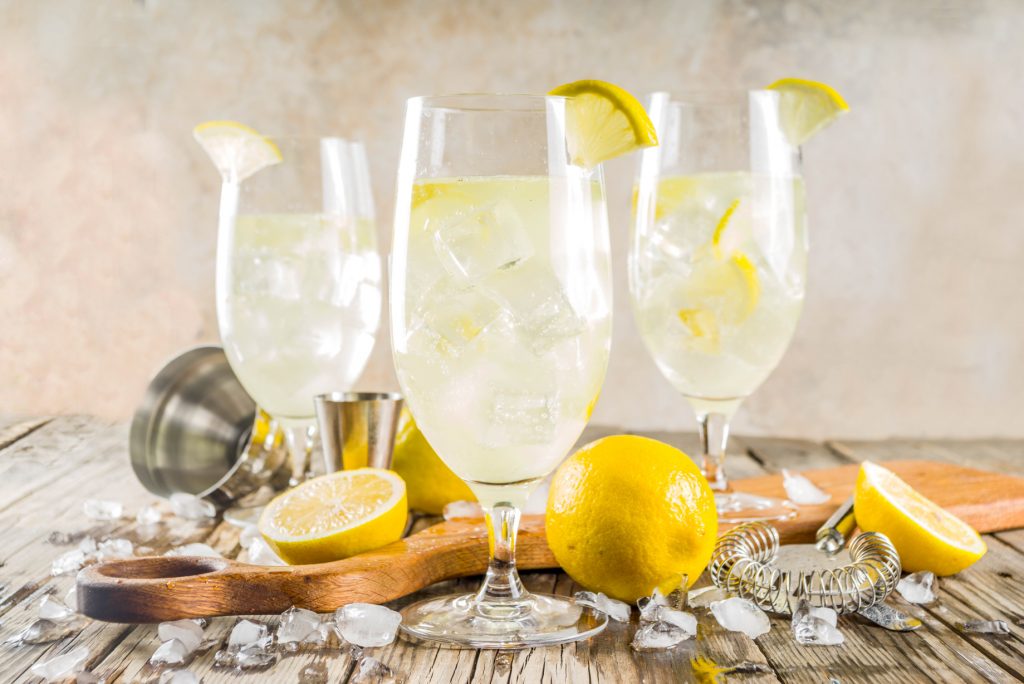 10 of 13
St. Germain Cocktail
If you exhausted yourself with too much limoncello spritz, then a great backup cocktail is St. Germain. Like the latter, this drink sports a bright and refreshing lemon flavor backed up by the flavors of gin or vodka and Prosecco.

From the telling signs in its name, it's the St. Germain liqueur that's the highlight of this citrusy cocktail. This French liqueur is made from hand-picked elderflower blossoms in the late spring. Compared to limoncello spritz, St. Germain is lighter in taste with sweet floral and herbal undertones. Its versatile flavor profile makes it an excellent sip on a summer day. But, the bold flavor of gin and the sophisticated flavor of Prosecco also make this one fit for special occasions.

Try Recipe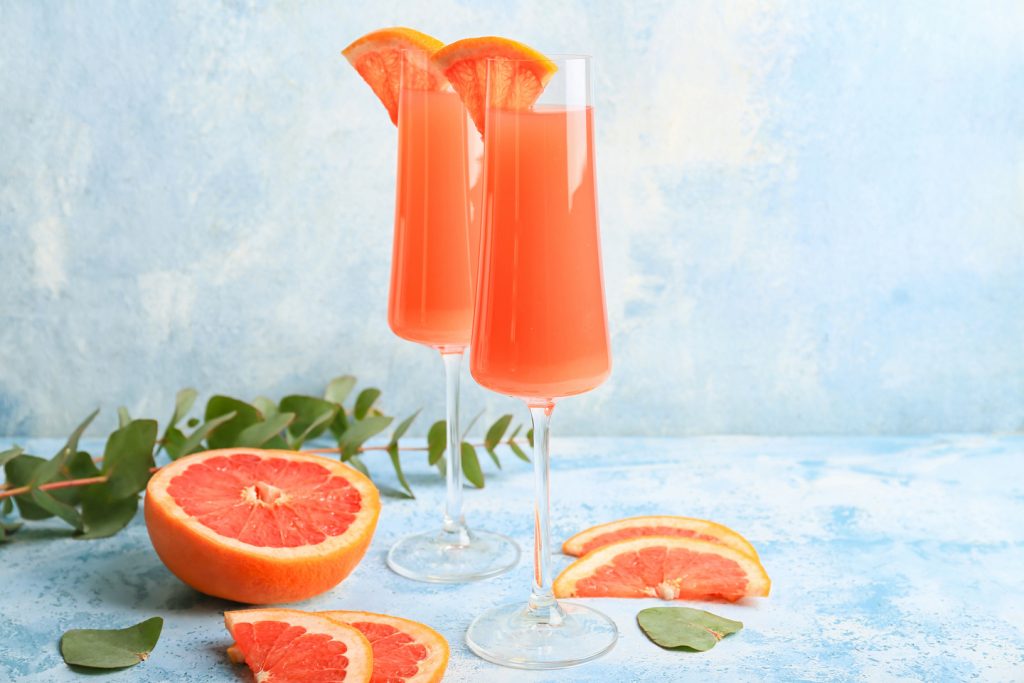 11 of 13
Grapefruit Mimosa
Here's a suggestion: interchange serving this drink with the classic mimosa! We mean, who doesn't love brunch cocktails that double as a replacement for their usual morning beverages? Like the classic mimosa, this fruity concoction mixes sparkling wines like Prosecco and grapefruit juice together in a harmonious concoction.

When it comes to ingredient measurement, you don't have to be super precise. You can come up with a ratio that suits your taste. But we do recommend starting with two parts sparkling wine and one part grapefruit juice if you want to follow the classic mix. Afterward, feel free to adjust the ingredients based on your preference.

Try Recipe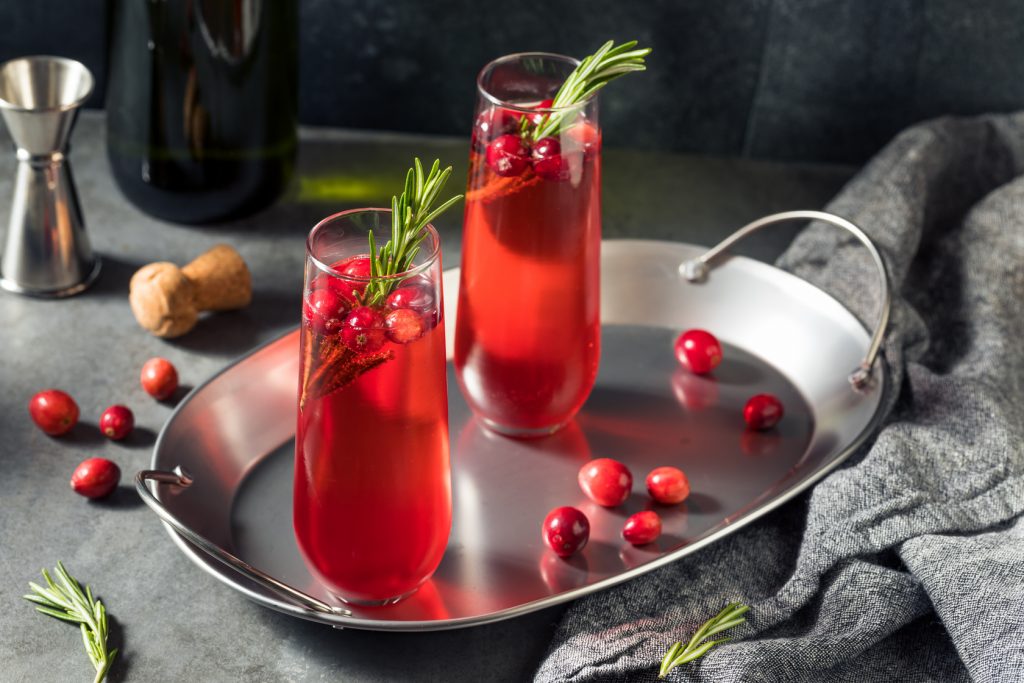 12 of 13
Poinsettia Drink
With its striking electric red color, the poinsettia drink is a perfect holiday cocktail that could turn normal parties extra special. This version listed champagne on its ingredient list, but you can substitute it with Prosecco which is a little sweeter, with a buoyant flavor of citrus and fresh floral.

Aside from wine, this drink also highlights the flavor (and color) of cranberry juice and orange liqueur that offsets the sweetness from cranberries. Finish with a rosemary sprig and fresh cranberries for an extra festive holiday feel!

Try Recipe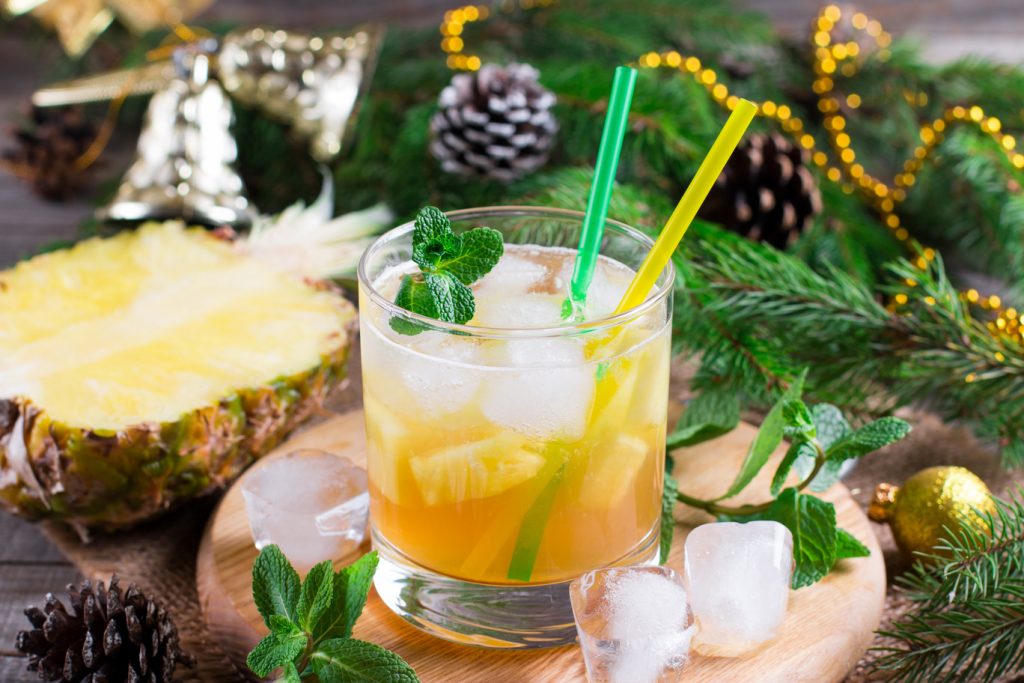 13 of 13
Prosecco Punch
Last on our list of Prosecco cocktails is this punch that combines the fruity flavor of pineapple juice, fizzy texture of seltzer water, grainy taste of vodka, and the sweet-tasting notes of Prosecco. Meanwhile, peaches and fresh mint spring add texture and add a fruity flavor to this punch.

If you want to serve a crowd of ten people without exerting so much effort, your best bet would be this Prosecco punch. In a large punch bowl, all you need is ten minutes, perfect for parties and get-togethers. Or a summer barbecue cookout in the backyard, perhaps?

Try Recipe