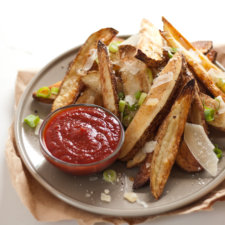 Crispy Baked French Fries Recipe
How To Make Crispy Baked French Fries
This amazing baked french fries can't be any simpler than this! Perfectly crispy with a steaming perfectly cooked potato center. An Absolute must-try!
Ingredients
4

russet potatoes

about 8 ounces each (preferably organic)

¼

cup

canola oil

plus 1 teaspoon, or vegetable oil

sea salt

ground black pepper
Instructions
Adjust an oven rack to the lowest position and preheat the oven to 475 degrees F. Scrub the potatoes and cut them, lengthwise, into 10 to 12 even wedges.

The trick is to first quarter the potatoes lengthwise, and then cut each quarter lengthwise into 2 to 3 wedges (I sliced mine a little too thin).

Place the sliced potatoes into a large bowl and cover them with hot water. Let them soak for 10 minutes. This step releases some of the starch in the potatoes and lets them absorb moisture, which leads to crisp outsides and moist interiors.

Cover a large, rimmed baking sheet with parchment paper. Drizzle ¼ cup of oil onto the paper, then sprinkle it evenly with about ½ teaspoon salt and ¼ teaspoon pepper.

Drain the potatoes and pat them dry thoroughly with a tea towel or paper towels. Toss the potatoes with the remaining 1 teaspoon of oil and mix evenly.

Arrange the fries in a single layer on a baking sheet and cover the sheet tightly with foil.

Bake for 5 minutes, then remove the foil and continue to bake for 10 minutes. Rotate the pan and cook another 5 to 10 minutes, until the underside of the potatoes are spotty golden brown.

Remove the baking sheet from the oven and scrape the fries loose with a spatula. Then use tongs or the spatula to flip over each wedge.

Arrange them in an even layer and put them back in the oven to bake until the fries are golden and crisp, about 5 to 10 minutes longer. Rotate the pan as necessary to help them brown evenly.

Season with salt and pepper (thinly sliced green onions and shaved Parmesan are optional) and serve hot.
Nutrition
Calories: 

2124.12kcal

Fat: 

218.24g

Saturated Fat: 

16.14g

Trans Fat: 

0.86g

Monounsaturated Fat: 

137.96g

Polyunsaturated Fat: 

61.47g

Carbohydrates: 

45.15g

Fiber: 

3.54g

Sugar: 

1.53g

Protein: 

5.39g

Sodium: 

1079.82mg

Calcium: 

38.66mg

Potassium: 

1040.14mg

Iron: 

2.25mg

Vitamin A: 

0.37µg

Vitamin C: 

13.96mg