Sometimes, it's boring to have just plain, salted fries. Why not we take french fries to a different level? How? By making recreating this signature recipe from Chili's. This Texas Cheese Fries recipe is crispy and flavorful with the right kick from the jalapeno peppers.
Get those potatoes ready and read on as we guide you through the process of recreating this flavorful dish from Chili's. It's easy and definitely hassle-free. No need to go out the next time you're craving for some flavorful fries.
Serve this dish during get-togethers and parties. We guarantee that it's going to be a favorite!
How To Make Copycat Chili's Texas Cheese Fries
Advertisement
Continue Reading Below
Ingredients
16

oz

frozen french fries,

(½ bag)

8

oz

monterey jack shredded cheese,

(1 bag)

8

oz

bacon,

(1 package)

4

oz

jalapeno peppers,

(½ jar)

Vegetable oil,

for frying
To Serve:
Instructions
Lie out your bacon strips on another baking sheet and bake until crispy at 400 degrees F.

This should take 20 to 25 minutes. While waiting, deep-fry your fries according to package directions and set aside.

When your fries and bacon are done cooking remove them from the oven, and add a thick layer of cheese, jalapenos, and crumbled crispy bacon on top of the fries.

Return your yummy fry concoction back to the oven and bake until the cheese melts.

Serve up on a plate and add the buttermilk ranch dressing to top it all.
Advertisement
Continue Reading Below
Advertisement
Continue Reading Below
Commonly Asked Questions
Are Fries Vegan?
Technically, yes because it is made from potatoes. However, fast-food restaurants use animal fats for preservatives or for frying them. If ever you want your fries to be fully vegan, use coconut oil.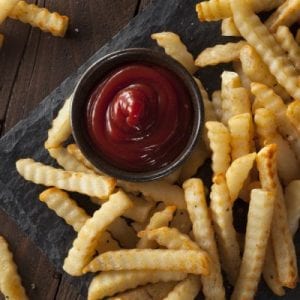 Conclusion
French fries are popular during parties, snacks, picnics, and celebrations. Now, you no longer have to wait for a specific celebration to enjoy this Chili's-inspired Texas Cheese Fries.
Advertisement
Continue Reading Below
Topics:
Advertisement
Continue Reading Below
Advertisement
Continue Reading Below