Enjoy a classic Chili's appetizer at home with this delicious copycat Chili's Texas cheese fries recipe! These loaded cheese fries are made with deep fried fries that are crispy, flavorful, and overflowing with melting shredded cheese, bacon bits, and jalapeno peppers. And then paired wonderfully with a tangy ranch dressing dip. These copycat Texas fries are definitely a great way to take your regular french fries to a different level. Each bite is a flavorful combination of cheesy and savory with just the right kick of spice from the jalapeno toppings. Serve this tasty dish alongside a delicious slab of roast beef.
Tips on Making Copycat Chili's Texas Cheese Fries
This Texas cheese fries Chili's copycat dish is a simple and delicious recipe that you can make in less than an hour. These finger foods are a wonderful dish to serve during get-togethers or parties so feel free to double the amount of fries and toppings needed to satisfy a hungry crowd! With our helpful tips below, you can enhance the taste of these loaded bacon cheese fries by adding in other flavorful ingredients: 
Make your own french fries.

Sure,

frozen fries

(or

frozen steak fries

) work well, but nothing beats the fresh taste of homemade

french fries

! It's best to use

russet potatoes

since they are starchy, dense, and have the least amount of moisture.

These potatoes are best for deep frying and baking. Hoping to make healthier

baked potato Texas cheese fries

instead?

Then starchy potatoes are the way to go.

It's best to avoid waxy, red-skinned potatoes. These types of potatoes contain a lot of water which can dry up and hollow out when fried. 
Try using turkey bacon.

Instead of using regular bacon, experiment with turkey bacon which has a smokey and salty flavor that also tastes well with the

Texas cheese fries

. It's also lower in calories and fat, and a good option for those who don't like pork.
Add more shredded cheese.

You can never go wrong with more cheese in a french fries dish so feel free to add more! Use other flavored shredded cheeses like

Colby Jack

cheese or sharp

cheddar cheese

to make a loaded

cheddar fries

variation

. Make sure to use the gooiest and softest cheese so that it melts easier and better than any hard cheeses.

Get creative with your toppings.

To fully enjoy these loaded cheese fries, add more toppings! There are a lot more you can pile up on top like

sour cream

, black beans,

diced onions

such as

green onions

, shredded beef or chicken, avocado slices, or even

pico de gallo

for some added crunch and zest.
More Chili's Copycat Recipes To Try
Craving for more delicious Chili's appetizers? We've got you covered with our list of copycat recipes listed down below. Enjoy recreating some of Chili's best dishes within the comforts of your home. Don't forget to share them with your friends and family! 
Bacon Ranch Chicken Quesadillas (Chili's Copycat)

– Level up your classic quesadillas with this copycat bacon ranch quesadilla Chili's recipe that's filled with shredded chicken and melting cheese. Serve this tasty and meaty quesadilla with your favorite condiments!
Chili's Southwest Chicken Soup

– Enjoy a warm bowl of soup with this Chili's southwest chicken soup made by combining flavored powdered spices, tomatillos, green chiles, beans, chicken bits, and a variety of chopped vegetables in chicken broth. Finish it off with some flavorful garnish like cheese, sour cream, cilantro, or sour cream.
Awesome Blossom Petals (Chili's Copycat)

– Impress your friends with this homemade awesome blossom petals appetizer from Chili's! Instead of just simple onion rings, cut your onions and turn them into appetizing "flower petals." Dip these perfectly seasoned and crisp onions into the accompanying creamy and tangy awesome blossom sauce.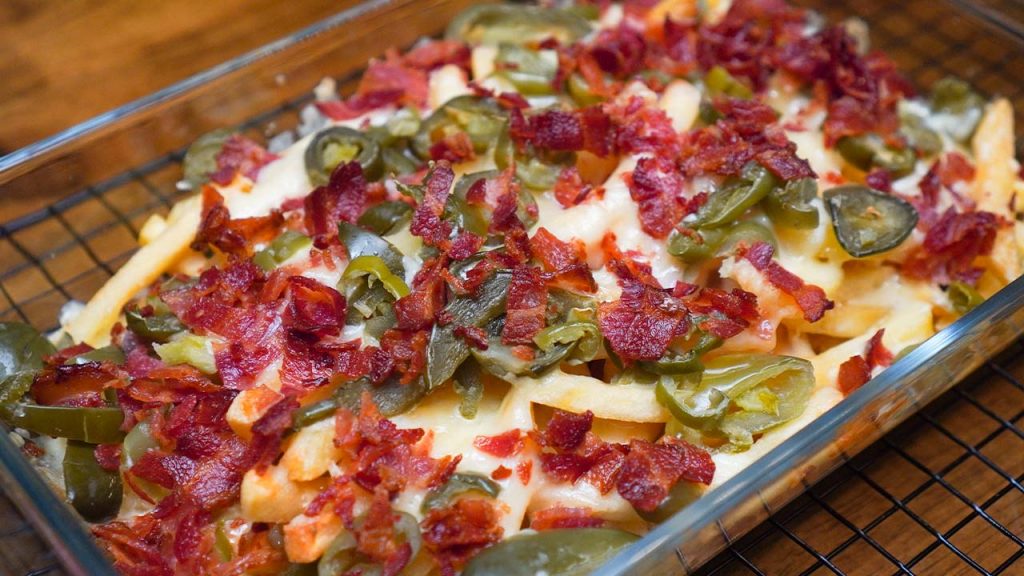 Copycat Chili's Texas Cheese Fries Recipe
Frequently Asked Questions
What do you serve with chili cheese fries?
These loaded cheese fries can be paired with a variety of entrees such as a ribeye steak with roasted veggies, or a simple lamb roast. You can also switch up your dipping sauce. Instead of ranch dressing, you can also dip it in barbecue sauce or honey mustard dip for a combination of sweet and tangy. But, of course, you can choose whatever dip you think tastes best with these cheesy fries.

How do you reheat Texas cheese fries?
These copycat Chili's Texas cheese fries are best consumed when they're crispy, and fresh out of the oven. That's why we recommend not making these ahead of time since the cooked french fries and cheese can get soggy and slimy when kept in the refrigerator for more than 3 days. It's better to cook the french fries upon consumption so it's crispy. However, if you do have leftovers, then store them in an airtight container or covered with a plastic wrap. To reheat the leftovers, place the fries on a baking sheet and bake at 425 degrees F for 15 minutes until warmed through. Add more toppings and sauce, if desired, and enjoy!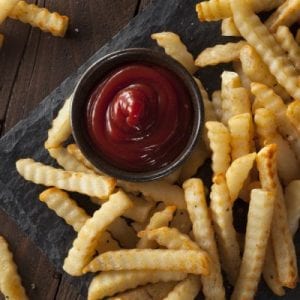 Conclusion
Craving for those Texas cheese fries at Chili's? You can now recreate these iconic happy hour menu starters at home with this copycat Chili's Texas cheese fries recipe. No need to go out the next time you're craving for some flavorful cheese fries. Serve this appetizing dish alongside some tasty dips!
Topics: