Copycat Arby's Curly Fries Recipe
Recipes.net Team
Published
October 21, 2020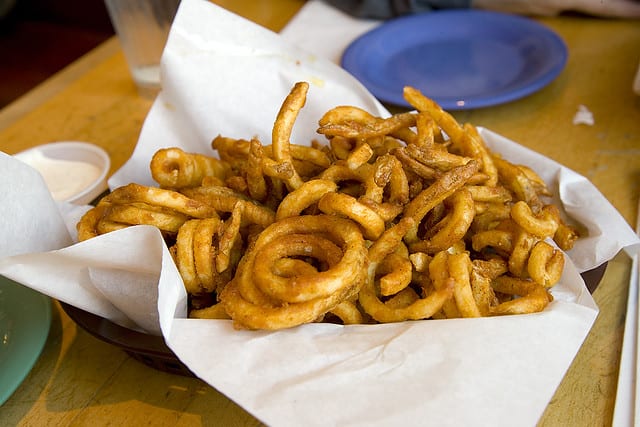 Add a fun twist to the classic french fries with our Arby's Curly Fries Recipe! You can skip the line to get these classic Arby's seasoned curly fries by remaking them at home. They're more inexpensive, and they taste as good as the original, if not better. Enjoy a fast food meal at home with these crispy on the outside, soft on the inside baked curly fries!
It's unclear how these iconic fries came to be, but it's known to have been around since the '40s. Regardless, they're remarkably unique for their curled look and more flavorful taste. Arby's joined the hype for these with their seasoned fries paired with their very own flavorful sauce. The Arby's loaded curly fries that's like our Loaded French Fries Recipe was also added to their menu for a fun twist. It looks like they're not leaving the curly fries game anytime soon, and here's why!
The Famous Arby's Curly Fries
Many fast foods traditionally deep-fry their fries in some fat or oil. But Arby's have switched it up and baked their seasoned curly fries instead. It's definitely healthier compared to your usual fry, and they taste just as amazing, if not better. They're seasoned with spices like onion and garlic powder, to start. Then each fry is coated in cornstarch to achieve that perfect crispiness you'd also get from deep-fried goods. They then bake them in the oven to cook them through, so you're never served raw in the middle fries.
Customers have loved their curly fries so much that Arby's has also released a frozen pack that you can buy. So you might be wondering, why do you have to make the effort of recreating these at home? If you want all-natural, homemade fries, then our recipe is the way to go! This recipe will help you cut back on all those chemicals mixed into their frozen packets. You can also control the flavor contents, making them easier to customize to your liking.
These beautifully twirled fries are best paired with some of the most mouthwatering dishes. Pair them with filling spicy burgers, homemade pizza, or even snack on these fries with a creamy glass of chocolate milkshake. Check out how to make curly fries at home with the simplest ingredients down below!
A Fries Recipe Like Arby's
This homemade curly fries recipe is not far off from the flavors you'd get at Arby's. It's seasoned with paprika, cayenne, garlic, and onion powder, then baked to perfection. Not to mention, you'll get to enjoy a vegan-friendly snack with our fries! We used an egg substitute or egg replacer to help bind the tasty coating together. This helps reduce the use of a wet batter, which gives the fries a crispier exterior.
Now to achieve that classy curly look, we used a twin curl cutter. We also recommend using a vegetable spiralizer or any other curly fry cutter. But we know not everyone has these types of equipment on hand, so here's how to cut curly fries without them.
How To Make Curly Fries Without A Spiralizer
We only need two important tools, which is a skewer and a knife. Using the skewer, stick the point from the bottom of the potato until it peeks out on the other side. Then with your knife, slice the potatoes into spirals. Start from the bottom of the potato, rotating horizontally in an upward motion. Once you've reached the top, spread out the spirals before gently removing the skewer. These will be larger than the classic curly fries, but they'll still have that spiral look to it!
Now that you know the important ingredients and tips about our recipe, give them a try today! They'll make the best sides for your meal or as a snack to enjoy on its own. For more fast-food inspired fries, try out our copycat recipes for Wendy's fries and Chick-fil-A fries.
How To Make Copycat Arby's Curly Fries
A batch of crispy seasoned curly fries has spicy notes from the cayenne and paprika, with hints of garlic and onion. Crispy on the outside and fluffy on the inside fries are just what you need for the perfect snack.
Preparation Time:
35

mins
Ingredients
1¾

tsp

salt,

divided

4

russet potatoes,

peeled

1

tsp

olive oil spray

1

tbsp

egg substitute

½

tbsp

all-purpose flour

2

tsp

paprika

¼

tsp

cayenne

⅛

tsp

garlic powder

⅛

tsp

onion powder

water
Instructions
Bring a large pot of water to a boil. Then add 1 teaspoon of salt into the boiling water.

With a twin curl cutter, cut 7 ounces or about 2 cups of potato curls.

Preheat the oven to 450 degrees F.

Spritz a baking sheet with oil spray, then set aside.

Transfer the potato curls into the boiling water, then cook for exactly 3 minutes.

Drain the potato curls in a colander before setting aside to cool.

In a bowl, combine the egg substitute, flour, paprika, cayenne, garlic powder, onion powder, and the remaining 3⁄4 teaspoon of salt.

Mix until well blended.

Add the potatoes into the dry mixture and toss until they are well-coated.

Transfer the coated potatoes onto the baking sheet. Arrange the potatoes in a single layer.

Lightly mist the potatoes with oil spray.

Bake for 18 to 24 minutes, turning them halfway through until they're crisp.

Serve warm with your favorite dipping sauce, and enjoy!
Nutrition
Calcium:

122mg

Calories:

740kcal

Carbohydrates:

160g

Fat:

5g

Fiber:

11g

Iron:

8mg

Potassium:

3553mg

Protein:

20g

Saturated Fat:

1g

Sodium:

4148mg

Sugar:

6g

Vitamin A:

496IU

Vitamin C:

61mg
Commonly Asked Questions
Can I also air-fry the curly fries?
You definitely can! Preheat your air fryer to 395 degrees F, then place your uncooked, seasoned curly fries into your air-fryer. Let them cook for 10 to 15 minutes, making sure to stir every 5 minutes to help them cook evenly.
What can I use in place of the egg substitute?
An egg substitute is also known as an egg replacer. These powders are commonly found in most supermarkets and online groceries. But if you have none at home, a simple mix of equal parts potato starch, tapioca starch and cream of tartar will work just as well.
How do I freeze cooked curly fries?
Layer your cooked fries onto a baking tray, making sure to set them apart from each other to avoid them from sticking together. Then place them in the freezer for one hour. Once they're frozen, take them off the baking tray and place them in freezer bags. Remove any excess air before sealing the fries and placing them back in the freezer. These will last for up to 3 months.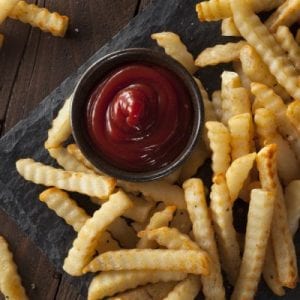 Conclusion
Make all-natural curly fries with our simple recipe that's just like Arby's! These curly fries have the same seasoned flavors and are just as crispy the way they're served in-store. Try these out for your next party for a fun and light snack.