What you need to complete your meal is the perfect side of waffle fries. And what better way to go than a waffle fries recipe that's just like Chick-fil-A's? This unique take on the usual fries has become so popular in many fast-food restaurants. And who wouldn't love it? It's fun-shaped, absolutely flavorful, and perfect to serve as a side to any meal.
We just love anything that Chick-fil-A has to offer. So when you're making this waffle potato fries, try them out with the rest of our Chick-fil-A recipes. Satisfy your Chick-fil-A cravings and try them out today with our waffle fries recipe. But let's dabble more on these aesthetically pleasing waffle fries.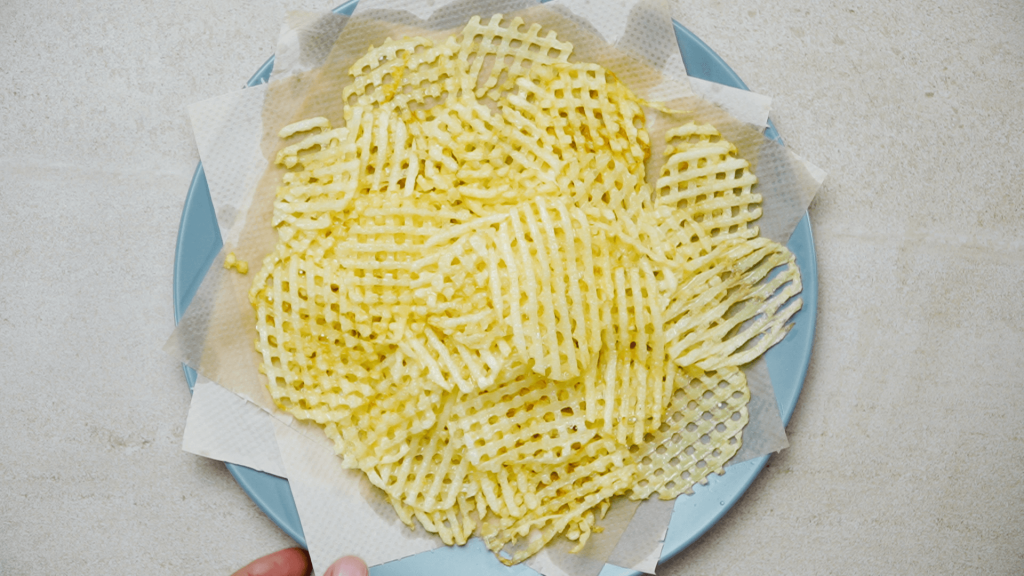 The Original Chick-fil-A Waffle Potato Fries
Your Chick-fil-A chicken sandwich is certainly not complete without their famous waffle fries. They are beautifully cut into the shape of waffles and then fried to golden brown perfection. But what exactly is the reason for having such a fine-looking piece of fry?
Well, the simple answer is because it's bigger and better. If you're the kind of person that loves to dip your fries onto sauces, waffle potato fries are perfect for it. They have a bigger surface area which will help coat your Chick-fil-A fries in those tasty sauces. What's more, they're much crispier with each waffle fry fried to perfection. With their great taste, it's no surprise that these waffle fries have become the most popular in the Chick fil A menu. That's right, they sell more than their own chicken sandwich, which tells you enough about how good they are!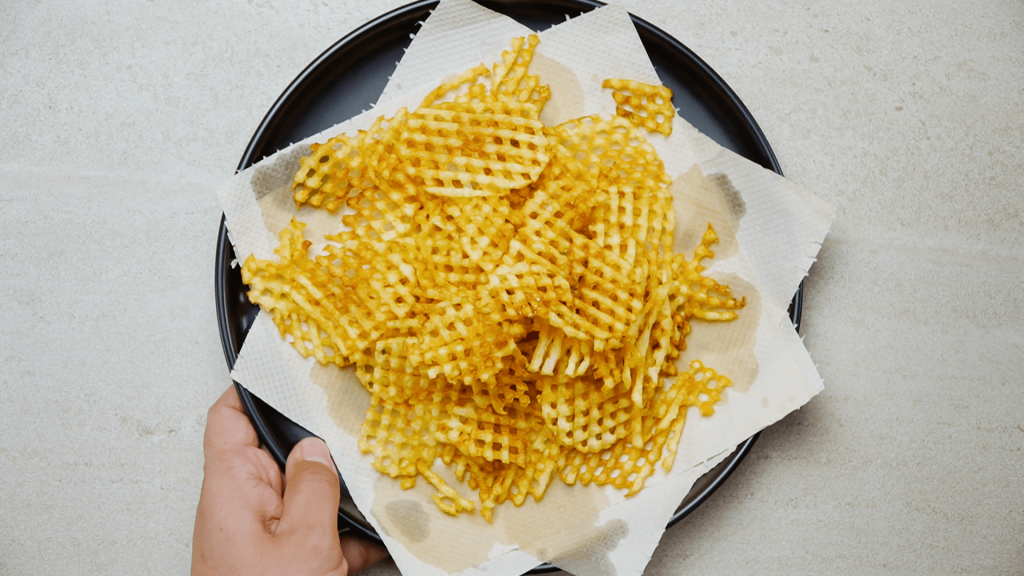 Just Like Chick-fil-A's Waffle Fries Recipe
Our waffle fries recipe is as simple as they come. They require only three ingredients and a little bit of patience. But we guarantee an end result that will be absolutely worth the effort. To get that criss-cut fries look, we recommend using a mandolin or a waffle fry cutter to cut the potatoes. You can check out our CAQ section down below to learn more about how to cut them!
These waffle fries are double fried and then served with a sprinkling of salt. The add-on step of double frying makes the fries crisper than your normal fries and packs a lot of flavors. We're sure the kids will have fun munching on these waffle potato fries, and so will you!
Change up your usual french fries and potato wedges for these crispy waffle fries! These criss-cut fries like Chick-fil-A's are such a fun snack to enjoy with friends and family, especially on a good cookout. If you're looking for more potato dishes, these baked potatoes are excellent to have with your main course.
Take a chance on our waffle fries recipe by trying them today!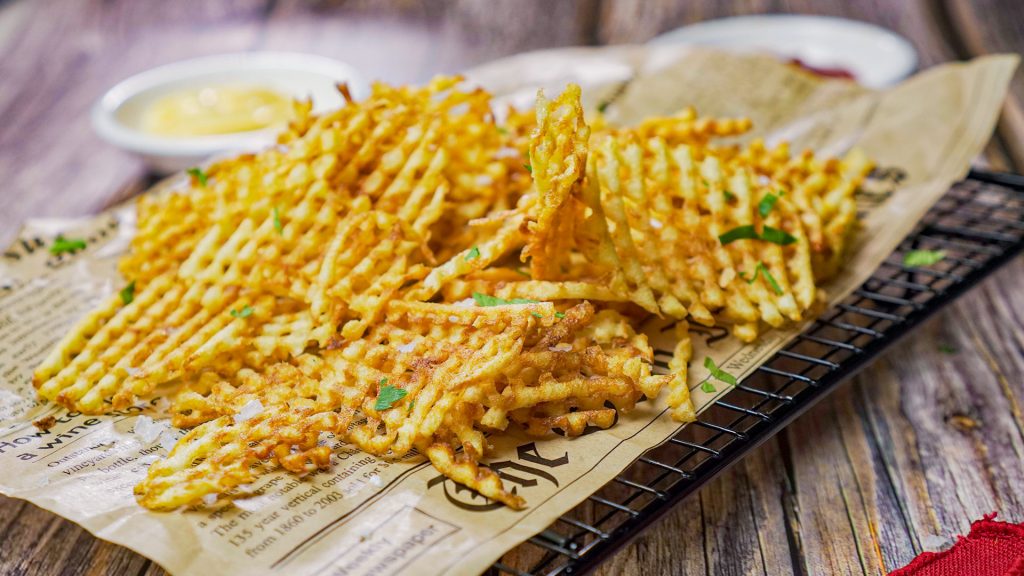 Waffle Fries Recipe (Chick-fil-A Copycat)
How To Make Waffle Fries (Copycat Chick-fil-A)
This waffle fries recipe is sure to satisfy your fries cravings! They taste and look just like Chick-fil-A's waffle potato fries that you know and love. Serve them with your favorite dipping sauce and share a basket with friends and family.
Ingredients
12

oz

russet potatoes,

(2 pcs), large, washed, and dried

vegetable oil,

for frying

sea salt
Instructions
Set the fluted blade of your mandolin to cut the potatoes at about a quarter-inch or half-inch in thickness.

Rotate the potato 90 degrees after each pass in order to achieve a cross-cut look. Meanwhile, soak the sliced potatoes into a large bowl of water.

Fill a large pot or Dutch oven with about three inches of vegetable oil. Allow the oil to reach 320 degrees F before frying.

Drain the potatoes and dry them completely with a paper towel then carefully add the potatoes into the hot oil in batches.

Fry each batch for approximately 4 to 5 minutes before removing from the pot and letting them drain on a paper towel. This first fry ensures that the waffle fries are thoroughly cooked from the inside.

Once your fries have gone through the first round of frying, increase the temperature of the oil to 375 degrees F.

Repeat the process of frying the waffle fries in batches by returning them to the hotter oil for about 2 to 3 minutes. The fries should then have a perfect golden brown color.

Remove the fries from the oil, then drain them on a stack of paper towels.

Sprinkle the fries with sea salt, serve warm, and enjoy!
Nutrition
Sugar:

1g

:

Calcium:

22mg

Calories:

134kcal

Carbohydrates:

31g

Fat:

1g

Fiber:

2g

Iron:

1mg

Monounsaturated Fat:

1g

Polyunsaturated Fat:

1g

Potassium:

709mg

Protein:

4g

Saturated Fat:

1g

Sodium:

9mg

Vitamin A:

2IU

Vitamin C:

10mg
Nutrition Disclaimer
Frequently Asked Questions
What kind of potatoes should I use for this waffle fries recipe?
We highly recommend using Russet potatoes, or any potatoes that have a high starch content. They have the least amount of moisture and tend to be denser, making them perfect for frying. Some other high starch potatoes you can use are Idaho and Yukon Gold.
What can I use in place of the mandolin?
You may use a crinkle cutter and do the exact method of rotating at 90 degrees after every cut. A crinkle cutter will also help to get you that waffle-like look for the waffle fries. Similarly, a special waffle fry cutter, will yield the same appearance for your criss cut fries.
What kind of oil should I use for frying the waffle fries?
We used vegetable oil for this waffle fries recipe, but you can opt to use peanut oil to add extra flavor into your fries. You may also use any non-flavored oil or canola oil for frying.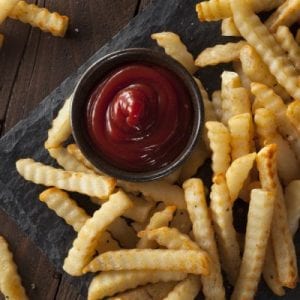 Conclusion
You never have to wait in line to get these gorgeous waffle potato fries from Chick-fil-A. They're crispier than your usual fries and are perfectly shaped to get more of your favorite sauces on there. Enjoy them as a side with a chicken burger or simply munch on them as a snack!