Wendy's has been around since the late 60s and is among the popular fast-food chains around the world. Before, the restaurant serves a traditional menu of burgers and milkshakes. However, throughout the ages, as Wendy's continues to develop their menu, one of the most in-demand dishes is the french fries. It isn't surprising for fast-food chains to offer fries but Wendy's fries stand out.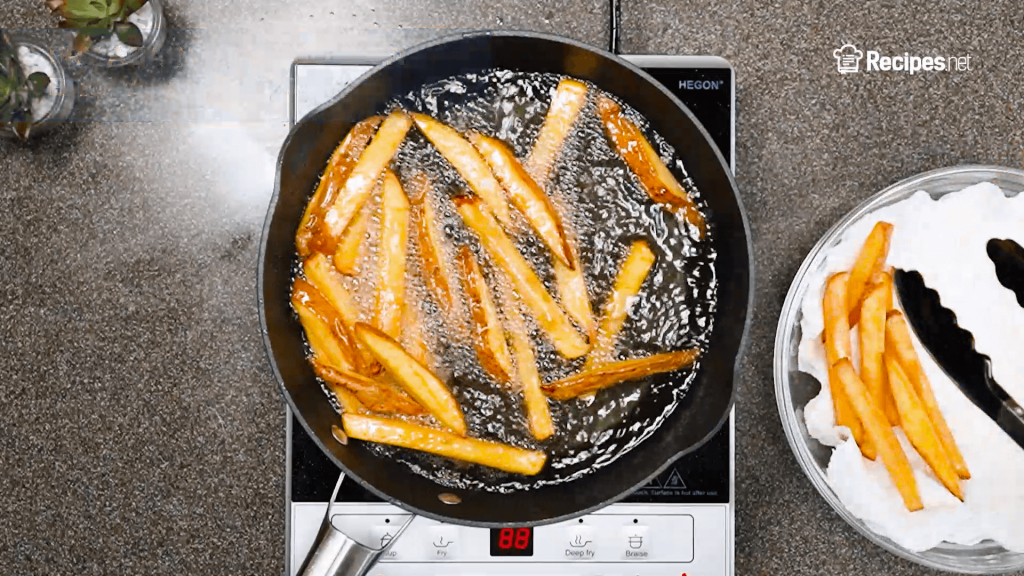 But what makes their french fries special?  Wendy's fry naturally-cut fries skin on and serve it with a dash of sea salt. Their classic take on this savory comfort food makes something simple yet undeniably addicting, which is why we're making this copycat recipe just for you! So if you're craving for Wendy's fries, you no longer have to go out of the house. Read on and discover how you can make and serve a delicious batch of french fries just like Wendy's.
For this recipe, we are going to need large Russet potatoes. These potatoes are known to be starchy which is perfect if you want thick fries. Feel free to season your potatoes with pepper or chili flakes along with salt.
This copycat recipe is easy and great for snacks during movie marathons or casual hangouts. To complete that fast-food experience at home, try our Fennel & Apple Slaw Pork Burger Recipe.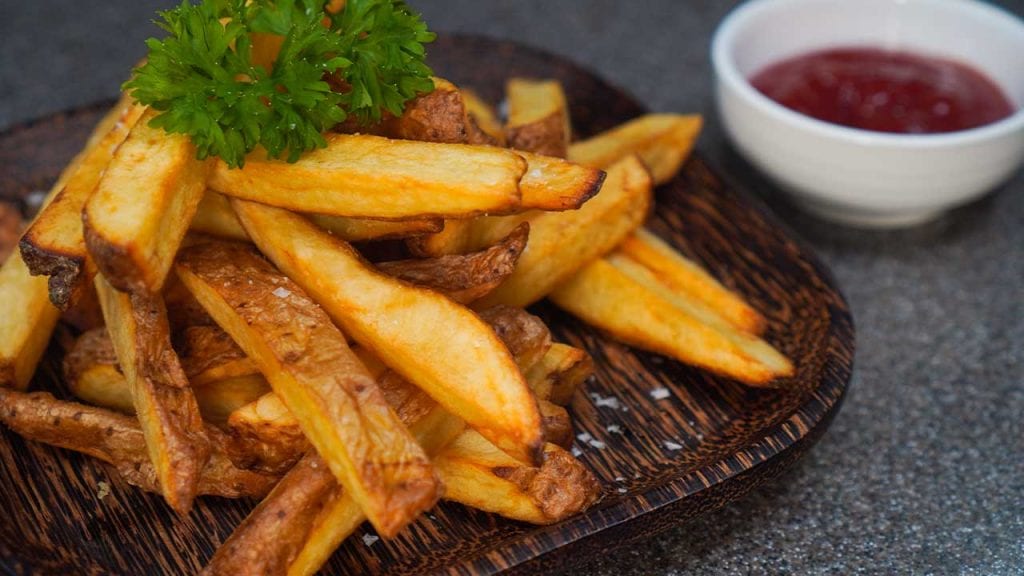 Copycat Wendy's French Fries Recipe
How To Make Copycat Wendy's French Fries
Make a batch of crispy and flavorful natural-cut french fries using only 3 ingredients with this easy Wendy's copycat recipe!
Ingredients
1⅓

lb

potatoes,

preferably russet

3

cups

vegetable oil

sea salt
Instructions
Take out a large bowl and fill it with water.

Slice the potatoes into long, thin strips and place the strips in the water to remove some of the starch. Remember to leave the skin on the potatoes when cutting them.

Remove the potatoes from the water and pat them dry.

Heat the vegetable oil in a small fryer until the oil reaches 300 degrees F. Fry the fries a few batches at a time for about 5 minutes, which is when they should go from shiny to matte.

When finished, use paper towels to drain.

Reheat the oil to 350 degrees F and then fry the potatoes again until they are golden brown and crispy.

Remove from oil, drain and toss with sea salt. Serve.
Recipe Notes
Although you can add flavor to your homemade fries with other seasonings, nothing really beats classic sea salt to really emulate that Wendy's french fries taste.

The higher the temperature, the quicker your fries will be cooked. 

If you want to have

more

savory fries, we recommend

loading it with

some herbs. Rosemary and thyme can make your fries savory and have an earthy flavor. If you want to have a sweet and minty taste, a sprig of mint will do the trick.
Nutrition
Sugar:

19g

:

Calcium:

288mg

Calories:

4664kcal

Carbohydrates:

419g

Fat:

329g

Fiber:

53g

Iron:

19mg

Potassium:

10088mg

Protein:

48g

Saturated Fat:

267g

Sodium:

144mg

Vitamin A:

48IU

Vitamin C:

472mg
Nutrition Disclaimer
Commonly Asked Questions
 How can I make my french fries vegan-friendly?
Potato is a vegan-friendly ingredient. However, it's important to note that if you want to make this recipe vegan-friendly you should also use vegan-friendly oil for frying your potatoes. If you are not comfortable with frying, you can always bake your potatoes. To do so, coat them with olive oil and your preferred spices, arrange in a single layer on a baking sheet and bake at 450 degrees F for 15 to 20 minutes. Then flip the fries and bake them for another 5 to 10 minutes for a crispy finish.
How can I make my fries crispy?
To make sure your fries will have that satisfying crispiness, we suggest soaking your peeled, and cut potatoes in the cold water at least 24 hours and storing it inside the fridge for several hours until overnight before frying. This will somehow get rid of the extra starch and will trigger crispness as you fry your potatoes.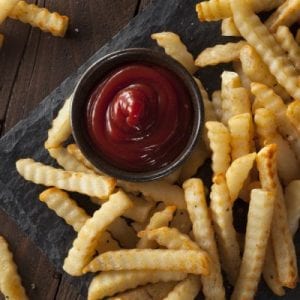 Conclusion
Fries are a staple side dish that complements a variety of other main dishes. As such, they're the perfect side to have ready at home. Keep this recipe on hand for sudden cravings or for when you just need an extra side dish to complete your meal.