Who can resist crispy and flavorful french fries? Although there's no question that the world fell in love with this Belgian invention, we're after the best one out there. With this, we're giving you another crowd-favorite copycat recipe from Steak and Shake. Steak and Shake is mostly known for having the finest burgers and milkshakes around. But your meal isn't complete without their delicious french fries. And, what makes this recipe different from the rest is it's a quick and easy process with only three ingredients. 
For this recipe, we're using peanut oil which is commonly used for frying and sauteing, adding a hint of nutty flavor. We recommend using peanut oil because this recipe requires deep-frying the potatoes twice. Unlike most oils, peanut oil don't absorb the flavor of the food that was fried in it. Hence, whatever flavor is present before cooking stays locked in there. But of course, if you have a peanut allergy, you can always use any other oil to your liking. If you want saltier notes, pre-slice your potatoes and soak them in saltwater for an hour or overnight. This gets rid of the starch for crispier results.
French fries are delicious as a stand-alone snack but it's also worth trying pairing it with another meal. Try our Original McDonald's Cheeseburger recipe for a meaty dish on the side. We all love recipes that bring our fast-food favorites in the comfort of our own home. These are great recipes for BBQ gatherings or a fun way to spice up your family dinner.

Tip:
For peanut oil alternatives, you can use canola oil, grape seed oil, sunflower oil, vegetable oil, and even safflower oil.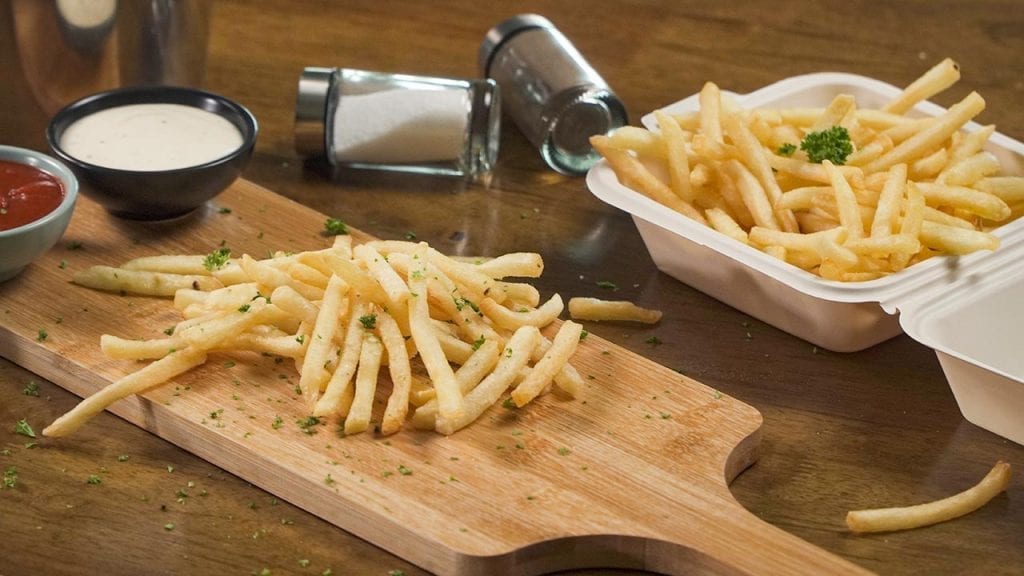 Just Like Steak and Shake French Fries Recipe
How To Make Just Like Steak and Shake French Fries
This mouth-watering batch of fries serves the best of Steak and Shake. Make this 3-ingredient recipe and enjoy a fun and savory snack!
Ingredients
25

oz

russet potatoes,

peeled

vegetable oil,

for frying, about 5 cups

salt,

to taste
Instructions
Cut the potatoes into sticks.

Heat the oil at 375 degrees F in a deep skillet.

Throw in the French fries and cook for 3 to 4 minutes. Cook all the sides well until the fries get soft and develop a light golden hue.

Use a mesh strainer to remove the fries from the pan and drain them over a paper towel.

Once done, submerge the fries into the oil again and cook for another 2 minutes until the fries turn a dark golden brown.

Remove the fries, drain, and season with salt.

Serve them warm with a side of your preferred condiments. Enjoy your crisp and salty batch of Steak and Shake fries.
Recipe Notes
Right cooking temperature is important to fry the potatoes to the right degree and to the right crispiness, so you may make use of a thermometer to ensure that you are cooking at the right temperature.
Nutrition
Sugar:

1g

:

Calcium:

18mg

Calories:

1448kcal

Carbohydrates:

26g

Fat:

151g

Fiber:

2g

Iron:

1mg

Potassium:

592mg

Protein:

3g

Saturated Fat:

26g

Sodium:

7mg

Vitamin C:

8mg
Nutrition Disclaimer
Frequently Asked Questions
How can I reheat french fries?
Stale fries cannot be avoided, although, you can always bring back their crispy exterior. In reheating fries, remember not to use a microwave because they will only turn out soft and mushy. Instead, we suggest reheating them in a cast-iron skillet by greasing your pan with butter or oil and frying them for 3 to 5 minutes. Do not overcrowd your skillet. If you have a big batch, fry only one layer of fries in every batch. You can also place them in a baking sheet arranged in a single layer and reheat them in a preheated 450 degrees F oven for about 5 minutes or until it reaches your desired texture.
Can I use an air fryer for this recipe?
Yes, but keep in mind that part of where the fries get its flavor is from the peanut oil. It adds a subtle nutty flavor despite being a neutral oil. Drizzle a small amount of peanut oil if you plan to air-fry your french fries. Preheat your air fryer to 375 degrees F and cook your fries for 15 minutes. On the 10 minute mark, toss your fries for an even crisp.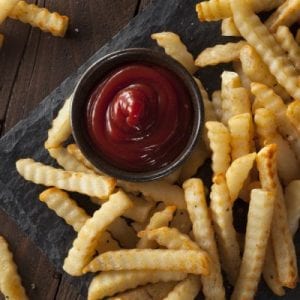 Conclusion
Recreate this copycat dish using the freshest ingredients! It's simple yet absolutely flavorful. And not forgetting, it captures the crisp and smokey characteristics of the authentic Steak and Shake french fries. You'll want this served on every occasion!