How To Make Copycat Dunkin Donuts Long Johns
Fill your sugar cravings with a long john donut! This donut bar is simple, easy to make, and will keep you energized all day.
Advertisement
Continue Reading Below
Ingredients
¼

oz

active dry yeast

1

cup

warm milk

¼

cup

unsalted butter

¼

cup & 2 tbsp

confectioners sugar

½

tsp

salt

1

piece

egg

¾

cup

all-purpose flour,

plus more as needed

1

cup

vegetable ,

for deep fat frying
For Glaze:
¼

cup

confectioners sugar

1

tbsp

brown sugar

1

tbsp

water

½

tsp

vanilla extract

⅛

tsp

salt
Instructions
In a large bowl, dissolve yeast and 2 tbsp sugar in warm milk. Set aside until yeast activates, or bubbles up.

Sift together salt, flour, and remaining sugar. Set aside.

Cream together eggs and butter until pale and fully incorporated.

Add the yeast and flour mixtures. Combine until the thick batter forms a smooth dough.

Grease a large mixing bowl and place your dough in it, turning once to grease its top. Do not knead yet.

Cover and let rise for about 1 hour in a warm place until doubled in size.

Punch dough down after the dough has risen.

Turn dough onto a lightly floured surface; then roll into a 12 inches x 8 inches rectangle. Cut into 3 inches x 1 inch rectangles.

Place cuts on greased baking sheets.

Cover and let rise for 30 minutes in a warm place until it doubled in size.

In an electric skillet or deep-fat fryer, heat oil to 400 degrees F. Fry doughnuts, by batches, until golden brown on both sides. Drain on paper towels to remove excess oil.

In a medium-sized bowl, combine all glaze ingredients. Mix them together and dip the top of your long johns on your sweet toppings.
Recipe Notes
If not eating immediately, store your freshly baked donuts in storage bags or airtight containers to keep them fresh.
Advertisement
Continue Reading Below
Advertisement
Continue Reading Below
Commonly Asked Questions
How long are donuts good for?
The shelf life of donuts depends on how you store them. Freshly baked glazed donuts can last for 1 to 2 days in an airtight container at room temperature. Make sure to store the donuts in a dry area and keep them out of direct sunlight. If you keep your plain donuts in the refrigerator, it will last for 5 to 7 days. But for cream-filled donuts, it's best to keep them in the fridge. If properly stored, your cream-filled donuts can last for about 3 to 5 days. You can also wrap the donuts with aluminum foil or freezer bags and place them in the freezer. If kept in the freezer, your donuts will last for about 2 to 3 months.
How to tell if donuts are bad or spoiled?
Donuts do not last that long and it may go bad. You can determine the quality of the donuts based on their smell and look. If you notice molds on your donuts or if they start smelling off, throw away your donuts immediately.
What is the difference between a cruller and a long john?
While both are sure to indulge your sweet cravings, crullers and long johns are quite different from one another. Cruller donuts are made with pâte à choux, a kind of pastry dough, twisted in fluted rings, then fried and dipped in a sweet glaze. Long johns, on the other hand, are made of yeast dough and fried. It's commonly topped with chocolate maple icing and also stuffed with white cream.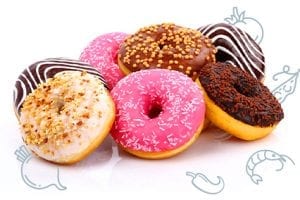 Conclusion
Serve freshly made long john donuts, with a cup of hot coffee on the side to kickstart your day! It's fluffy, coated with a sweet glaze, and sprinkled with sugar. With its signature taste and texture, Long Johns are incredibly delicious! And you don't have to wait in a long queue at Dunkin' Donuts to pick up your favorite treats. Make yourself some classic sweet treats with our easy recipe to indulge your sugar cravings.
Advertisement
Continue Reading Below
Topics:
Advertisement
Continue Reading Below
Advertisement
Continue Reading Below