Want to be the star at dinner parties? Try this signature pot roast dish from Golden Corral. It's sweet, flavorful, and comes with an aroma that will certainly remind you of home.
In this recipe, we'll guide you through recreating a Golden Corral staple. Prepare this for your family get-togethers, birthdays, Thanksgiving, or just for simple lunch or dinner and it will be just like sitting in an eat-all-you-can buffet.
Not only does it bring warmth to every household dinner, but it also fills the bellies of our loved ones. A classic recipe for a classic dish that reminds us of family and the joy they bring to our lives.
How To Make Copycat Golden Corral Pot Roast
A pot roast is always a good idea for family dinners. If you're looking for a simple recipe whose savory flavors will warm your body and soul, we've got you covered.
Ingredients
5

lbs.

chuck roast

2

tbsp.

olive oil

1

tbsp.

salt

1

tbsp.

pepper

6

pieces

carrots

2

cups

yellow onions

1/2

lb.

green beans

1

lb.

yukon gold potatoes

4

cups

beef broth

3

pieces

sprigs thyme

3

pieces

sprigs rosemary
Instructions
Roughly chop all of your vegetables.

Preheat your oven to 275 degrees.

While your oven is heating. Pour the oil in the dutch oven over the stove at medium heat. Add in your onions to saute.

Remove the onions and in the same pot, cook your meat on all sides.

Once the meat is cooked, remove the meat to a separate plate.

Pour in half of the beef broth into the dutch oven, and whisk together with the drippings from the cooked beef.

Add in the meat and vegetables.

Pour in the remaining beef broth.

Remove the thyme and rosemary from their stalks and sprinkle into the dutch over. Add salt and pepper in the pot to add flavor.

Cover the pot and remove form the stove. Place it in the oven and bake for 3 to 3.5 hours.

Serve in a bowl with some of the juice and a little bit of everything, and with a side of some crusty bread. Enjoy!
Nutrition Facts
Calories:
496
kcal
|
Carbohydrates:
13
g
|
Protein:
46
g
|
Fat:
29
g
|
Saturated Fat:
12
g
|
Cholesterol:
156
mg
|
Sodium:
1244
mg
|
Potassium:
1090
mg
|
Fiber:
2
g
|
Sugar:
2
g
|
Vitamin A:
310
IU
|
Vitamin C:
15
mg
|
Calcium:
71
mg
|
Iron:
6
mg
Commonly Asked Questions
Do you have to brown a roast before putting it in the crockpot?
Browning the meat is recommended and unnecessary if ever you choose to cook your meats to a medium-rare. The pros of cooking your meat with a crusty brown surface, is that it releases the meat's flavors – improving the taste of your pot roast to a natural meaty flavor. 
What is the difference between a pot roast and roast beef?
The only difference between the two is that cooking a pot roast requires a certain amount of liquid while cooking. Cooking a roast beef on the other hand, requires to be cooked dry.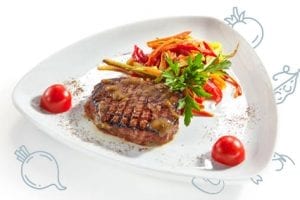 Conclusion
This copycat golden corral pot roast recipe is the quickest and easiest to prepare when you're rushing to serve up a family dinner that will fill everyone's bellies. With our clear and easy-to-follow steps, you won't have to worry about scrolling through hundreds of recipes just to find the right one. Nothing beats a classic pot roast. If there are some leftovers, then it's something everyone can take home a piece of hearty goodness.