Mashed potato recipes can be tricky to prepare. Usually, they have the tendency to be either too thin or too thick, too buttery or too chunky. On the brighter side, it is one of the recipes that you can prepare according to your preferred consistency and taste!
Some people enjoy mashed potatoes alone but for some, they like it best paired with some gravy and bits of ham for added texture and flavor. Other people also enjoy eating this side dish with any kind of fried, slow-cooked, or roasted meat. Some people even love to have this dish paired with a nutritious vegetable recipe.
Before getting into the fun part of actually doing the recipe, you should get yourself acquainted with the different kinds of potatoes. Some potatoes are categorized as waxy or mealy, and some differ according to their starch content. As a recommendation, we prefer to use Yukon golds and/or Russet Potatoes because of their inherent buttery flavor which is best for mashed potatoes!

Tip: Yukon golds and/or Russet Potatoes are the best potatoes to use for making making mashed potatoes.
How To Make Mashed Potatoes, Ham, and Gravy
Perfect for your all year round homestyle meal, this recipe helps you prepare your creamy and savory mashed potatoes topped with ham slices and gravy. 
Ingredients
3

cups

water

1

tsp

salt

1 1/2

lbs

russet potatoes

peeled and cut into large chunks

3

tbsp

heavy cream

3

tbsp

unsalted butter

salt and pepper

to taste

1

pkt

gravy mix

1

large ham

Cooked
Instructions
Put water in a pot, bring it to a boil, and then add a pinch of salt.

Put in potatoes, return to a boil. After a few moments, reduce the heat and let it simmer for about 20 minutes.

In a skillet, add some oil to the pan. Set aside.

When the potatoes are tender, turn off the heat. Drain the water, and put the potatoes back in the pan. 

Using a hand masher or electric mixer, mash the potatoes until smooth.

Add in the heavy cream and butter. Season with some salt and pepper. Mix them well together. 

For the gravy, follow the prep directions on the gravy mix packet.

Place the mashed potatoes in a dish. Top them with cooked ham, and pour the hot gravy over everything, and serve them piping hot!
Nutrition Facts
Calories:
250
kcal
|
Carbohydrates:
31
g
|
Protein:
15
g
|
Fat:
13
g
|
Saturated Fat:
8
g
|
Cholesterol:
38
mg
|
Sodium:
604
mg
|
Potassium:
709
mg
|
Fiber:
2
g
|
Sugar:
1
g
|
Vitamin A:
432
IU
|
Vitamin C:
10
mg
|
Calcium:
37
mg
|
Iron:
1
mg
Commonly Asked Questions
How many potatoes do you need to make mashed potatoes for one person?
For a side dish, an approximate of ½ pound of potatoes for one person is estimated. So if you plan on preparing for 6 people, you should use around 3 pounds of potatoes.

What meat goes well with mashed potatoes?
The majority of people pair mashed potatoes with some roast beef or some meatloaf. Other alternatives also include fried chicken and sometimes, steamed vegetables.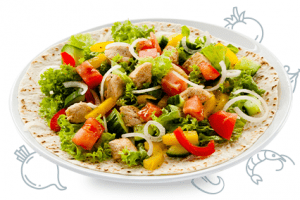 Conclusion
What's great about this recipe is that you can change the mashed potato and gravy ratio according to your preferences, and top it with just the perfect amount of ham! Almost everyone is a fan of potatoes, especially when it's a mashed potato dish. Its buttery, creamy, and flavorful nature surely brings joy to everyone who eats it!