Mashed potatoes on their own, are already a holiday tradition. Pair them with gravy and ham, and they make a perfect Thanksgiving combination. While this recipe may be perfect for the holidays, don't forget to treat yourself from time to time! After all, this recipe is absolutely easy to make and utterly delicious.
Mashed potato recipes can be tricky to prepare. Usually, they have the tendency to be either too thin or too thick, too buttery or too chunky. On the brighter side, it is one of the recipes that you can prepare according to your preferred consistency and taste!
Before getting into the fun part of actually doing the recipe, you should get yourself acquainted with the different kinds of potatoes. Some are categorized as waxy or mealy, and some differ according to their starch content. As a recommendation, we prefer to use Yukon golds and/or Russet Potatoes because of their inherent buttery flavor which is best for mashed potato recipes!
If you are looking for an alternative mashed potato meal and don't mind carbs on carbs, you should also give our Mashed Potatoes and Rice Casserole recipe a try.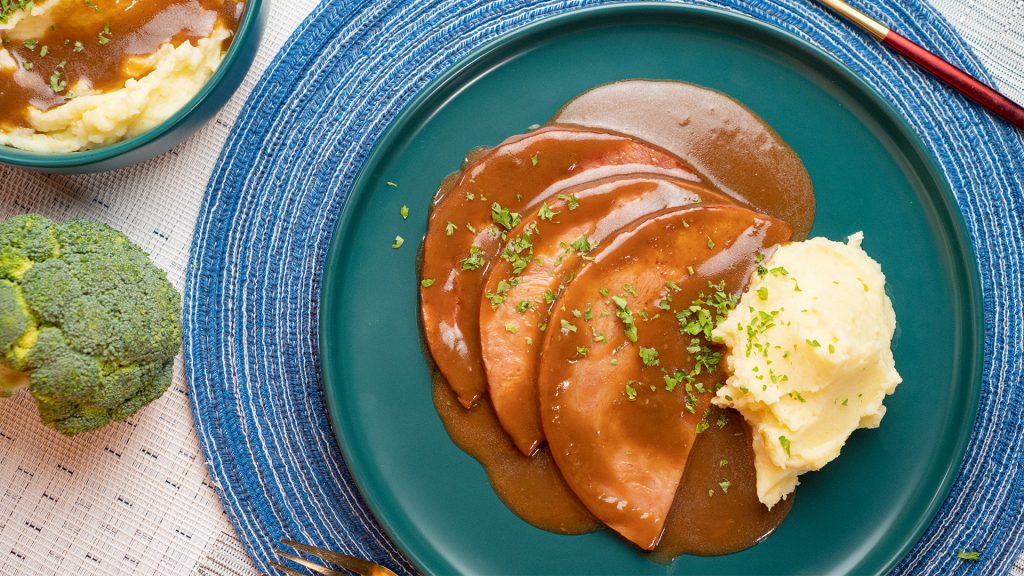 Mashed Potatoes, Ham, and Gravy Recipe
How To Make Mashed Potatoes, Ham, and Gravy
Perfect for your all year round homestyle meal, this mashed potato recipe topped with ham slices and gravy is beautifully creamy and savory. 
Ingredients
Mashed Potatoes:
1½

lb

potatoes,

preferably Russets, peeled and cut into large chunks

3

cups

water,

Roughly 3 cups

3

tbsp

heavy cream,

peeled and cut into large chunks

3

tbsp

unsalted butter

3

tbsp

milk

salt and ground white pepper,

to taste
Ham & Gravy:
forest ham,

½ inch slices, or deli ham, preferably smoked (pork, chicken, or turkey)

1⅓

cups

strong coffee

1

cup

ham trimmings,

chopped

1½

tbsp

vegetable oil

2

tsp

all purpose flour

½

tsp

hot sauce

salt and ground white pepper,

to taste
To serve:
Instructions
Mashed Potatoes:
Add potatoes into a soup pot and pour enough water to cover the potatoes.

Bring this to a boil and continue boiling for roughly 20 minutes until potatoes are easily mashed with a fork.

In a small saucepan, combine cream, butter, and milk. Heat until the butter is melted and set aside.

Drain the potatoes and discard all the liquid. Mash the potatoes either using a ricer or hand masher.

Pour half of the butter and cream mixture first into the mashed potatoes and fold until smooth. Repeat until you achieve the desired consistency.

Season with salt and pepper and adjust accordingly. Set aside and keep warm.
Ham & Gravy:
Heat up your oil in a skillet over medium-low heat. Add your ham trimmings and saute until caramelized. Once your trimmings stick to your spoon or spatula, drain the trimmings and discard them. We will use the oil for this recipe.

Increase the heat to medium. Add your ham slices and sear evenly on all sides, no more than 3 minutes per side. Adjust the heat as necessary, as the ham is already cured with salt and sugar, making the fat and ham easily burn. Set aside.

Reduce the heat to medium-low, add the flour, and roast briefly while whisking to incorporate, forming the roux.

Add your coffee and hot sauce. Whisk to combine, and bring this to a simmer.

Continue simmering until your sauce has thickened and slightly reduced no more than 10 minutes.

Lightly adjust the seasoning with salt and pepper to taste.

Return the ham back to the sauce and warm through for no more than 5 minutes.

Place a generous portion of mashed potatoes at the bottom of your serving ware. Place the slices of ham either on top or on the side of the potatoes.

Pour gravy to cover the ham. Garnish with parsley and serve with roughly ¼ teaspoon of parsley per serving.
Nutrition
Sugar:

2g

:

Calcium:

50mg

Calories:

256kcal

Carbohydrates:

31g

Cholesterol:

39mg

Fat:

13g

Fiber:

4g

Iron:

1mg

Monounsaturated Fat:

4g

Polyunsaturated Fat:

1g

Potassium:

782mg

Protein:

4g

Saturated Fat:

8g

Sodium:

44mg

Trans Fat:

1g

Vitamin A:

450IU

Vitamin C:

34mg
Nutrition Disclaimer
Commonly Asked Questions
Can mashed potatoes be made ahead of time?
Yes, if you are pressed for time, you can totally prepare mashed potatoes up to two days ahead. Simply reheat before serving, and add the cooked ham and gravy mix on top when ready to serve. A bonus tip: If you add butter just before serving, your mashed potatoes will taste freshly mashed and your guests will never know!

Why are my mashed potatoes gluey?
Oops, you must have overworked your mashing. Sometimes, too much effort can produce the opposite effect, so take care not to mash to vigorously or too long to prevent your mashed potatoes from turning gluey.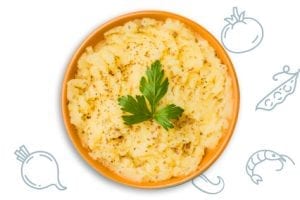 Conclusion
What's great about this recipe is that you can change the mashed potato and gravy ratio according to your preferences, and top it with just the perfect amount of ham! Almost everyone is a fan of potatoes, especially when it's a mashed potato dish. Its buttery, creamy, and flavorful nature surely brings joy to everyone who eats it!