Margarita is such a versatile cocktail. We're saying, it's fashionable in any way. You can serve this drink at formal parties while engaging in a loaded discussion with a friend or while dancing loose at night clubs. Definitely, you can pair this watermelon margarita with your lunch or dinner. It looks so pretty, it's easy to make, and it tastes wonderful.
Made with the 'iconic fruit of summer', this refreshing watermelon margarita screams tropical fun! If you'd love this recipe, surely you'll enjoy our Cranberry Margarita as well.
What's In Our Watermelon Margarita?
This recipe only consists of only a few ingredients and is easy to prepare in your kitchen bar. Enjoy the sweet, sour, and smooth flavors of this watermelon margarita made with these ingredients.
Tequila Blanco

– Tequila is usually used in creating cocktails such as Margaritas for its citrusy notes. Tequila Blanco, one that is used in this recipe, is an un-aged tequila giving you a smooth, earthy, and sweet taste.

Lime Juice

– Apart from combating the bitterness of alcohol, lime juice also give cocktails the zesty aroma and taste. Its peels are also grated into the salt used to line the rims of your glasses. 

Seedless Watermelon

– The star of our glass. Watermelon is the epitome of refreshment on a hot summer's day. Aside from the pop of color, it is the component that sweetens and gives your margarita its fruity taste. With the watermelon puree, it makes this margarita a little more surprising with those slightly crunchy bits!
Pair this cocktail drink with Mexican Corn (Elote). This grilled dish works wonders with our mildly sweet and sour watermelon blended alcohol. The fresh and citrusy flavors of Cilantro Lime Shrimp works great too with this cool drink. 
Make Your Watermelon Margarita Even Better
This refreshing watermelon margarita recipe surely is thirst-quenching and easy-to-mix, but here are more delicious ways to customize your margarita mix and enjoy them even better. Take this party drink to another level with a new blast of flavors using ingredients that are readily available in your fridge. These are convenient to add and will make a difference in presentation and in taste.
Cucumber

– Simply submerge a piece or two on your tequila to add some flavor to your base or main liquor. You can also use this as garnishing. Cucumber has a mild and sweet taste that blends well with fresh watermelon.

Hot Bell Pepper

– Spice up your margarita drink by adding some grated peppers to the rim of kosher salt, making the after-taste of the drink tangy and salty. You can also submerge pepper slices in your glass before mixing in the liquid ingredients for a spicy kick. 

Mint

– Place your mint leaves in your glass before pouring your tequila. This twist will give your drink a soothing cool and menthol flavor. Plus, it adds color to your drink.

Lemon

–  Have a bite of that lemon on your other hand after sipping through your margarita. This will give you a good sour and citrusy taste after drinking your bittersweet booze.
These refreshing add-ons will complement well with your watermelon mix. Serve yourself a glass of this sweet alcoholic treat in just 10 minutes!
How To Make Refreshing Watermelon Margarita
This blended watermelon margarita is the perfect drink for grown-ups who want a puree in their alcohol beverage. It's refreshingly sweet and sour, with the right tanginess.
Advertisement
Continue Reading Below
Ingredients
5

tbsp

tequila,

blanco

2½

tbsp

lime juice

1

cup

watermelon,

cubed and seeded

ice cubes
For Garnish:
Salt,

for lining glass rim (optional)

Lime wedges
Instructions
Puree the cubed watermelon in a blender until smooth.

Strain the watermelon puree with a fine mesh strainer to remove pulp or left-over seeds.

Pour the watermelon juice, lime juice, tequila, and preferred amount of ice cubes to a cocktail shaker.

Shake well to properly mix ingredients.

Place salt in a small plate. Rub the lining of your margarita glasses with a lime wedge.

Dip the margarita glasses' wet rims into the plate of salt.

Pour the margarita mixture into the glasses.

Garnish with lime wedges, and serve!
Advertisement
Continue Reading Below
Advertisement
Continue Reading Below
Commonly Asked Questions
What is the best alcohol to use in Margarita?
Blanco is the most common tequila used in making Margaritas for its smooth and citrusy flavor. But the likes of Mezcal would give you a smoky and sweet flavor, while Reposado gives an oaky and stronger taste.

Can tequila be replaced with vodka?
Definitely! You can use vodka to substitute tequila for your margarita mix. You can also use rum if you want a fresh and grassy flavor, or martini if you want something dry and sweet.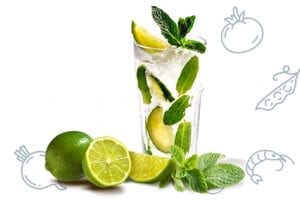 Conclusion
Our refreshing watermelon margarita is the perfect tropical drink you've been looking for. If you want that sweet blended booze, then mix up this easy margarita recipe and serve this at your next party. Enjoy its smooth and rich blast of flavor in a glass.
Advertisement
Continue Reading Below
Topics:
Advertisement
Continue Reading Below
Advertisement
Continue Reading Below