We're giving a hack to one of our favorite dinner recipes, the classic steak and potatoes combo. In this recipe, we're cooking the steak and potatoes in oven. It makes delicious, garlicky, melt-in-the-mouth steak with tender yet crisp potatoes on the side. Plus, cooking a steak in the oven lessens the chances of having it overcooked. Pair your elegant steak and potato bake with other delicious steak dinner sides like caramelized onions, caesar salad, and rice.
Tips on Making Steak and Potatoes in Oven
This garlic steak and potatoes recipe is pretty straightforward that even beginners can make it. On top of that, we have more helpful tips and techniques to ensure that you cook a perfectly juicy steak at home every time. 
Rest the steak for 30 minutes to an hour at room temperature before cooking.

Cold steak won't cook evenly.
Ribeye, porterhouse, NY strip, or top sirloin steaks?

Use any as you prefer for this

baked steak recipe

.
You can also use any type of potato

, like

yukon gold potatoes

, russet, or even sweet potatoes. We just used baby potatoes because they're cute and small and will cook easily. If you happen to only have regular potatoes, just cut them into about 1-inch cubes so that they will finish cooking around the same time as the steaks. You can also toss in some carrots, bell pepper, or zucchini.
The steak sauce baste gives it a beautiful brown color.

But if you've got extra time, you give the steak a quick sear on a very hot pan before baking it.
Customize your steak potatoes by seasoning them with your favorite spice mix.

You can add chili pepper flakes for some heat, paprika for a smokey flavor, or

Italian seasoning

and

garlic powder

for an herbier and stronger flavor.
Save the pan drippings.

Add a bit of butter, olive oil, some garlic, steak sauce, and cooked white rice. Mix it up and you get the easiest and most delicious steak rice. Cut up some

steak bites

to top over the rice for a meaty and carb-loaded meal!
Wondering what goes good with steak? Some of the best side dishes for steak are sauteed green beans, corn on the cob, and of course, garlic butter to make it taste even richer. Feel free to get creative with your steak dinner ideas by pairing them with any of these.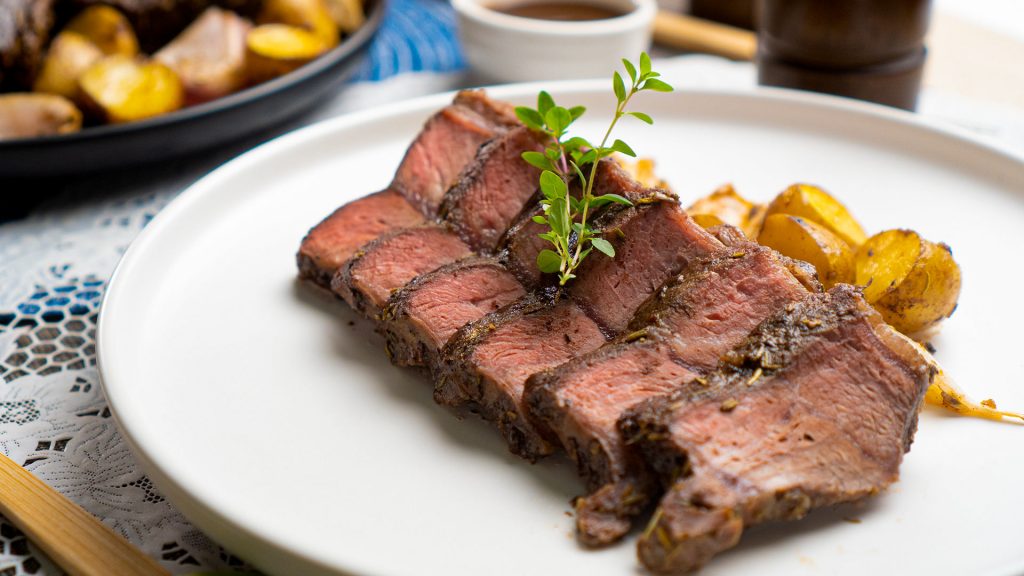 Steak and Potatoes in Oven Recipe
How To Make Steak and Potatoes in Oven
This steak and potatoes in oven recipe serves perfectly cooked steak and crisp yet tender potatoes for a fuss free scrumptious dinner. The steak sauce, complemented with the spice rub of garlic, onion, thyme, and rosemary, gives it a rich herby flavor.
Ingredients
2

lb

top blade steak,

can be chuck or strip steak, boneless and cut into 2-inch slices

13

oz

new potatoes,

scrubbed clean and halved

5½

oz

red onions,

halved or quartered depending on size

¼

cup

steak sauce

1

tbsp

garlic salt

1

tbsp

onion powder

1

tbsp

dried rosemary

1

tsp

ground black pepper

½

tsp

dried thyme

cooking spray
To Serve:
Instructions
Preheat your oven to 350 degrees F. Grease a baking sheet with cooking spray and line with foil.

In a large mixing bowl, combine all your ingredients except for the steak sauce.

Transfer to your greased baking sheet, then grease all your ingredients with cooking spray.

Bake steak until it is cooked to your preference and the potatoes are soft and tender, roughly an hour.

Baste your beef with the steak sauce frequently.

Serve the oven baked steak and potatoes immediately garnished with thyme sprigs.
Nutrition
Sugar:

4g

:

Calcium:

69mg

Calories:

411kcal

Carbohydrates:

25g

Cholesterol:

161mg

Fat:

13g

Fiber:

4g

Iron:

7mg

Monounsaturated Fat:

7g

Polyunsaturated Fat:

1g

Potassium:

1306mg

Protein:

49g

Saturated Fat:

6g

Sodium:

2194mg

Trans Fat:

1g

Vitamin A:

85IU

Vitamin C:

23mg
Nutrition Disclaimer
Frequently Asked Questions
Can you cook meat and potatoes at the same time?
Yes, you can cook them together and they will finish cooking at the same time when baked, just like what we did for this sheet pan steak and baked potato recipe. For other steak cooking methods, however, like cooking on a hot pan on the stove, the steaks will finish first. If that's the case, it'll be a good idea to boil the potatoes until they're half tender to give them a head start.

Should I wrap my steak in foil?
It's not necessary to wrap steak in foil if you're going to baste them every once in a while as you bake them. Foil helps keep moisture so that the steaks won't dry out, and not having foil here is compensated by basting.

At what temperature do you bake steaks and potatoes in oven?
Baking the beef and potatoes at 350 degrees F preheated oven is a good place to start. It's not too hot nor too cold. You may begin checking for doneness at the 15 minute mark using a meat thermometer. It's 125 degrees F for a rare steak, 135 degrees F for medium rare, 145 degrees F for medium, 150 degrees F for medium well, and 160 degrees F for well done.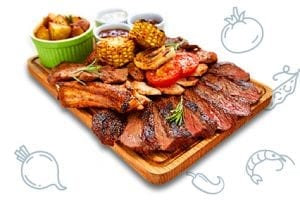 Conclusion
Say goodbye to tough and rubbery steaks by making your steak and potatoes in oven instead. It's still just as juicy, tender, and delicious, but with less risk of overcooking.