If you're a big fan of simple food like meat and potatoes, you're going to love this scrumptious recipe! These pork chops and potatoes are the perfect hearty meal to have for dinner. It is a filling one pot meal with big portions of pork chops and tender potatoes, smothered in a tasty sauce. Creating our pan fried pork chops is inexpensive, and remarkably easy to make in less than 2 hours.
Smothered Pork Chops and Potatoes
You can never go wrong with a dish that'll keep you full and satisfied all evening. This particular dish's recipes differ depending on how you like to cook them. Some come in a delightful smothering of tomato sauce like our one pan pork chops and potatoes. Others similar to a recipe for baked pork chops and potatoes use a dry rub of olive oil and spices. It is such a versatile dish with various ingredients that you can mix and match to your liking.
This recipe also varies in cooking methods. The most used method is having them baked and roasted. Several use a faster technique by trying out a slow cooker. Though having instant pot pork chops and potatoes are prominent in many recipes. Regardless of how you cook it, it's still a much-beloved dish that's cooked and shared with friends and family.
This meal is perfect to serve in celebrations or if you simply feel like spoiling your loved ones. Feel free to try our recipe for pork chops just in time for dinner. Here's how we make it:
Cooking Pork Chops with Potatoes in Dutch Oven
Our pork chops and potatoes recipe is the perfect dutch oven meal to have for dinner tonight!
Instead of using regular oil, we've made use of the fat from the pork loin blade chops. We render a bit of the fat for a few minutes as a base for added flavor and for using it as the base cooking oil. It's a great way to make use of the fat on your pork instead of simply trimming it away.
This dish isn't just full of chops and potatoes. We've added in extra vegetables like carrots and onions to make it even more scrumptious. So before the long cook, we recommend surrounding your pork chops with potatoes and vegetables. This simple assembly helps to evenly cook everything in the dutch oven. Not to mention, those surrounding flavors from the vegetables really enhance the pork chops' overall taste.
When you keep all of these small tips in mind, you are bound to get the best savory plate to serve to your loved ones!
There are plenty of dutch oven recipes you can try out like our one-pan chops with potatoes dish. One of our favorites is our Turkey Chili and Rice recipe. You can also try your hand on a few more meat with potato dishes to serve like this plate of Mashed Potatoes and Steak Casserole. Switch up between recipes any time, but if you're craving for simple food to make, try our recipe tonight!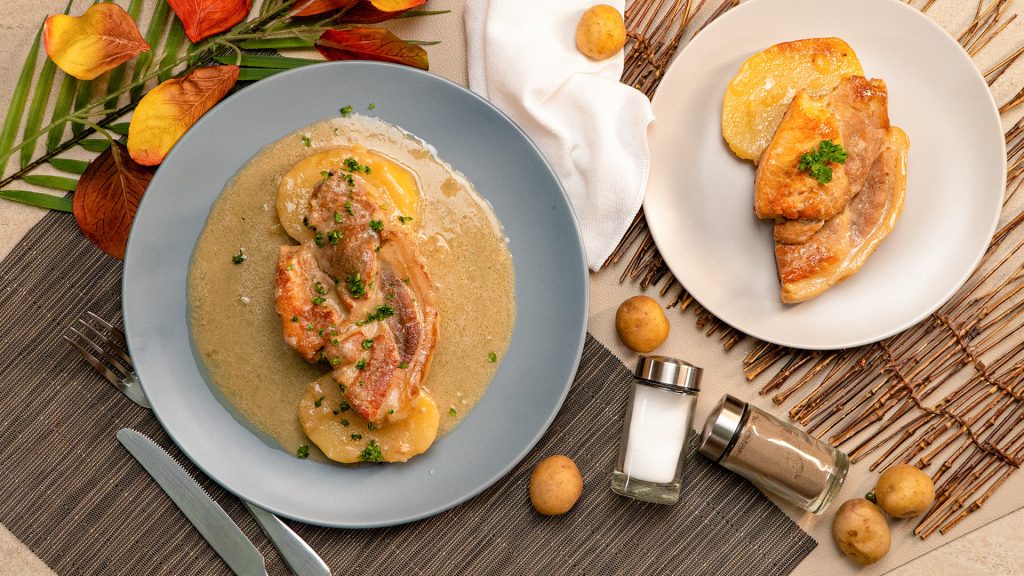 Dutch Oven Pork Chops and Potatoes Recipe
How To Make Dutch Oven Pork Chops and Potatoes
These pork chops and potatoes are smothered in rich seasonings with hints of tomato flavor, each bite giving you tender pieces of potatoes and vegetables, and juicy flavors from the chops. Your meat lover guests are sure to grab seconds!
Ingredients
4

pcs

pork chops,

boneless, roughly 4-5 oz each, and 1-inch thick each

1

lb

potatoes,

cut into 1-inch slices

5½

oz

yellow onions,

chopped

10¾

oz

mushroom soup,

condensed

1

cup

beef broth,

or vegetable broth

1

cup

milk

½

cup

white wine

¼

cup

olive oil

salt and ground black pepper,

to taste
To Serve:
¼

tsp

parsley,

per serving
Instructions
Heat up your oil in a Dutch oven over medium-high heat. Sear the pork chops until golden brown on both sides, roughly 3 to 5 minutes per side. Set aside.

Add your onions and potatoes. Saute until caramelized, roughly 10 to 12 minutes. Stir frequently.

Deglaze with white wine and reduce briefly.

Add your condensed soup, beef or vegetable broth, milk, and pork chops.

Cover, and reduce heat to medium-low. Simmer for roughly 45 minutes or until your pork chops are fully cooked.

Season to taste with salt and pepper. Adjust accordingly.

Garnish with parsley and serve.
Recipe Notes
You may also choose to keep the browned fat instead of discarding them by adding them into the dutch oven while cooking. This additional fat will add a bit more flavor and texture to your meal!

Feel free to add in any more of your favorite vegetables. Some commonly added to this dish are celery, asparagus, green beans, and broccoli.
Nutrition
Sugar:

6g

:

Calcium:

98mg

Calories:

290kcal

Carbohydrates:

27g

Cholesterol:

7mg

Fat:

16g

Fiber:

3g

Iron:

1mg

Monounsaturated Fat:

10g

Polyunsaturated Fat:

2g

Potassium:

672mg

Protein:

6g

Saturated Fat:

3g

Sodium:

260mg

Vitamin A:

102IU

Vitamin C:

25mg
Nutrition Disclaimer
Frequently Asked Questions
What kind of chops should I use for this dish?
We recommend using pork loin blade chops or sirloin chops. But you may also use other alternatives like pork rib, bone-in or boneless, or shoulder pork chops. They will all work amazingly with this pork chops and potatoes recipe.
How do I make my pork chops tender?
One of our instructions includes searing the pork chops on medium-high heat. This will help lock in the juices and flavor of the meat. Allowing them to rest after searing also helps to keep them tender. But most of all, gently cooking these on low heat with the tomato juices will yield juicy and tender meat that you are bound to enjoy.
What kind of potatoes are best used for pork chops and potatoes?
Most all-purpose and waxy potatoes like Yukon Gold and Red Gold can be used for this recipe. You can also try using baby potatoes to spare the time cutting your medium potatoes. But generally, any kind of potato that you may have on hand or prefer works just as well with our recipe.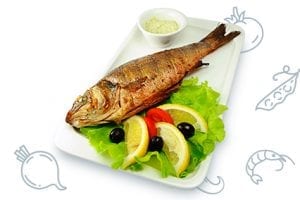 Conclusion
Nothing is more gratifying than making a home-cooked meal like pork chops and potatoes! It's got a healthy mix of tasty vegetables, perfectly cooked meat, and a tasteful tomato flavor. Serve these on one of your most special occasions or simply try your hand on cooking it for any regular dinner. Try pairing this dish with some
wine
for an eating experience to remember.