A full steak meal is not complete without some delicious sauce that blends well with your dish. This recipe for horseradish sauce is a simple yet delicious addition to your steaks and pork roasts dinner plans. It's an easy sauce recipe that you can make in a few minutes, just in time for your lunch or dinner preparations. This condiment is rich in taste and even made better with our additional light sour cream ingredient. It's perfect for balancing the strong flavor and taste of the horseradish sauce. Sour cream can also be added in other dishes especially in recipes that require that rich tangy thickness. Enjoy our flavorful and creamy horseradish sauce perfect for your steak dish.
What Does Horseradish Sauce Taste Like?
This root vegetable is known for its strong and pungent taste that many people associate with the western equivalent of wasabi from Japan. It is similar in terms of its effect on our taste buds. It gives that extremely spicy tingling sensation on your tongue, then followed by a series of hot-searing, volatile tastes that leave its mark. It's not like black pepper or chili pepper which leaves a balanced hot and spiciness to your meal. Horseradish sauce gives you that surprising kick and burning sensation inside your mouth which can affect and stimulate your sinuses. 
It's a flavor you'll never forget! Good thing water or milk can help cleanse your palate after. 
Nevertheless, it remains to be a popular sauce choice for those interested in that tangy and "brain-searing" experience. Horseradish basically makes you tear up, clog your nose, and burn your tongue when it's eaten. Add vinegar to the grated raw horseradish to stabilize the flavor to a milder taste and lessen its potency. 
What Is Horseradish Sauce Made Of?
Horseradish comes from a white root vegetable available in your local produce sections. It's primarily used for condiments, dressings, or sauces which adds an extra flavor of spice. You can try your hand at cooking horseradish sauce by freshly grating the raw root vegetable and adding white vinegar. The vinegar helps in balancing and neutralizing its volatile smell and taste.
But be warned: Just as with onions, cutting horseradish for too long can hurt your eyes and cause tearing. That's why it's important to be extra careful when preparing this dish. Good ventilation of the kitchen is necessary as the odor can last in your kitchen for days. Alternatively, you can also buy prepared horseradish that has been vinegared, from the grocery stores. 

Tip: Using a food processor to grate and mince can help prevent your eyes from tearing up, and your nose from the unpleasant odor.
A homemade horseradish sauce is twice as potent in terms of flavor and smell, with its added spice and tanginess that perfectly enhances your steak dishes with that extra "kick". The store-bought horseradish can also be an ideal ingredient for this horseradish recipe. It will still have the spiciness of a raw and fresh horseradish sauce, though a lot less concentrated. However, this would also mean that it will be more manageable in terms of 'sensations', especially for first-time horseradish sauce enthusiasts! It's also easier to store it inside your refrigerator for making this recipe again. 
Delicious Meals To Try With Horseradish Sauce
Our horseradish sauce is a condiment worth including on your list of sauces. It will surely enhance your meals and satisfy your appetite. The goal is to achieve that perfect balance between the sharp acrid flavor of the horseradish sauce and the delicious taste of the meat. Try our personal favorite recipes that go best with this horseradish sauce:
Our horseradish sauce will surely complement these delectable main courses well. You can add some delicious side dishes like mashed potatoes, baked potatoes, french fries, corn, and carrots, or even broccoli to complete the meal. Enjoy the splendid combination of the sauce and meat as it melts in your mouth. 
You can also add the sauce to other dishes. Don't limit yourself to the usual steak recipes and pork roast combination. Feel free to pour it over a simple roast beef sandwich. Upgrade the taste of your regular sandwich with our sauce. It's the extra sharp sour taste of the sauce that makes eating the sandwich a delightful meal. Some people even drizzle it on top of their grilled seafood salmon. 
With this sauce, your meals will never go bland. The added spiciness and strong flavor will keep you wanting more. Make these in batches and store them in a jar so you can enjoy them again! Check out our CAQs below where we address the issue of properly storing and refrigerating your horseradish sauce to keep it from turning bad.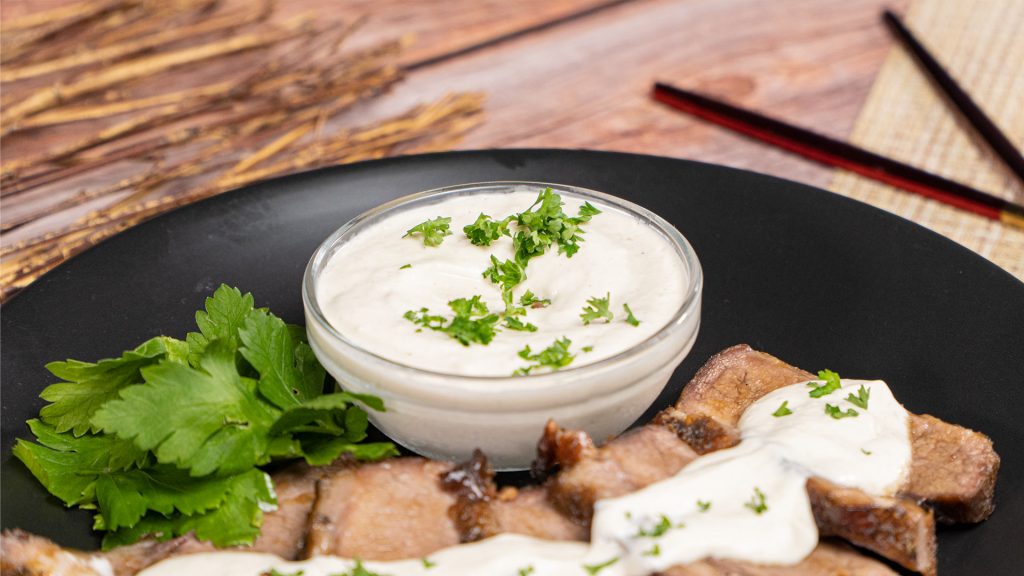 Horseradish Sauce Recipe
How To Make Horseradish Sauce
An easy-to-make horseradish sauce made with just a handful of ingredients that are whisked perfectly together for your scrumptious portions of beef.
Ingredients
2

tbsp

horseradish

1

tbsp

apple cider vinegar

1

tsp

dry mustard

3

tbsp

light mayonnaise

¼

tsp

ground black pepper,

optional

½

cup

light sour cream
Instructions
Gather the ingredients.

Mix horseradish, cider vinegar, dry mustard, light mayonnaise, and light sour cream in a bowl. Stir well.

Enjoy!
Nutrition
Sugar:

1g

:

Calcium:

32mg

Calories:

48kcal

Carbohydrates:

3g

Cholesterol:

8mg

Fat:

4g

Fiber:

1g

Iron:

1mg

Monounsaturated Fat:

1g

Polyunsaturated Fat:

1g

Potassium:

60mg

Protein:

1g

Saturated Fat:

2g

Sodium:

95mg

Trans Fat:

1g

Vitamin A:

68IU

Vitamin C:

1mg
Nutrition Disclaimer
Commonly Asked Questions
Is wasabi stronger than horseradish?
The usual wasabi we see in our local markets is a bit milder than horseradish. The common wasabi paste is actually made from horseradish, mustard oil, and with an added green food coloring. Hence, in its purest state, horseradish is twice as strong in taste and smell. It's better to use horseradish sauce for this recipe to get that preferred rich taste.

How to keep horseradish sauce from turning bad?
It's best to refrigerate it inside an airtight container to keep its acrid aroma from circulating within your fridge. If you're worried about the smell, then wrap the container with some plastic wrap or place it inside a zip lock bag. It can be refrigerated for up to 3 days. Keep it refrigerated when not in use so that the batches without the added mayonnaise and sour cream from our recipe can last for about 2-3 months inside the refrigerator extending its shelf life.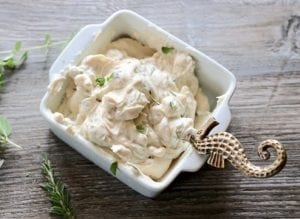 Conclusion
Our horseradish sauce with the added delicious sour cream and mayonnaise is a quick and easy recipe enjoyed by a lot of people. Try making this recipe to experience the taste of delicious horseradish sauce when enjoyed with a delectable steak, ribs, or pork dish.