Up your steak-cooking game with our London broil recipe. Our easy London Broil is a juicy piece of steak that would burst in your palate. Unlike other steak recipes, London broil provides an easy method to achieve that brown crust and light pink interior. Now, London broil is typically cooked under an oven broiler hence its name. But not everyone has an oven, so we've made a pan-fried version just for you. Get ready to store this simple steak recipe in your recipe repertoire reserved for special occasions! 
First and foremost, London broil is not a cut of meat, though top round steak or flank are typically used. Although some grocery stores sell meat under that name, you still shouldn't go around asking for London broil. The term is associated with the preparation of the meat wherein it's marinated and seared or broiled under high heat. 
The most crucial element in London broil, in fact, is the marinade. This is because top round steak or flank are cheap but tougher and leaner cuts of meat that require marinade to tenderize the meat. The wine and herb marinade in this recipe helps to both tenderize the meat and give it a sweet and savory flavor. And why mushrooms in a marinade? That's because portobello mushrooms contribute to a meaty flavor, and together with the tomatoes, they add a great texture to the dish. 
Another important thing not to miss is a meat thermometer. A meat thermometer helps determine the internal temperature of your meat, depending on the type of doneness you desire. 
Once you've cooked your scrumptious London broil, you can pair it with potatoes, green beans, or salads. Try our classic Copycat Ruby Tuesday's Tempura Green Bean recipe for a light crunch. Then, light a few candles and you got yourself a fancy-schmancy dinner that's easy on your wallet!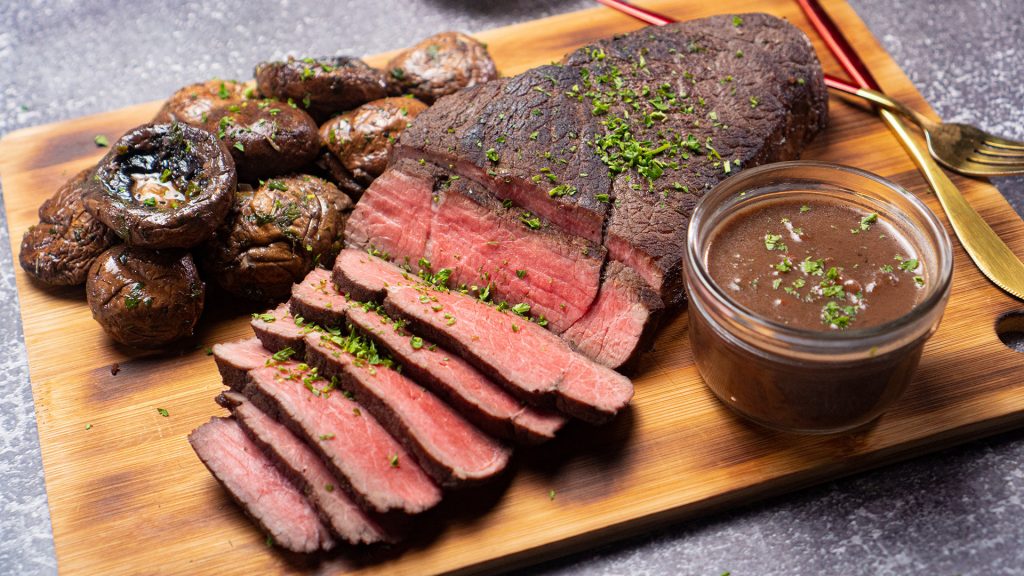 Pan-Fried London Broil Recipe
How To Make Pan-Fried London Broil
Savor in a perfectly cooked steak soaked in delicious herbs and wine marinade. It's the perfect recipe for any special occasion served with a glass of rosé!
Ingredients
2

lb

London broil,

sirloin

½

cup

parsley,

minced

1

tsp

rosemary,

crushed and dried

1

cup

red wine,

dry

1

lb

Portobello mushrooms

2

cups

beef broth

2

tbsp

shallots,

minced

3

cloves

garlic

⅓

cup

tomatoes,

diced

4

tbsp

vegetable oil

2

tbsp

unsalted butter

salt and ground black pepper,

to taste
Instructions
In a Ziploc bag, marinate the London broil with garlic, rosemary, parsley, wine, mushrooms, salt and pepper, and shallots.

Marinate the beef for 1 hour in the refrigerator.

Preheat the oven to 360 degrees F. Afterward, remove the steak from the marinade and reserve the liquid.

Heat a large skillet with oil and cook the steak over medium heat. Cook for about 3 to 4 minutes per side and finish this in the oven to your desired doneness.

Remove the steak from the skillet and saute the mushroom and set aside.

Pour in the reserved marinade along with the tomatoes and the beef broth. Cook the mixture on low heat for 20 minutes until the broth becomes thick, remove from the heat and swirl in the butter.

Slice the steaks to your desired thickness. Top it off with a little bit of parsley and enjoy a perfectly cooked, tenderized London broil!
Nutrition
Sugar:

4g

:

Calcium:

85mg

Calories:

439kcal

Carbohydrates:

9g

Cholesterol:

153mg

Fat:

14g

Fiber:

2g

Iron:

6mg

Monounsaturated Fat:

5g

Polyunsaturated Fat:

1g

Potassium:

1498mg

Protein:

57g

Saturated Fat:

6g

Sodium:

611mg

Trans Fat:

1g

Vitamin A:

913IU

Vitamin C:

13mg
Nutrition Disclaimer
Commonly Asked Questions
How to cook a London Broil in the oven?
Preheat your oven to 425 degrees F. While it's preheating, sear your marinated meat in a pan for 2 minutes per side. Transfer the steak in a baking dish and bake for 5 to 6 minutes. Afterwhich, flip your steak and cook for 3 to 4 minutes for a rare steak or until it has reached your desired internal temperature.
When it comes to internal temperature, a rare steak is between 120 to 125 degrees F. Medium rare is 130 to 135 degrees F while Medium is 140 to 145 degrees F. Medium well is 150 to 155 degrees F, and Well done ranges from 160 degrees F and above.
How do you grill London broil?
Repeat the same steps for the marinade and, depending on your grill, you can either set it on high or at 450 degrees F. Pat dry your meat using paper towels and place them on the grill, cooking them for 4 to 6 minutes each side or until it reaches your desired internal temperature. Don't forget to rest your meat before slicing.
Why should I rest the meat?
It's important to rest the steak for two reasons: first, it allows the juices to re-distribute within the meat. If you immediately slice the meat, all the juices will spill out. Second, when you take it off the heat, the meat is still cooking. Letting it rest allows the meat to cool and reach your desired internal temperature.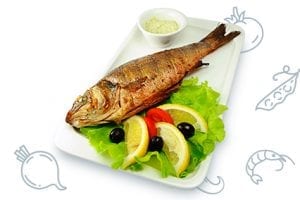 Conclusion
Home cooks often struggle with cooking steak, especially when it comes to tough cuts like top round steak or flank. But this easy London Broil recipe guides you to perfectly seasoned, deliciously cooked meat even as a beginner. The red wine and herbs marinade distributes enticing notes. The broth makes an excellent thick base, adding meatier flavors to the dish. This juicy and tender meat exhibits a true Golden Corral copycat!