Imagine soft and tender linguini, smothered in creamy, savory alfredo sauce. Then, imagine it topped with fresh shrimp. That sounds like the perfect seafood pasta dish for a fancy night out! In this recipe, we'll show you how to copy Red Lobster's shrimp linguini alfredo. Our recipe for this dish is cheaper compared to the ones served at Red Lobster. Plus, it's easy to make too. It doesn't take long to cook. It can also serve up to 3 people. This shrimp linguini alfredo recipe is definitely a must-try, whether it's for pasta lovers, seafood lovers, or both!
Shrimp linguini alfredo may sound intimidating to make. But trust us, this can be easily done in the comforts of your own kitchen. This dish has its roots in Italian cuisine, the classic fettucine alfredo. Linguini is a type of Italian pasta noodle that's similar to fettuccine. However, it's slightly thinner and more elliptical than the latter's thick, flat form. Alfredo is a white, creamy pasta sauce made from butter and Parmesan cheese. While the original Italian dish doesn't include seafood like shrimp, others have put their own spin on this classic pasta dish.
There's no mystery why this Red Lobster-inspired shrimp linguini alfredo recipe continues to be a popular go-to for many foodies. It's a classic meal that's fit for all occasions. Our recipe is also easy to follow, so you'll be mastering this dish in no time! Level up your eating experience by pairing this dish with some Crockpot Butter Garlic Bread.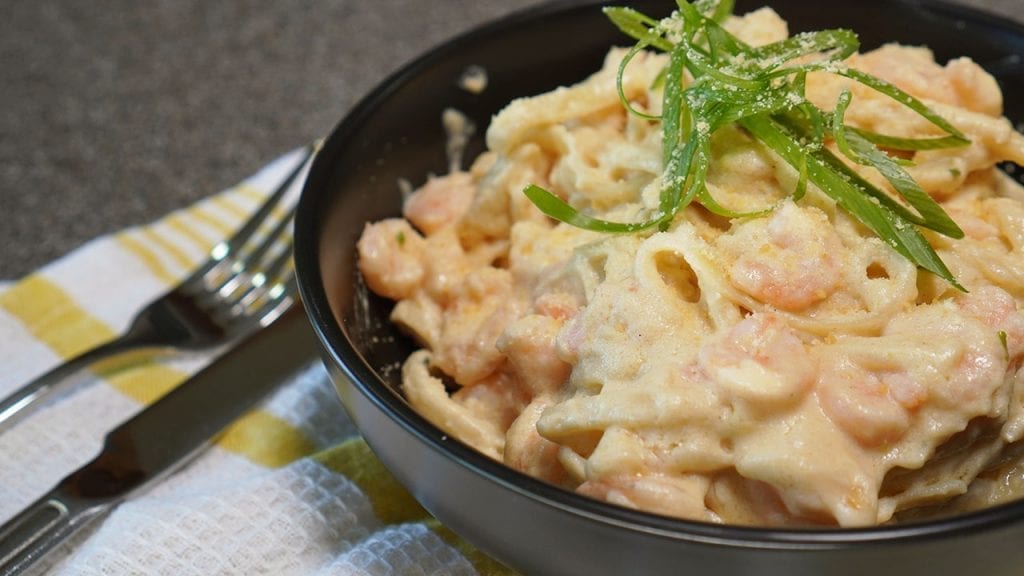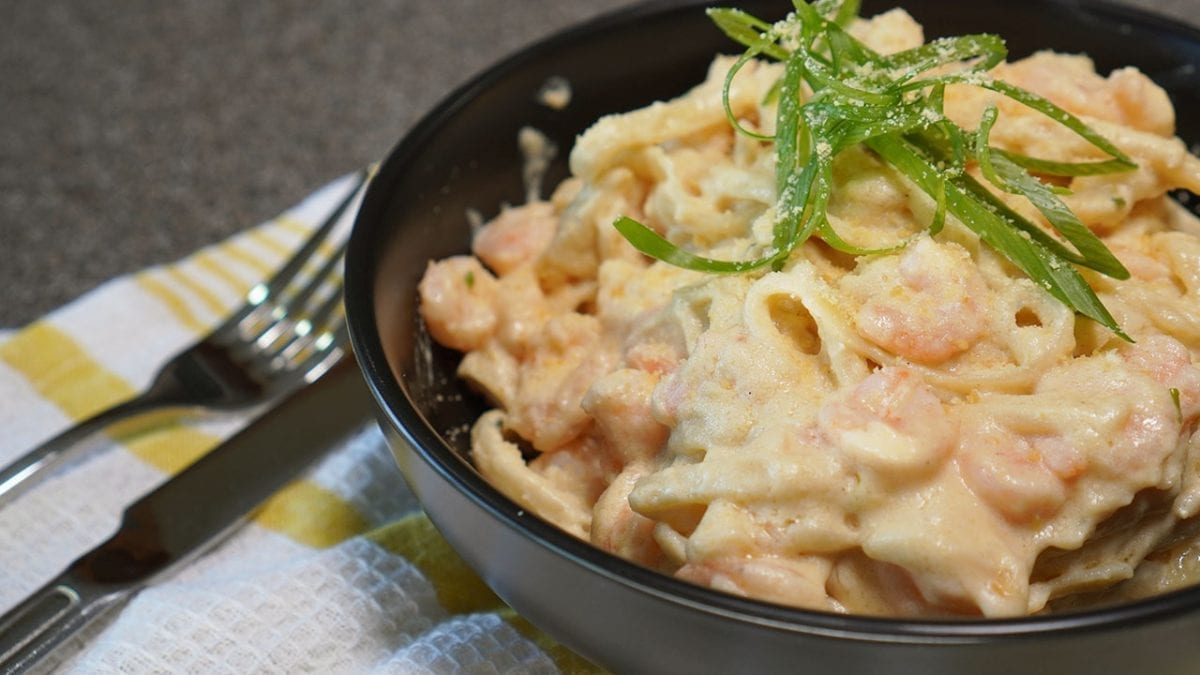 Copycat Red Lobster Shrimp Linguini Alfredo Recipe
How To Make Copycat Red Lobster Shrimp Linguini Alfredo
This delicious combination of fresh shrimp and creamy, savory Alfredo sauce is not one to miss your dinner table! Our Red Lobster-inspired shrimp linguini alfredo recipe is a classic, perfect for all occasions–whether it be a fancy dinner or a party with friends.
Ingredients
1

tbsp

olive oil

3

cloves

garlic,

minced

½

lb

baby shrimp,

peeled and deveined

2

tbsp

butter,

unsalted

1 ¾

tbsp

all-purpose flour

4

oz

cream cheese,

cubed

½

cup

parmesan cheese,

grated or powdered

¼

cup

white wine vinegar

2

cups

water

½

tsp

sea salt

½

tsp

black pepper,

ground

½

tsp

scallions,

chopped

10

oz

linguini,

cooked and drained
Instructions
Pour olive oil into a large pan over medium-low heat. Wait until it's warm.

Add garlic and cook until fragrant.

Next, add the baby shrimps and sauté for 3 minutes until they turn pink and tender.

Remove the shrimps from the pan and set aside.

Add cream cheese. Continue stirring.

Add Parmesan cheese and white wine vinegar while continuously stirring to fully combine all ingredients.

Gradually add water. Stir until the sauce thickens.

Add sea salt and black pepper to season.

Add the shrimps and scallions.

Add the linguini. Mix to coat the pasta noodles completely.

Garnish with scallions and sprinkle with Parmesan cheese.

Serve while warm. Enjoy!
Recipe Notes
People with unfortunate shrimp allergies should avoid this dish. However, what makes our linguini alfredo recipe great is that it can hold its own even without the baby shrimp. Of course, foregoing the shrimp won't make it an accurate recreation. Nevertheless, rest assured that this pasta dish won't be any less delicious even without its star ingredient.
Nutrition
Sugar:

4g

:

Calcium:

374mg

Calories:

754kcal

Carbohydrates:

77g

Cholesterol:

243mg

Fat:

32g

Fiber:

3g

Iron:

3mg

Potassium:

351mg

Protein:

37g

Saturated Fat:

13g

Sodium:

1467mg

Vitamin A:

972IU

Vitamin C:

4mg
Nutrition Disclaimer
Frequently Asked Questions
What goes with shrimp Alfredo?
Our shrimp linguini alfredo recipe is delicious on its own! So, we recommend you enjoy it by itself to really enjoy the rich flavor. But, if you really want a side dish, go for something simple that won't overpower your pasta. Try a simple salad or steamed broccoli. For your salad, we recommend our Fruity Spinach Salad Recipe!
What else do you eat Alfredo sauce with?
Alfredo sauce can also be enjoyed with a lot of other food, such as chicken and tuna casseroles. We have a Pork Chop Alfredo Casserole Recipe you can check out. Also, the baby shrimp can be switched to another type of seafood — like salmon, for example — for a different take on this popular seafood pasta dish.
Conclusion
Whether you're craving seafood or pasta, our Copycat Red Lobster Shrimp Linguini Alfredo Recipe is the perfect answer! No need to dine out, you can easily make this recipe in the comforts of your own kitchen. It's a lot cheaper, too! Enjoy it for a fancy dinner or a hearty lunch with friends and family.
Topics:
Related Recipes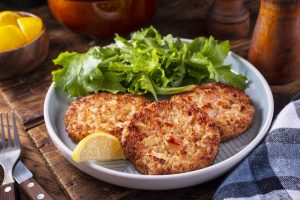 Seafood
Copycat Red Lobster Crab Cakes Recipe
This Red Lobster crab cakes recipe makes flavorful crab cakes seasoned with Worcestershire sauce, mayo, dijon, garlic, and other herbs and spices for a crisp and flaky seafood appetizer that you'll surely love.