Pasta is a classic dish that can be ordered in any Italian restaurant. It is a type of carbohydrate that can replace rice or bread, and can offer you a satisfying full stomach. This Alfredo Rotini Pasta is a delightful treat for all creamy pasta and cheese lovers. The milky white sauce mixed with mozzarella, ricotta and parmesan cheese makes a very delicious and oh so creamy main dish. It is topped with more mozzarella and baked for that gooey and melted factor that is enjoyed by everyone.
If you want to add meat to your pasta, try our Tender Garlic Lemon Chicken Strips. The flavors from the lemon zest and herbs will complement well the heavily cheesed dish. You can also top your pasta with bacon, ham, steak or shrimp. On the other hand, if you prefer something that is healthier, you can choose to add asparagus or broccoli. In fact, you can even have a salad on the side that has a light vinaigrette dressing like this Tomato Caprese Salad with California Balsamic Vinegar.
What Is Rotini Pasta?
Rotini pasta originated in Southern Italy and is known for its screw-like appearance. The twisted pasta's form was made to capture more sauce, meat bits, and flakes in a single bite. It is mostly recommended for thick sauces, such as in this recipe, or from this Olive Garden's Five Cheese Marinara Penne recipe. Other than the classic yellowish rotini pasta, you can also grab its other variants in three colors, colored and flavored with beet, spinach, and tomato. Don't worry, it only has a faint taste that you probably won't be able to notice.
Before you make your dish, it is important to know how to properly prepare your pasta. Here are some tips for a well-cooked Rotini Pasta:
Boil your pasta in a good amount of water depending on how much you will cook. The water will evaporate so it's best to add more.
Add a bit of salt to the boiling water to add flavor to the pasta.
Add a small amount of oil to the boiling water and stir from time to time. This helps to prevent the pasta from sticking together.
When making baked pasta, it is better to boil it till slightly under-cooked, or just until the pasta is not too stiff. This is so that your pasta won't turn out mushy as it continues to be cooked when in the oven.
Rinse the cooked pasta in cold water to stop it from cooking. If not done, the heat will continue to cook the pasta and make it soggy.
Save the pasta water for later.
Take a look at the other types of pasta and their best pairing sauce.
What Is An Alfredo Pasta Sauce?
Alfredo sauce is a rich and creamy sauce made from butter, heavy cream and parmesan cheese. It has a milky taste to it and is added with herbs and spices. Apart from this, our alfredo rotini recipe has a three-cheese combo. The mix of parmesan, ricotta and mozzarella cheese thickens the sauce's consistency and boosts its flavor.
Parmesan has a savory and salty taste that is often sprinkled on dishes to elevate the taste. The rest, on the other hand, have more subtle flavors. Ricotta is creamy and mild often used as stuffing and mozzarella has a milky and salty flavor often melted for pizza. Combined, they make the perfect alfredo with a three-cheese pasta sauce. This pairs well with the rotini pasta since it clings on to its rolls, giving you a generous amount of the delicious sauce in every bite. Remember the pasta water that we saved? Add a bit of this to the mix. The starch from the pasta water will help the sauce stick to the pasta.
If you want your alfredo sauce fresh and homemade instead of buying ready to use ones, check out this Quick and Easy Alfredo Sauce so you can start making your own!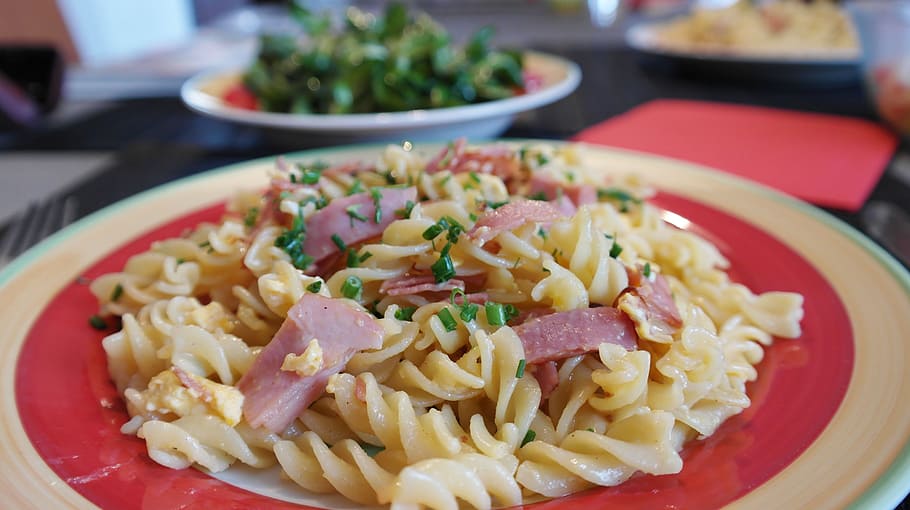 Alfredo Rotini Pasta Recipe
How To Make Alfredo Rotini Pasta
Baked Alfredo Rotini pasta with mozzarella, ricotta and parmesan cheese makes a creamy and cheesy main dish perfect for lunch or dinner.
Ingredients
12

oz.

rotini ,

cooked and drained

28

oz.

alfredo sauce

15

oz.

ricotta cheese

2

eggs,

beaten

2

cup

mozzarella cheese,

shredded

3

tbsp.

parsley,

minced fresh

½

tsp.

salt

pinch

black pepper
Instructions
Preheat oven to 350 degrees F.

In a medium bowl, combine ricotta cheese, eggs, 1 cup mozzarella cheese, parsley, salt and pepper; stir to mix well.

In another bowl, combine hot cooked pasta and alfredo sauce.

Layer half of pasta mixture in an 11 x 7-inch baking dish.

Evenly layer with cheese mixture and remaining pasta mixture.

Cover with foil and bake 35 to 40 minutes or until bubbly.

Uncover and top with remaining mozzarella cheese.

Bake 5 minutes or until cheese melts.

Plate and serve.
Nutrition
Sugar:

2g

:

Calcium:

183mg

Calories:

354kcal

Carbohydrates:

25g

Cholesterol:

103mg

Fat:

21g

Fiber:

1g

Iron:

1mg

Potassium:

145mg

Protein:

15g

Saturated Fat:

11g

Sodium:

685mg

Vitamin A:

635IU

Vitamin C:

5mg
Nutrition Disclaimer
Commonly Asked Questions
What to drink with alfredo pasta?
Alfredo pasta goes very well with wine like Chardonnay. It has sweet notes that will not overpower the sauce and its acidity will help balance out the meal. Choosing a drink that is too thick will be too overwhelming.

What can I use besides rotini?
To capture sauce just like when using rotini, you can opt for penne or rigatoni that are hollow noodles and can carry the creamy alfredo sauce within them as well.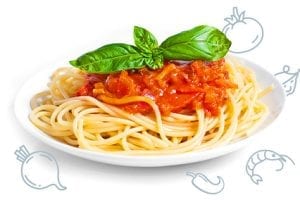 Conclusion
Choosing and cooking the right kind of pasta is just as important as making a delicious sauce. Take note of our tips and tricks for a yummy Italian dish that you can enjoy with your family and friends. Try making this three-cheese Alfredo Rotini pasta today!