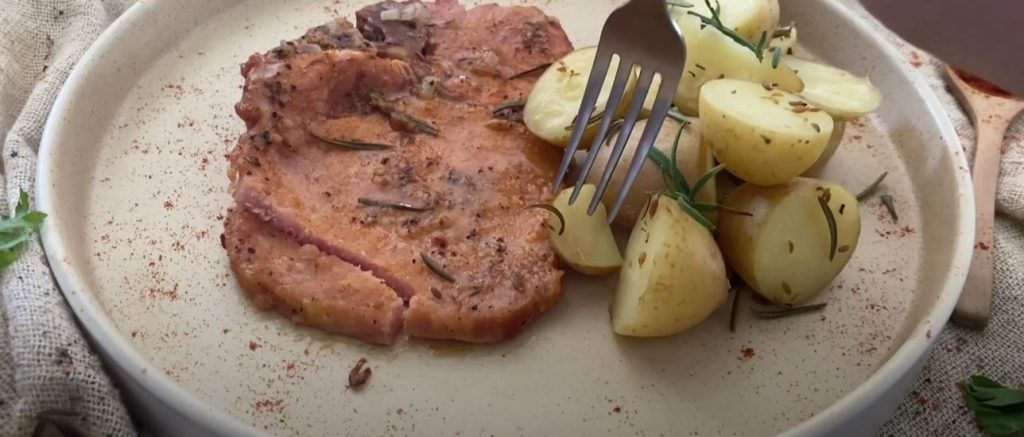 Instant Pot Pork Chops And Potatoes Recipe
How To Make Instant Pot Pork Chops And Potatoes
Made with chicken broth and mushroom, try this hearty instant pot pork chops and potatoes for an easy dish that's ready in 35 minutes.
Ingredients
1

tbsp

butter

1

tbsp

grapeseed oil

pork chops,

(2¾-inch) thick

¼

tsp

garlic salt

pepper,

to taste

1

onion,

chopped

1

cup

baby carrots,

to taste

6

mushrooms,

sliced

2

cloves

garlic,

crushed

1

cup

chicken broth

2

potatoes,

cut in ½

2

tbsp

cornstarch

2

tbsp

cold water
Instructions
Season pork chops with garlic salt and ground black pepper.

Punch Sauté over High heat on the instant pot. Melt butter and add oil then brown pork chops on both sides for 3 to 5 minutes per side. Transfer pork chops to a plate.

Saute onion and mushroom garlic until fragrant; add carrots; cook for another 2 minutes; add broth and stir together. Return pork chops to the pressure cooker pot. Set a steamer basket on top of the pork chops and place potatoes in the basket.

Cover the pressure cooker with the lid, lock the lid, bring the cooker to High pressure, and cook for 15 minutes. Release pressure from the pot according to the manufacturer's instructions. Remove potatoes, pork chops and vegetables.

Bring the cooker to Sauté; mix corn starch and water and thicken the boiling broth. Serve warm.