Outback Steakhouse is well-known for their tempting steak meals, but one food item on their menu that customers also rave about is their fried mushrooms. These tasty snacks, having irresistible crispy edges and meaty insides, are the perfect pre-meal munchies! Best of all, they're totally doable at home. Serve them as an accompaniment for your prime rib or any other meaty center meal. Although you can also enjoy them on their own—they're that tasty!
Learn how to make fried mushrooms à la Outback Steakhouse in the comfort of your own home and have a restaurant-worthy weeknight dinner. This copycat version, dare we say, tastes just like the real deal! Easy to make, this recipe requires only a handful of easy-to-find ingredients and a 20-minute prep and cook time.
Making Fried Mushrooms Just Like Outback Steakhouse
There are many reasons why we have set our eyes on this fried mushrooms recipe. The Outback mushrooms, for one, have the crispiest texture, but the inside is surprisingly meaty and tender. To replicate the original version, you need just a handful of ingredients, including fresh mushrooms, flour, buttermilk, and a few spices. These deep-fried mushrooms pair perfectly well with just about any main dish!
This recipe for fried mushrooms features white button mushrooms (or simply button mushrooms). Beyond loads of health benefits, they have an earthy palate as well. Once cooked, their flavor intensifies even more! Apart from button mushrooms, you can also make use of portobello mushrooms, oyster mushrooms, or cremini. You can also go for canned, dried, or fresh mushrooms when making your own homemade fried mushrooms. 
While you can go for different types of mushrooms depending on your preference, to truly replicate Outback fried mushrooms taste, stick to the batter in our recipe. Our seasoned flour mixture includes dry mustard, black pepper, and paprika. But you can also be experimental and season the flour with garlic powder and onion powder. Simply coat the white button mushrooms with the flour mixture and dunk them in the buttermilk before frying them.
If you're looking for more mushroom recipes to add to your cooking repertoire, we got you and your taste buds covered! Make these cheesy and creamy stuffed baked mushrooms and impress everyone at the dinner table. Although, in our book, sauteed mushrooms are just as good!
Tips For Deep Frying Mushrooms At Home
Mushrooms are versatile, and there are many diverse ways to use them in your cooking. But out of all the delicious mushroom recipes out there, fried mushrooms are among our personal favorites. Learn how to fry mushrooms the right way with these handy tips to bring out their earthy flavor even more:
Clean the mushrooms before cooking.

You can rub

slimy mushrooms

gently with a damp paper towel. If they're really dirty, rinse them under cold water. 

Use the right oil for frying mushrooms.

It's best to use vegetable oil, specifically canola oil, because it's laden with good fats and can improve cholesterol levels. It also has a neutral taste and a high smoke point, making it the best oil for deep frying. 

Make sure the oil is ready for deep frying

. Before putting the mushrooms in the pan, ensure that the oil should be hot enough. Otherwise, the mushrooms will turn out soggy and greasy. If unsure whether the oil is ready or not, try to dip the end of a wooden spoon or chopstick in the oil. If it makes a sizzle and bubbles start to form, you can go ahead and fry your food. 

Fry in small batches

. Overcrowding the pan might lower the frying or oil temperature, which could possibly affect the texture of the fried mushrooms. For the crispiest result, cook in small batches at a time.
Fried Mushroom Dipping Sauces You Can Try
Like most fried appetizer recipes, deep-fried mushrooms should be accompanied by sauce or topping. Luckily, there are slews of dipping sauce for fried mushrooms to elevate your crunchy starters. A creamy-tangy ranch dressing will absolutely heighten the flavor of your crispy mushrooms. You can also serve them with a bowl of honey mustard sauce or warm marinara sauce on the side. If you want to spice things up a pit, accompany your mushroom snacks with a sweet chili sauce.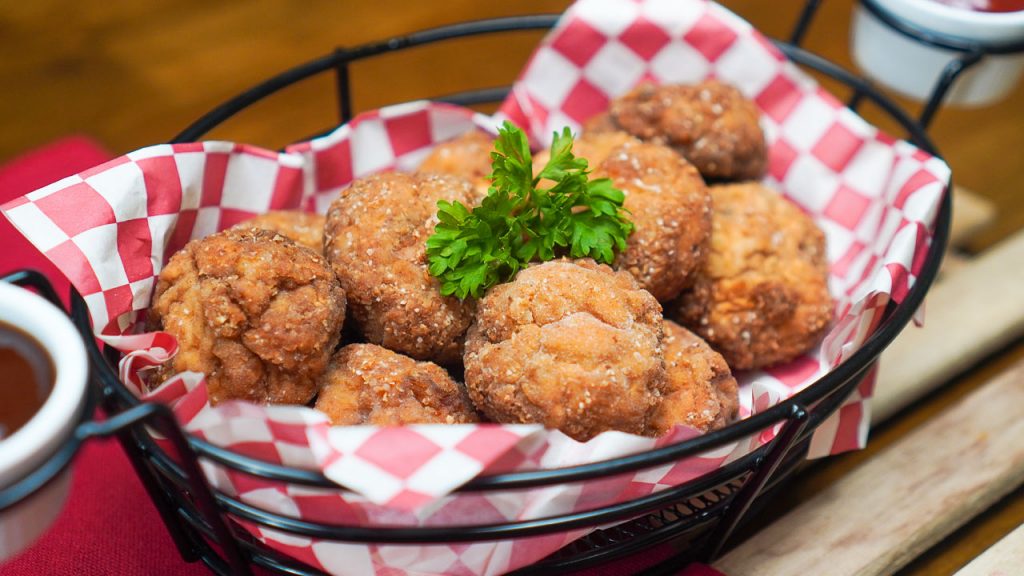 Outback Steakhouse Fried Mushroom Recipe
How To Make Outback Steakhouse Fried Mushrooms
These copycat Outback Steakhouse fried mushrooms with crispy skin and meaty inside are perfect for entertaining your guests. Plus, they're ready to serve in just 20 minutes!
Ingredients
8

oz

whole fresh button mushrooms

½

cup

whole wheat flour

½

tsp

salt

½

tsp

black pepper

¼

tsp

dry mustard

¼

tsp

paprika

½

cup

buttermilk

vegetable oil,

for deep frying
Instructions
Combine whole-wheat flour, dry mustard, paprika, black pepper, and salt in a large ziplock bag. Alternatively, you can use a regular bowl or a paper bag when mixing the ingredients.

Place the buttermilk in a bowl. Dip the mushrooms at a time.

Place the mushrooms in the bag with the mixture.

Shake the bag to coat the mushrooms.

Heat 2 to 3 inches of oil in a deep fryer or saucepan at 375 degrees F.

Fry several mushrooms at a time until they turn golden brown on all sides.

Serve immediately and enjoy!
Nutrition
Sugar:

3g

:

Calcium:

40mg

Calories:

83kcal

Carbohydrates:

14g

Cholesterol:

3mg

Fat:

2g

Fiber:

2g

Iron:

1mg

Potassium:

275mg

Protein:

5g

Saturated Fat:

1g

Sodium:

325mg

Vitamin A:

50IU

Vitamin C:

2mg
Nutrition Disclaimer
Frequently Asked Questions
How do I air fry mushrooms?
Air-fried mushrooms are a cinch to prepare. Simply preheat your air fryer at 400 degrees F, coat your mushrooms with your favorite seasonings, and place them in the air fryer basket. For best results, arrange the mushrooms in a single layer. Then, air fry for about 10 to 12 minutes. Serve hot with any dipping sauce of your choice!
How to cut mushrooms for frying?
Some edible mushrooms have tough woody stems, which aren't ideal for consumption. So, when preparing them for frying, you must cut off the end of the stem. To cut a mushroom for frying, place it on a cutting board, grab the cap, and trim off the stem with a paring knife in one smooth motion. Then, slice the mushroom to your preferred shape and thickness.
How long does it take to fry mushrooms?
You should cook your battered or breaded mushrooms until the edges turn dark golden brown. To help you gauge the cooking time, cook a single piece of mushroom for 2 to 4 minutes at first.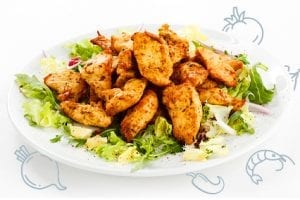 Conclusion
Perfectly fried mushrooms are a crispy and vegan-friendly snack. Taking inspiration from Outback Steakhouse, these crispy mushrooms are coated with seasoned flour and dipped in buttermilk. Serve these delicious appetizers with a flavorful dressing or sauce to up your snack game!