Who doesn't miss their favorite restaurant's fried snack? Satisfy your Outback Steakhouse cravings without stepping out of the comfort of your own home with this simple and easy-to-make fried mushrooms recipe!
Mushrooms are usually added in deep dish pizza, pasta, and many other hot meals, but you can spice them up to be your main snack, too! Enjoy its crisp crunchy exterior, yet juicy and tender texture on the inside. Fried mushrooms are also a great alternative to crunchy potato chips, so they're excellent for when you want to cut down on your junk food intake and take this healthier version instead.
Learn how to fry mushrooms in an easy flavored batter and make savory treats for parties and special occasions! You'll love every bite of our deep fried mushrooms for a tasty and addicting appetizer!
Best Mushrooms To Use And Other Must-Try Recipes
For this recipe, we will be using button mushrooms which contain protein, amino acids, and other nutrients. They also make good snacks or appetizers for those who are watching their diet because button mushrooms are low in calories. You can easily get button mushrooms canned, dried, or fresh at your local supermarket.
However, if you don't have any button mushrooms at home, you can use other types of mushroom, like white mushrooms, portobello, cremini, or Asian mushrooms like shiitake. They all have such a meaty texture and earthy flavor perfect for frying, so don't hesitate to explore making your own homemade fried mushrooms!
If you are still hesitant on how to cook mushrooms, we've got you covered! You can explore our easy and quick cooking mushroom recipes since it's so easy to include in our daily meals. You can either have fried oyster mushrooms, sauteed mushrooms, or baked mushrooms! Learn how to make air fried mushrooms for a healthier appetizer or snack by checking out our CAQs section down below.
Making Fried Mushrooms Just Like Outback Steakhouse
Fried mushrooms make amazing deep fried appetizers made through deep-frying in boiling oil. Typically, they are dipped in deep fry batter and coated with breadcrumbs to give them an additionally crispy exterior. But, if you're going for the Outback Steakhouse style, you would just need to dip the mushrooms in buttermilk and roll them in seasoned flour, like what we did in this mushroom recipe.
Fried mushroom is a very friendly snack, perfect for any side and appetizer. You can pair it up with classic Outback onion rings or their garlicky mashed potatoes. No takeouts, no need to call Outback Steakhouse delivery, and no need to go out. Experience its own grill at the comforts of your own kitchen.
Tips For Deep Frying Mushrooms At Home
There's no doubt, even if you are using healthy ingredients like mushrooms, too much fried food is bad for your health as it adds calories to your diet. So it's important to get the healthiest type of oil used for frying your fried food.
First, we highly suggest that you use a vegetable oil like canola oil which is the best oil for frying. It has the least amount of saturated fats which means it also cut down on cholesterol. It's the most affordable, too! If you're wondering when the oil is going to be ready to deep fry is when it starts to give off some shimmer.
We don't need a fancy home deep fryer for this, a deep pot or a skillet with high sides and a long handle would work, too! Since we'll have to fill the pan with a few inches of oil, we have to make sure there's plenty of room for our mushrooms to float without spilling.
This is why it's important to avoid overcrowding the pan. Overcrowding would lower the oil temperature that would affect the texture of fried food. Remember, to achieve crispy mushrooms, cook in small batches, and fry carefully.
Also, make sure to cook your breaded mushrooms until golden brown. If you're unsure of the cooking time, test a single piece first for 2 to 4 minutes. That'll help you gauge the cooking time for the rest of the food. Once you are finished cooking, strain them and let them drain on a paper towel to remove excess oil from cooking.
Fried Mushroom Dipping Sauces You Can Try
We love fried snacks, and they're usually tasty and addicting as is, but dipping them in flavorful sauces takes them to a whole new level.
Mushrooms are perfect for all kinds of dipping sauce. Classics like Thousand Island dressing, honey mustard dip, and ranch dip for instance, are all very simple and easy to make! A scoop of garlic tomato dip, chili cheese dip, or even horseradish sauce will go with it perfectly too!
Outback Steakhouse Fried Mushroom Recipe Video
How To Make Outback Steakhouse Fried Mushrooms
This easy-to-make recipe gives you a tasty and healthier snack or appetizer. Its crunchy exterior and meaty texture inside will make this your new favorite muncher! Dip them in your favorite dressing!
Advertisement
Continue Reading Below
Ingredients
8

oz

whole fresh button mushrooms

½

cup

whole wheat flour

½

tsp

salt

½

tsp

black pepper

¼

tsp

dry mustard

¼

tsp

paprika

½

cup

buttermilk

vegetable oil,

for deep frying
Instructions
In a large bag, mix the flour, mustard, paprika, pepper, and salt. You can also use a regular bowl as an alternative.

Place the buttermilk into a bowl and dip a few mushrooms at a time.

Place the mushrooms in the bag with the mixture.

Shake the bag to coat the mushrooms.

Heat 2 to 3 inches of oil in a deep fryer or saucepan at 375 degrees F.

Fry several mushrooms at a time until they turn golden brown on all sides.

Serve immediately and enjoy!
Advertisement
Continue Reading Below
Advertisement
Continue Reading Below
Commonly Asked Questions
How do I clean mushrooms?
Clean the mushrooms by drying their caps using a damp paper towel. Make sure to rinse them briefly and do not soak them in water. Edible mushrooms such as the white mushroom and button mushroom have both cap and the stem that are fleshy in texture, so before cooking, just trim off the end of the stem, and you're good to go. 
How do I air fry mushrooms?
It's easy! Add all the ingredients into a bowl. Air fry at 380 degrees F for 10 to 12 minutes, shaking and stirring about halfway through. If you're cooking a lot of mushrooms, stir about three times for even cooking. Serve hot.
Is mushroom a healthy snack?
Mushrooms contain very little amount of calories and carbohydrates. Mushrooms are also a good source of fiber and antioxidants. They are considered a heart-healthy food choice. So even if we're deep-frying them,  they're a healthier snack option that would balance out our calorie and fat intake.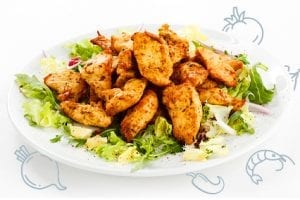 Conclusion
Fried Mushrooms are a tasty and healthy snack to enjoy, in general. Tweaking things a little bit by frying will give your taste bud a new kick. This recipe is perfect for making snacks in a jiff with ingredients that you can easily find in your kitchen. Serve these fried mushrooms with your favorite dressing and love them even more! Perfect for large crowds and family gatherings!
Advertisement
Continue Reading Below
Topics:
Advertisement
Continue Reading Below
Advertisement
Continue Reading Below