If you want a restaurant-worthy weeknight dinner, this Instant Pot London broil is one you should definitely try. It's the best London broil recipe that yields a steak meal that looks fancy and is TOTALLY mouthwatering! Trust me, everyone at the table would drool over this beef dish slathered with mushroom-onion gravy. They wouldn't even guess that it only took you less than an hour to prepare such a succulent steak dinner! 
If you don't know it yet, London broil is not a steak cut. It's actually a cooking technique wherein you marinate, sear, and broil lean, thick cuts of beef on high heat. I understand the confusion, though. In some supermarkets, you can see beef cuts labeled as "London broil" when you wander around the meat section. That's because the term "London broil" has become synonymous with tough steak cuts, such as flank steak and top round steak.
There are various ways to go about this method, with the oven broiler being the most common equipment to use, of course. In other London broil recipes, meanwhile, the steak is seared in a pan or cooked on a grill. But I tried using my Instant Pot for my London broil recipe, and the result was super tasty. In my book, it's the best way to cook London broil. Plus, cooking London broil in an Instant Pot alleviated my worries about the post-cooking cleanup!
For my recipe, I went for the top round London broil. Although, beef chuck roast and skirt steak are both great options as well. You can also use any thick steak cuts with good marbling and cook very nicely on high heat. Now, if you're not really a fan of tough steaks, don't worry! The trick here is to soak the beef in a flavorful marinade.
My recipe for London broil includes a beef marinade that's a concoction of beef broth and my favorite flavorings. It has a strong umami flavor, thanks to the Worcestershire sauce and soy sauce. Squeeze in a dash of lemon juice, red wine vinegar, or balsamic vinegar to your London broil marinade for acidity. Of course, seasonings are also customary, so I added Italian seasoning and minced garlic. You can even toss in a pinch of red pepper flakes for a bit of spice. I marinated the steak for two hours and I was rewarded with the most tender London broil. 
Steak and gravy are a combination that I simply can't resist. So, I also dressed up my Instant pot London broil with beef gravy that featured caramelized onions and earthy mushrooms. To make a marinade for my London broil, I simply sautéd the veggies in olive oil and butter and flavored it with dried thyme and pepper. You can also make your gravy rich and creamier with cream of mushroom soup. The finished sauce was so delicious that it almost rivaled the yumminess of the marinated steak itself! 
When you know how to cook London broil in the Instant Pot, ordinary weeknight dinners start to feel like a special occasion. It doesn't have to be anything complex though. If you ask me, my London broil Instant Pot recipe is quick and easy to prepare! Give the marinated steak a quick sear for around 2 minutes, cook it on High Pressure for 3 minutes, and allow the instant pot to sit for 10 minutes to release pressure naturally. For the final touch, slather with the rich onion and mushroom gravy! 
My steak dinner wouldn't be as filling without my favorite side dishes that'll complement that perfectly cooked London broil cut. I usually serve my Instant Pot London broil with potatoes and carrots. You can also pair it with mashed potatoes and roasted Brussel sprouts to relish a true restaurant experience.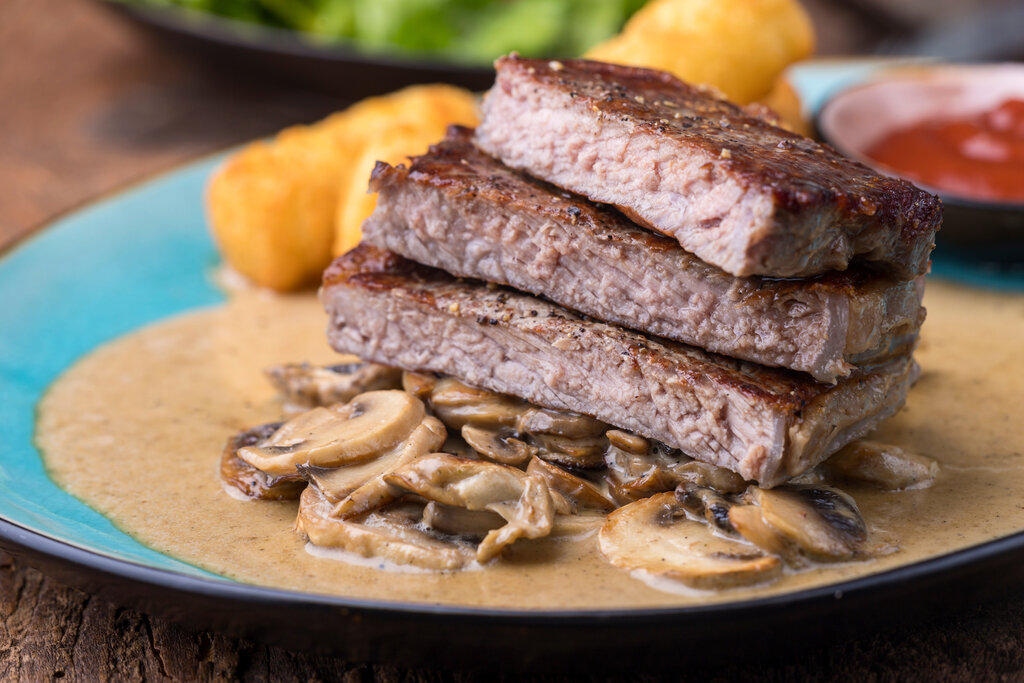 Instant Pot London Broil Recipe
How To Make Instant Pot London Broil
Have a restaurant-style steak dinner with this Instant Pot London broil drizzled with mushroom gravy. Marinating the meat for a few hours ensures you'll have a flavor and oh-so-tender steak meal.
Ingredients
For Marinade:
½

cup

olive oil

⅓

cup

soy sauce

¼

cup

lemon juice

¼

cup

Worcestershire sauce

4

cloves

garlic,

minced

2

tbsp

Italian seasoning

1

tsp

pepper

½

tsp

salt

2

lb

London Broil Top Round beef

1

cup

beef broth
For Gravy:
1

yellow onion,

medium, sliced

8

oz

mushrooms,

rinsed and sliced

1

tbsp

olive oil

1

tbsp

butter

½

tsp

dried thyme

salt and pepper,

to taste

1

tbsp

cornstarch

2

tbsp

water
Instructions
Whisk together all of the marinade ingredients in a small bowl. Place the meat in a large resealable bag or container with a lid, then pour the marinade on top.

Seal the bag or lid, then refrigerate for at least 2 hours, up to overnight.

Set the Instant Pot to Saute mode and allow it to preheat. If not making the gravy skip to the next step, otherwise add 1 tablespoon of olive oil and 1 tablespoon of butter to the pot.

Add the mushrooms and onions and cook for 6 to 7 minutes until all of the excess moisture from the mushrooms has cooked off and the vegetables are lightly browned. Then remove the veggies and set them aside.

Add 1 tablespoon of olive oil, and then add the meat. Sear on each side for around 2 minutes until well browned.

Add 1 cup of beef broth and use a wooden spoon to scrape up any brown bits from the bottom of the pan to avoid a burn warning. Then cover and lock the lid. Set to Manual High Pressure for 3 minutes.

Allow the pressure to release naturally for 10 minutes. Then vent the remaining pressure before removing the lid. Transfer the meat to a cutting board and let rest for 5 minutes before slicing thinly against the grain.

While the meat rests, finish the gravy. Leave the liquid in the pot and set it to saute mode. Whisk together 1 tablespoon of cornstarch and 2 tablespoons of water. Then whisk the cornstarch mixture into the pot.

Bring to a simmer and add the mushrooms and onions back to the pot. Season with ½ teaspoon dried thyme and salt and pepper to taste. Cook for 2 minutes until thickened.

Top the sliced meat with gravy and serve.
Recipe Notes
For the best taste and texture, you can marinate your

London broil steak

for 6 hours up to overnight.

If you're out of cornstarch, you can also use xanthan gum to thicken your London broil gravy.

Incorporate

onion soup

mix, if you want, to add a more intense flavor.
Nutrition
Sugar:

3g

:

Calcium:

145mg

Calories:

649kcal

Carbohydrates:

14g

Cholesterol:

107mg

Fat:

53g

Fiber:

3g

Iron:

7mg

Monounsaturated Fat:

29g

Polyunsaturated Fat:

4g

Potassium:

797mg

Protein:

30g

Saturated Fat:

15g

Sodium:

1270mg

Trans Fat:

2g

Vitamin A:

202IU

Vitamin C:

9mg
Nutrition Disclaimer