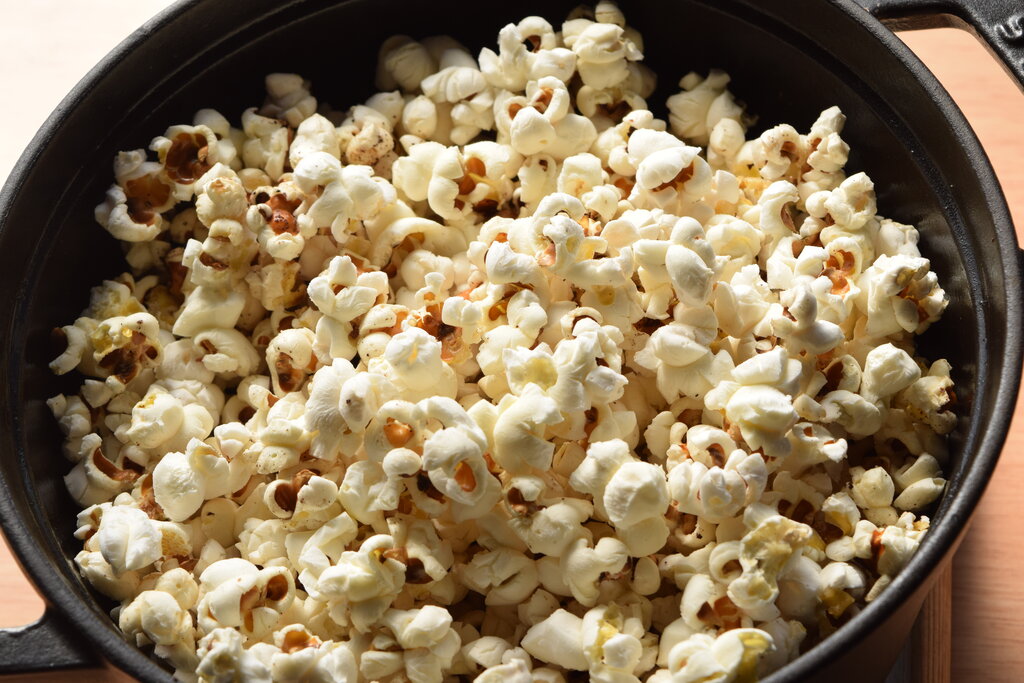 Instant Pot Popcorn Recipe
You don't need a popcorn maker to create delicious flavored popcorn. I have an instant pot at home and it did wonders in cooking a fresh batch of crunchy and seasoned popcorn for my kids and I. Movie nights are not the same without some homemade popcorn. That's why I tried and successfully made one using my instant pot. Plus, it's super quick and easy to make instant pot popcorn too!
I once tried using an air fryer for this recipe, and it actually worked really well and fast. But, this time, I experimented with my instant pot. This homemade popcorn definitely tastes a lot better than those in the movie theater since it's cooked fresh and from scratch. It was really good that I added it in my list of quick and easy instant pot recipes. It's also more budget friendly since you only need a few ingredients. First step is to have popcorn kernels, oil, and salt on hand. I used coconut oil to cook the kernels in the instant pot.
Don't add too much oil or the popcorn will get too greasy! You can also use vegetable oil, but never use butter as a substitute for oil. It heats up too quickly and can burn the kernels. Butter is only good as a flavored topping for popcorn aside from salt. So, if you prefer butter popcorn, then feel free to slather melted butter and salt all over it.
For this recipe, I went with the classic salty flavor of popcorn since it's much easier to prepare. You can use any kind of salt for this instant pot popcorn recipe like fine sea salt or seasoned salt which has a mix of herbs, spices, and other flavorings. That's why I started with the classic flavor so you can also add in some of your favorite toppings as well.
It only took me less than 20 minutes to make this instant pot popcorn. Make sure that you set the Instant Pot to High Saute function. High heat will make the kernels pop faster, and remember to only cover it with a clear glass lid when the kernels start to sizzle. Keep the lid covered for about a minute or until all of the kernels have popped, and then you're done! I had a fun time munching on these while watching a movie with my kids during the weekends. Feel free to add as many different flavors for your instant pot popcorn.
How To Make How To Make Instant Pot Popcorn
This 15-minute instant pot popcorn recipe serves chewy and salty snacks with just 3 ingredients! Savor a quick and simple bite in just 4 easy steps.
Ingredients
2

tbsps

coconut oil

½

cup

popcorn,

unpopped, or popcorn kernels

salt,

to taste, or seasoned salt
Instructions
Turn on the Instant Pot® and select the High Saute function. When the display indicates the pot is hot, spoon coconut oil into the pot and let it melt.

Add popcorn and stir with a rubber spatula until kernels are coated. Wait 30 seconds and stir again; kernels should be making a sizzling sound at this point. Cover pot with the clear glass lid on and cook for 5 minutes.

Cancel Saute mode and let sit for about 1 minute until kernels have completely stopped popping.

Transfer popcorn to a large bowl and sprinkle with salt. Serve and enjoy!
Recipe Notes
To store, place leftover popcorns in an airtight container. It's best to consume the popcorn within 24 hours so that it's still fresh and crisp. Avoid freezing popcorn since it doesn't freeze well, and will affect its overall texture.
Nutrition
Calories: 

63.62kcal

Protein: 

0.09g