Wondering what to make with chicken tenders? This Copycat Culver's Original Chicken Tenders Recipe is a definite favorite amongst children and adults alike! Recreate the crispy and flavorful chicken tenders for lunch and serve it with your favorite sauces. And if you're a fan of the fast-food chain's burger, our version of the indulgent Culver's Butter Burgers is the perfect main dish if you're afraid you'll finish the fried chicken tenders in just five seconds.
You can also serve them as finger food to your guests at parties. It's a simple but delectable option for when you want something easy to prepare. In addition to that, our copycat easy chicken tenders recipe is easy to make as well!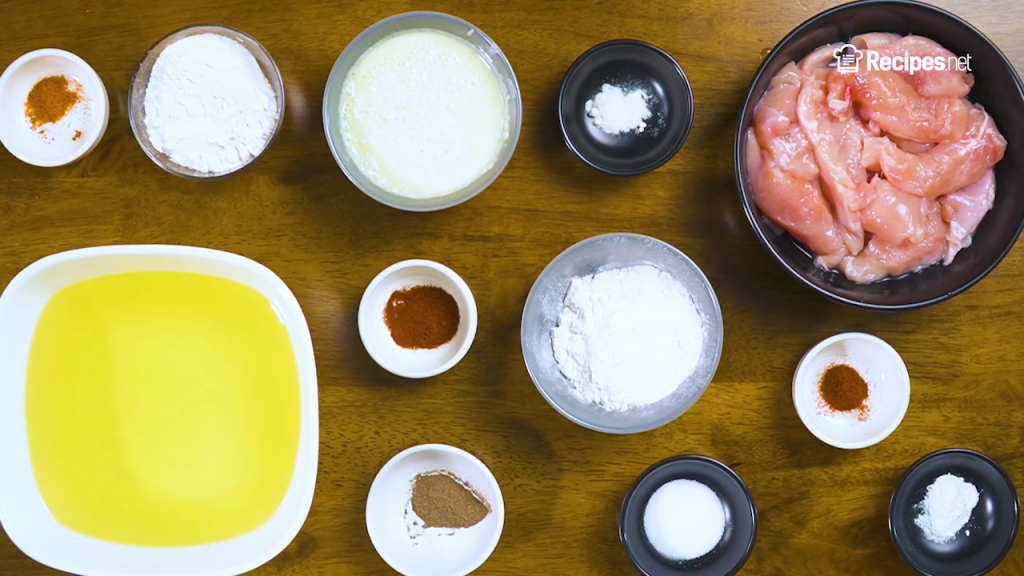 Culver's Trademark Crispy Chicken Tenders
If not the best, Culver's Chicken Tenders is one of the most delightful chicken tenders you'll ever taste. Just like the rest of their menu, the chicken tenders are cooked to order which adds to the fresh and crispy deliciousness of the breaded chicken tenders.
The Midwest's favorite fast-food chain has a variety of food that pleases both our savory and sweet taste buds. Their extensive menu ranges from a scrumptious Tuna Melt to a refreshing Lemon Ice Smoothie.
The fast-food gem's Chicken Tenders got its name from the actual cut of tender whole white meat. It is also made even flavorful with paprika, garlic powder, and onion powder.
And no, the breading is not a distraction from the quality of the chicken. Not only is the chicken a good quality but the taste is a game-changer just like Culver's Fried Chicken. Their fried chicken is such a crowd-pleaser, we even made our own Copycat Culver's Fried Chicken Basket Recipe.
The Culver's chicken tenders are such a hit to the Midwest, they released a spicy buffalo version. Their spicy Buffalo Chicken Tenders is loved because of its flavorsome blend of paprika, chili peppers, and black pepper spices. Head to our tips and variations heading if you want to try this one!
Our Crispy Chicken Tenders Recipe Just Like Culver's
Packed with flavor, this Culver's chicken tenders recipe allows you to enjoy a family-friendly meal any day of the week. Surely, you won't be able to get enough of them after just one bite. 
For this recipe, we'll be using buttermilk to tenderize our chicken. Buttermilk is the perfect addition to our fried chicken tenders recipe to better tenderize our chicken without toughening up our chicken breast. The enzymes in the buttermilk break down the protein in our chicken making it an even tastier crispy chicken tenders. If you're looking for more buttermilk recipes to try, our creamy buttermilk selection ranges from savory chicken to sweet pancakes that surely you won't be able to resist.
Although our buttermilk chicken tenders recipe is tasty as it is, marinating our chicken tenders in paprika, cayenne pepper, and garlic powder will add an extra kick to it. Although it's tempting to coat your homemade chicken tenders with a heavy coating of flour, a thin layer of coating will give our chicken tenders recipe a light, and addictive crust. A heavy flour coating will result in soggy and greasy breaded chicken tenders.
Crispy chicken tenders not enough to satisfy that Culver's craving? Our version of the creamy Culver's Chocolate Malt might hit the spot! This rich and sweet famous shake pairs well with the savory fried chicken tenders you won't be sharing it with anyone.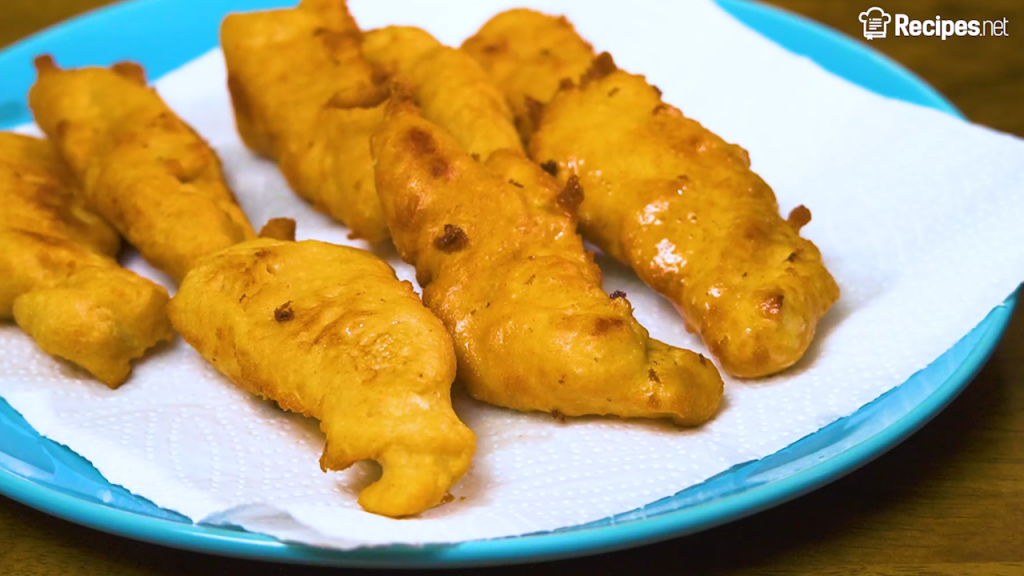 Tips In Making Chicken Tenders And More Variations To Try
These buttermilk chicken tenders are crunchy on the outside, but nice and juicy on the inside. They're great on their own but work just as well with other dishes. What's not to love about them?
Looking for healthier alternatives to cook your crispy chicken tenders? This crispy chicken tenders recipe can be an air fryer chicken tender too. Air fried chicken tenders are crispier than ones that are cooked in the oven. 
To air-fry, your chicken tenders, preheat your air-fryer three minutes before you place your chicken in. Air-fry it for five to six minutes on each side and once the chickens are crispy and golden, voila! Your air fried chicken tenders are good to go!
Baking your chicken tenders is one of the healthier options too. Just like our scrumptious Diabetic-Friendly Oven-Baked Chicken Tender Recipe. And just like deep-fried chicken tenders, our oven baked chicken tenders have a crunchy coating on the outside and a juicy inside! Our chicken tenders are so flavorful, you'll forget that it's a diabetic alternative!
Love a good hot-and-spicy homemade chicken tenders moment? Add an extra dash of cayenne pepper and paprika to your chicken tenders and turn it into a spicy chicken tenders recipe. Bacon wrapped chicken tenders might also do the trick for those bacon-addict guests. Surely, they'll be asking for more.
We love a versatile and uncomplicated dish. Thus, this homemade chicken tenders recipe is great to always have on hand. Without a doubt, this meal will become an instant hit with your friends and family. So, go ahead and try out this recipe for yourself. You can't go wrong when you have these chicken tenders on your menu.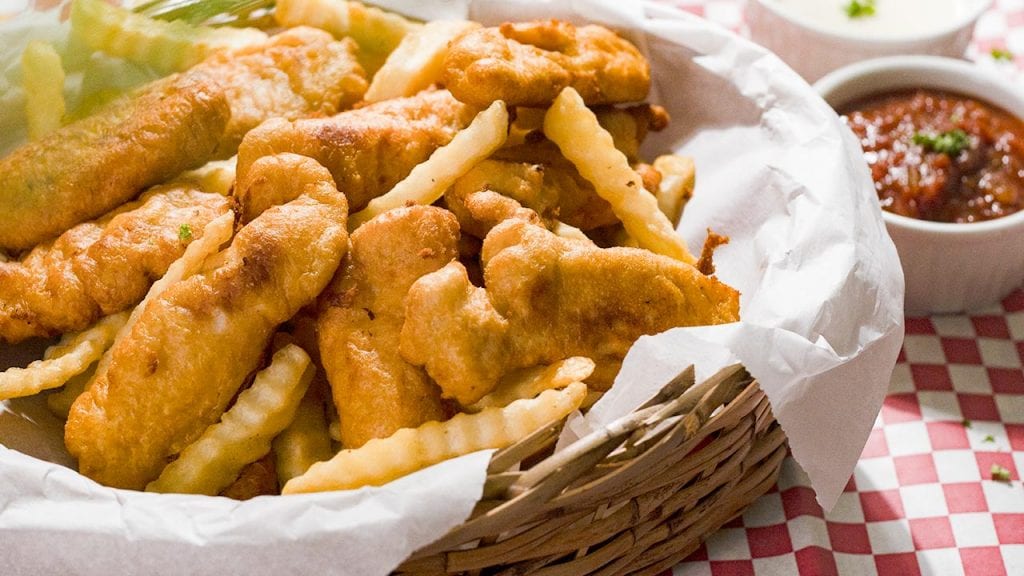 Copycat Culver's Chicken Tenders Recipe
How To Make Copycat Culver's Chicken Tenders
Enjoy a family-friendly meal with our version of Culver's Chicken Tenders! Enjoy delicious chicken pieces made extra tender with buttermilk and a sprinkle of flavorful spices.
Ingredients
1

lb

chicken tenders,

or skinless, cut into strips, chicken breast

1½

cups

buttermilk

¼

tsp

cayenne pepper

¼

tsp

garlic powder

1

cup

all-purpose flour,

divided

1

tsp

baking powder

salt and ground black pepper,

for seasoning and to taste

1¼

tsp

paprika,

divided

vegetable oil,

for frying
To Serve:
potato fries,

or sweet potato, of your choice

mayonnaise

barbeque sauce
Instructions
In a bowl, combine the ½ cup of flour, garlic powder, cayenne pepper, 1½ tablespoon of salt, and ¼ teaspoon of paprika.

Add in the chicken and ensure that the meat is generously covered with the flour and seasoning.

In a separate bowl, combine the flour, baking powder, 1 teaspoon of paprika, pinches of salt and black pepper, and buttermilk. Mix well to make the batter.

Marinate the chicken in the buttermilk.

Next, prepare a pot for deep frying and prepare a tray lined with some paper towels. Take out the chicken and shake off the excess marinade.

Carefully lower the chicken pieces into the hot oil and allow to cook for 3 to 5 minutes until it turns golden brown.

Once cooked, remove the chicken and place on the paper towel to absorb excess oil. Repeat until all the chicken pieces have been fried.

Serve with mayonnaise, barbecue sauce, and a side of fries, and enjoy!
Nutrition
Sugar:

6g

:

Calcium:

231mg

Calories:

401kcal

Carbohydrates:

38g

Cholesterol:

110mg

Fat:

8g

Fiber:

1g

Iron:

3mg

Monounsaturated Fat:

2g

Polyunsaturated Fat:

1g

Potassium:

777mg

Protein:

40g

Saturated Fat:

3g

Sodium:

444mg

Trans Fat:

1g

Vitamin A:

377IU

Vitamin C:

5mg
Nutrition Disclaimer
Commonly Asked Questions
What do I serve with chicken tenders?
Culver's chicken tenders are great on their own, but if you want to complement it with some sides, we recommend going for some simple classics, like our tangy Golden Gate Coleslaw and our Loaded Mashed Potatoes. Nothing beats a sweet coleslaw side dish and a creamy mashed potato paired with juicy chicken tenders. For a balanced meal, pairing it with a healthy and delicious salad won't ruin your healthy eating habits
Can you freeze already cooked chicken tenders?
Cooked chicken tenders that are properly stored can last up to two days. Store your leftover cooked chicken tenders in an airtight container or wrap it tightly with aluminum foil or plastic wrap. You can also freeze your chicken tenders for up to 2 to 3 months as long as it is properly wrapped in an airtight container. Thaw your frozen chicken tenders before reheating and serving.
How can I reheat chicken tenders without making it soggy?
It's tricky to reheat your chicken tenders without making it soggy. The best way to make it crispy after a day or two in the fridge is to reheat them in your oven. Preheat your oven to 400 degrees F. Before placing your chicken tenders inside, arrange them in a baking sheet on top of a foil then insulate your chicken by again covering them with a foil. Enjoy the crispiness of your chicken tenders after 20 minutes of baking it in your oven.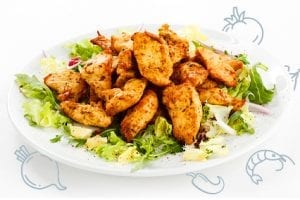 Conclusion
Crispy on the outside yet juicy on the inside, these chicken tenders are a great go-to when you want a no-brainer meal that will satisfy anyone. Enjoy them with friends and family for a meal that's delicious and easy to eat! There's nothing wrong with something simple, especially when you serve something as delicious as these chicken tenders.