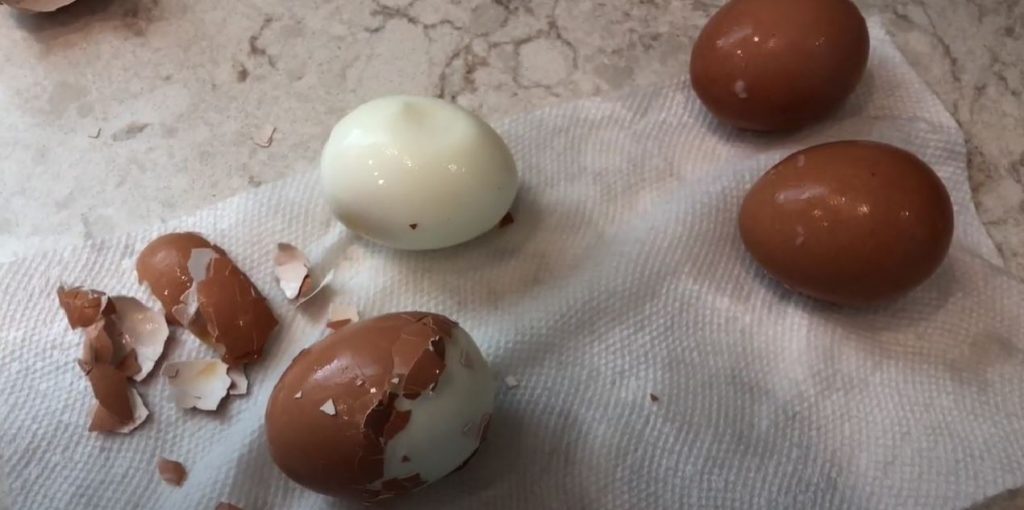 Instant Pot Easy-Peel Hard Boiled Eggs Recipe
How To Make Instant Pot Easy-Peel Hard Boiled Eggs
Let the instant pot do its magic in this hard boiled eggs recipe! Freshly cooked eggs are tossed into cold water for a fuss-free side to meals.
Pressurize and Natural Release Time:
15 minutes
Ingredients
1

large egg,

cold from the fridge
Instructions
Place a steamer basket in the bottom of your pressure cooker. Add ½ to 1-inch of water, about 1 to 2 cups, to the pressure cooker. The water level should be just below the steamer basket.

Close the lid on the pressure cooker and make sure the steam valve is set to the "Sealed" position. Set the pressure to "High" and set the timer for 4 minutes for electric pressure cookers.

The pressure cooker will take 5 to 10 minutes to come to full pressure and then being cooking. Cooking time begins once the cooker has come to pressure.

After cooking is done, let the pressure cooker sit for 5 minutes with the lid on and the steam vent "Sealed" to allow steam to begin releasing naturally.

After 5 minutes of natural release, flip the steam valve to "Venting" and quick-release any remaining pressure.

Cool the eggs. Transfer the eggs to a bowl of cold water to cool. Change out the water as it warms until the eggs are cool, then refrigerate the eggs until needed.

Use as desired and enjoy.
Recipe Notes
Check the pressure cooker manual for the minimum requirement of liquid in the pot, and add at least that amount. If no instructions are given, add 1-inch of water.

If the pressure cooker didn't come with its own steamer basket, use a standard metal or silicone steamer basket in its place.

Avoid stacking eggs on top of each other since this can also lead to more cracked eggs.
Nutrition
Calories: 

71.50kcal

Fat: 

4.75g

Saturated Fat: 

1.56g

Trans Fat: 

0.02g

Monounsaturated Fat: 

1.83g

Polyunsaturated Fat: 

0.96g

Carbohydrates: 

0.36g

Sugar: 

0.18g

Protein: 

6.28g

Cholesterol: 

186.00mg

Sodium: 

71.00mg

Calcium: 

28.00mg

Potassium: 

69.00mg

Iron: 

0.88mg

Vitamin A: 

80.00µg