Get your favorite spices and tea, because we're making the best Chai Tea Mix Recipe you'll ever have! This homemade chai tea recipe will surely give warmth not just to your tummy but to your soul. The earthy spices and the combination of milk and creamer make the perfect Chai Tea Mix Recipe.
It's the perfect energizing drink to start the day or to cap off of a long day. So if you're searching for enjoyable drinks that are perfect any time of the day, this chai tea spice mix is for you. Enjoy this Chai Tea Mix Recipe with some Classic Chocolate Chip Cookies for a tasty afternoon delight.
What Is Chai Tea?
Fun fact, the word "Chai" is an Indian word that actually means tea. Aside from the British people, India is also one of the biggest consumers and producers of tea. The Southeast Asian country fell in love with this soothing drink during the British colonization period and made their own twist to it.
Now if you're wondering about chai tea ingredients, they're actually really similar to those used by British people in making their English Breakfast Tea— using Black Tea with sugar and milk. And part of our wide range of Indian Recipes there are different takes on this relaxing tea with different spices in it. 
Most Chai Tea recipes have nutmeg, pepper, star anise, cloves, and cinnamon in it. Every Indian household has its own take on this creamy tea. So, if you're wondering if you can add your own spices to your homemade chai recipe, you can definitely experiment with its taste depending on your preference!
Now, before we head to how we make our Chai Tea Recipe Mix, if you're curious about chai tea benefits continue reading on.
What Are The Health Benefits Of Chai Tea?
If you're looking for ways to lessen your coffee intake, you might want to start replacing your regular cup of joe with Chai Tea. Chai tea uses black tea which already has natural caffeine in it. But tea has tannin and theanine which helps in calming the nervous system. These substances balance the effects of caffeine resulting in a calm yet focused nervous system.
The spices that most Chai Tea contains are also beneficial to the body! Nutmeg and cloves are two spices that are rich in antioxidants. Antioxidants help protect your cells from further damage because of free radicals which cause illness and aging. So if you're looking for ways to have healthy looking skin, drinking might be a huge help to it.
Just like most teas, Chai Tea also is a huge help to your gut. Cardamom and ginger, which are also common in Chai tea, have a cooling effect that may relieve acidity. Cardamom's strong fragrance also helps secrete enzymes that are effective after binging on food. It also has rich antibacterial properties that may prevent digestive problems because of bacterias.
In addition, black tea, cloves, cardamom, and cinnamon have anti-inflammatory properties. With this, drinking Chai tea might help relieve pains and ache or even help with arthritis. 
Although there are no scientifically proven side effects, it's still best to drink tea in moderation. It's safe to have at most two cups of chai tea a day, as it still has caffeine in it. As delicious and energizing this tea mix may be, we still advise that you drink it moderately!
Tips On How To Make Chai Tea and Variations To Try
Making this recipe for chai tea spice mix is actually easy. Just by mixing and blending our homemade chai tea powder mix, you now have an instant chai tea recipe that you can whip up anytime! 
You can also use two teaspoons of vanilla extract instead of powdered french vanilla creamer for this instant chai tea recipe. Mix the vanilla extract into the sugar, let it dry, then break the sugar into small lumps. This easily makes an instant vanilla chai tea recipe.
For added heat, you can also mix one teaspoon of turmeric powder to your chai tea recipe. This turns it into a turmeric chai tea recipe mix! In addition, put two tablespoons of our chai tea mix to your latte for an instant chai tea latte recipe. You can have it hot or add in some ice cubes to make an iced chai tea latte!
If you're looking for the perfect combination of the famous Starbucks Pumpkin Spice Latte and a chai tea latte, you're in luck! Our delicious Homemade Pumpkin Chai Latte Recipe makes the perfect blend of earthy tones and autumn flavors.
For a quick chai tea smoothie recipe, try the fruity and earthy mix of our Banana Chai Smoothie. It's packed with enough caffeine and protein, perfect for when you're about to have your daily exercise! You can also mix in a teaspoon of our Homemade Chai Tea Concentrate Recipe to your green tea. These two make the easiest green tea chai recipe for a refreshing afternoon! 
To add a fun twist to your classic holiday drinks, try our Chai Eggnog Recipe and Chocolate Chai Tea Recipe. The different spices will be a fun surprise to your guests when you serve these drinks!
Now, let's make our easy chai spice tea recipe.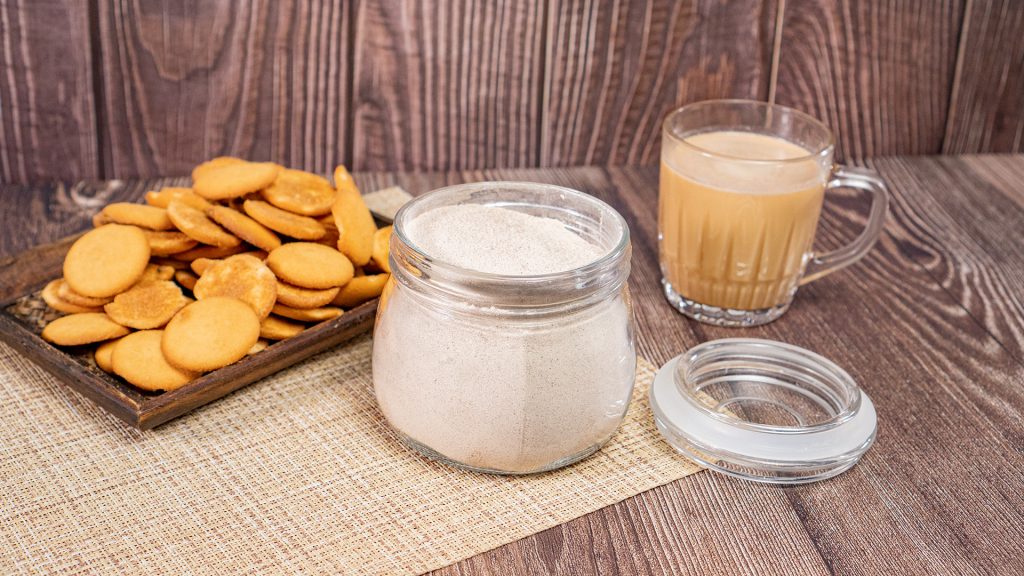 Chai Tea Mix Recipe
Make this quick and easy instant Chai Tea Mix whenever you want! Sip a cup of this creamy and spiced homemade chai tea after a long day at work for a peaceful and relaxing evening.
Ingredients
1

cup

milk powder,

non-fat, dry

2

cups

creamer,

French vanilla flavored, non-dairy, powdered

2½

cups

white sugar

1½

cups

instant tea,

unsweetened

2

tsp

ground ginger

2

tsp

ground cinnamon

1

tsp

ground cloves

1

tsp

ground cardamom
Instructions
In a large bowl, combine the milk powder, non-dairy creamer, vanilla flavored creamer, sugar, and instant tea. Stir in the ground ginger, cinnamon, cloves, and cardamom.

In a blender or food processor, blend the powdered mixture. Do this 1 cup at a time. Blend until the mixture is the same as the consistency of fine powder.

To serve, stir two heaping tablespoons of Chai tea mixture into a mug of hot water. Enjoy!
Nutrition
Sugar:

15g

:

Calcium:

35mg

Calories:

79kcal

Carbohydrates:

17g

Cholesterol:

3mg

Fat:

1g

Fiber:

1g

Iron:

1mg

Monounsaturated Fat:

1g

Polyunsaturated Fat:

1g

Potassium:

89mg

Protein:

1g

Saturated Fat:

1g

Sodium:

14mg

Trans Fat:

1g

Vitamin A:

34IU

Vitamin C:

2mg
Nutrition Disclaimer
Commonly Asked Questions
Does chai tea have caffeine?
Yes! An 8-ounce cup of chai tea has 25 milligrams of caffeine in it but still enough to keep you awake. So if you're looking for coffee alternatives, Chai teas are perfect as they only contain a quarter of caffeine compared to a cup of coffee!

Where to buy chai tea?
Nowadays, it's easy to look for teas as they are already available online. You can also buy chai tea and instant tea at natural grocery stores, special tea retailers, and organic grocery stores. You can also use black tea which is traditionally used for making chai tea though instant ones work really well too, like what we used in this recipe.
How to store brewed tea?
Instant powdered teas can last for up to 6 to 12 months if they are stored in a cool and dry place. But if you have leftover brewed tea, cover your tea with a lid or wrap it with plastic wrap. Put it in the fridge and drink it within 12 hours. We don't recommend letting it sit in the fridge overnight as it might acquire bacteria because of the tea's sugar and milk contents.
Should you reheat tea with milk?
Teas that contain milk might get grainy after a few hours. Leftover teas won't have the same taste they have when they were freshly made. Reheating tea with milk will have an unpleasant taste as milk and sugar causes faster bacterial accumulation. That's why we recommend drinking your tea as soon as you make it.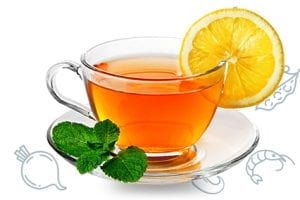 Conclusion
This Chai Tea Mix Recipe lets you make your own creamy chai tea from scratch! Serve this for your friends at night as you relax or if you're giving yourself a treat! No need to settle for store-bought teas now that you can make your own relaxing cup at home. Enjoy this tea with our
Maple Cinnamon Sugar Cookies Recipe
for a perfect pair of earthy flavors!