Looking for a comforting drink for the cold days? With bright green leaves packed with bold peppery notes and refreshing flavors, this easy tulsi tea recipe is ready in just 15 minutes. Treat yourself to a relaxing cup of this herbal tea together with an egg sandwich or tea cake for a quick immunity boost or to help you unwind after a long day at work.
Tips on Making Tulsi Tea
Tulsi tea, which comes from the tulsi plant and is also known as holy basil tea, packs a whole lot of health benefits. Commonly used in Thai cuisine, this antioxidant-rich infusion tea is primarily known to aid stress and anxiety by regulating the stress-causing cortisol hormone in the body. Consumption of this herb tea also helps boost the immune system and help heal respiratory illnesses like coughs and colds faster. It's good to have it on hand in the house for whenever you need a good herbal boost. Here are some tips about preparing it:
You can make tea out of fresh and dried

holy basil leaves. When using dried leaves, you will need only half the amount of fresh leaves. You can even steep fresh tulsi flowers to make a mild and refreshing drink. 
Enjoy sipping it on its own or with a combination of other herbs or tea leaves.

If you need better sleep, combine it with chamomile. For a stronger taste and caffeine boost, blend it with

black tea

. If you need to boost brain health, add in ¼ teaspoon of turmeric powder. You can also mix it with peppermint to help ease gas. Feel free to make your own tea blend. 
Upgrade it into a latte

by adding a splash of milk or cream!
To store the dried tea leaves,

make sure to place them in a cool dry place away from direct sunlight in an airtight container. Prolonged exposure to oxygen and sunlight will cause the tea to stale. 
Herbal teas are indeed a wonder not only for providing relaxation but also for their health-boosting benefits. With that, check out these recipes for lemon balm chamomile tea and ginger tea. Along with tulsi tea, these herbal teas will surely help you feel better the next time you feel a bit under the weather.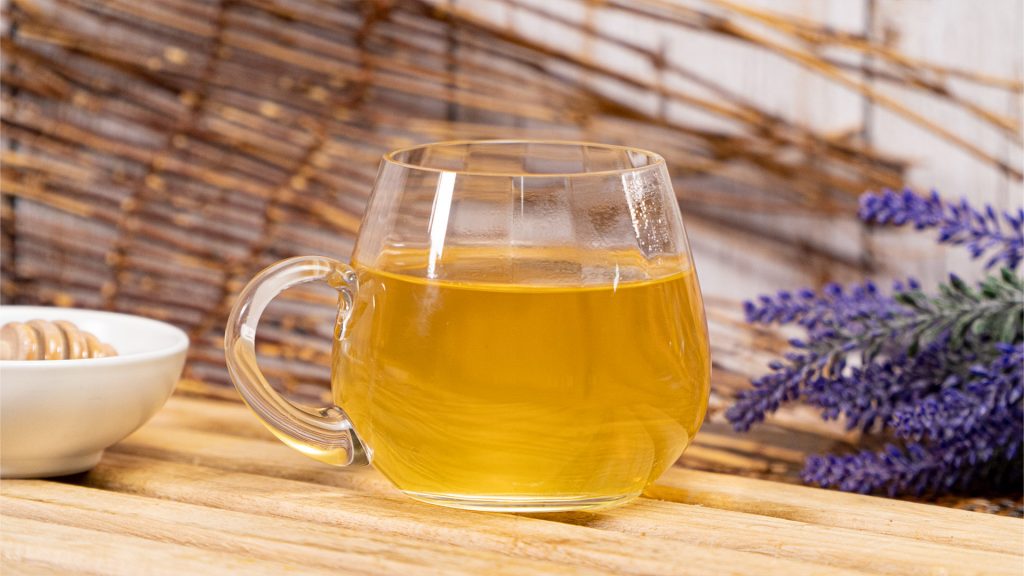 Tulsi Tea Recipe (Holy Basil Tea)
How To Make Tulsi Tea (Holy Basil Tea)
Make this tulsi tea for a relaxing drink any time of the day. Savor the earthy and peppery tones of the tea with the zesty and sweet hints of lemon juice and honey.
Ingredients
1

tsp

tulsi leaves,

fresh or ½ tsp dried

1½

cups

water

1

tsp

lemon juice

1

tsp

honey
Instructions
Boil water over high heat.

Add the tulsi leaves and cook on a medium flame for 10 to 15 minutes, while stirring occasionally.

Strain the water using a strainer. Add the lemon juice and honey, mix well.

Serve warm and enjoy.
Nutrition
Sugar:

6g

:

Calcium:

11mg

Calories:

29kcal

Carbohydrates:

6g

Fat:

1g

Fiber:

1g

Iron:

1mg

Potassium:

9mg

Protein:

1g

Sodium:

18mg

Vitamin A:

1IU

Vitamin C:

2mg
Nutrition Disclaimer
Frequently Asked Questions
What is tulsi tea good for?
Tulsi tea is actually one of the most powerful healing foods nature has gifted us. Aside from the stress relief and immune-boosting health benefits mentioned above, tulsi tea is also proven to help lower blood sugar levels as well as blood pressure. This herbal tea has anti-inflammatory and healing properties for the digestive tract, joint pains, and muscle pains, making it a great post-workout drink. It's rich in vitamin A, vitamin C, vitamin K, iron, calcium, zink, and manganese. And because it kills harmful bacteria, it even lessens bad breath. These tulsi tea benefits are further enhanced with the addition of lemon juice and honey in this tulsi tea recipe.

Is it safe to drink tulsi tea everyday
?
Yes! It's okay to consume tulsi tea any time of the day. It won't keep you up at night as it is caffeine free. We recommend consuming 1 cup per day. Having it in excessive amounts may cause side effects such as teeth stain and diarrhea. But if you have a cough or colds, then perhaps having two or three cups might help you recover faster.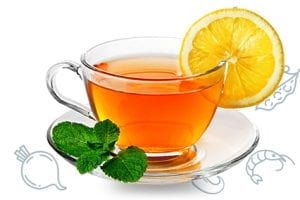 Conclusion
Whether it's the cold weather or stress you need relief from, this tulsi tea recipe surely won't disappoint. Enjoy it freshly brewed with lemon and honey for a refreshing and relaxing tea time.