This cottage cheese pie is smooth, cheesy, slightly sweet, and comforting to eat! Its luscious cottage cheese filling is baked to golden brown perfection on a buttery pie crust. The nutmeg on top adds an interesting warm earthy taste. It goes well with a side of coffee or tea and this grilled vegetable salad. If you're craving something creamy and also something new, this recipe is a must-try.
Tips on Making Cottage Cheese Pie
Cottage cheese is a high protein, low-fat, and low-calorie alternative for cream cheese. It even has lower calories than yogurt. Also, this cottage cheese pie recipe doesn't fall short on flavor. Forget about your usual cheesecakes and earn how to make cheese pie with our expert tips down below:
Go for the 4% full fat cottage cheese

which tastes the creamiest! 

Ensure that all ingredients are at room temperature

when you work. It's easier to combine, and you'll be sure that there are no lumps of unmixed cottage cheese in the filling.

You can use store-bought pie crust

for convenience, or make this recipe entirely from scratch by making your own

homemade pie crust

.

Add delicious mix-ins to the pie.

Raisins, roasted walnuts, and pecans have flavors that go well with cheese. 

For other delicious toppings

, you can go from as simple as powdered sugar or

sweetened condensed milk

to strawberries, blueberries, cherries, and

apple pie

or

cherry pie

filling.

Make this cheese pie in mini tart shells or cupcake tins for personal serving cheese pies

, perfect for potlucks and big gatherings! Use an ice cream scoop or piping bag to transfer the filling. You will only need to bake them for 10 to 12 minutes.
How To Make Cottage Cheese Pie
This low-fat and low-calorie cottage cheese pie is creamy with just the right level of sweetness, made warm and earthy with nutmeg. Make this guilt-free treat in under an hour.
Advertisement
Continue Reading Below
Ingredients
1

9-inch *pie crust,

(see Recipe Notes for recipe)

18

oz

cottage cheese,

room temperature

1

lemon,

zest

½

cup

sugar,

(or more to taste)

2

egg yolks

1

tsp

vanilla essence

nutmeg
Instructions
Preheat the oven to 350 degrees F.

Grease a 9-inch pie pan with cooking spray.

Lay the unbaked pie crust flat in the pie pan.

Combine cottage cheese, lemon zest, sugar, egg yolks, and vanilla in a bowl. Mix well.

Carefully transfer the cheese filling into the pie crust. Then, sprinkle nutmeg on top.

Bake the pie for 30 to 35 minutes or until a knife comes out moist but clean.

Once done, let it cool for at least 10 minutes.

Slice, serve and enjoy!
Advertisement
Continue Reading Below
Advertisement
Continue Reading Below
Commonly Asked Questions
What is the difference between cheesecake and cheese pie?
Cheesecakes usually have graham cracker crusts, while cheese pies are placed on top of flakey or buttery pie crusts. Both desserts have baked and no-bake versions. Baked cheesecakes are made with cream cheese, sour cream, and eggs. As a result, they taste richer and are crumbly in texture. Baked cheese pies like this recipe, on the other hand, are usually lighter, have a custard-like texture, and a more lemony flavor. The no-bake versions of these desserts use either gelatin, Jello, or heavy whipping cream instead of eggs as a thickening agent so they both have a smoother texture than the baked ones.
Can cottage cheese pie be frozen?
Yes, you can definitely make two or three cottage cheese pies in one batch and freeze the others for future consumption. The frozen pies stay good for two months. Just cover it with plastic wrap or in an airtight container so that no moisture seeps in.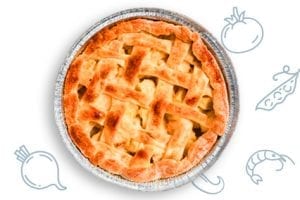 Conclusion
This cottage cheese pie lets you indulge in creamy cheesy goodness without much fat and calories. It's a free-from-guilt treat that you can whip up in under an hour with just seven ingredients. Serve it for breakfast, tea time, or as a celebratory dessert for special occasions.
Advertisement
Continue Reading Below
Topics:
Advertisement
Continue Reading Below
Related Pies & Pastries Recipes
Advertisement
Continue Reading Below