Believe it or not, the Mrs. Fields industry started out like most successful people–rejection stories. Growing up, Debi Fields didn't have the luxury to buy authentic ingredients until she got her first paycheck. Leaving her comfort zone, she proceeded to hand free samples of her cookies knowing the financial risks.
Such perseverance led us to the beloved cookie franchise, bringing this mouth-watering recipe. Our Mrs. Fields Copycat Cookie Cake is a huge, chewy treat packed with luscious chocolate chips. The best part is it only takes less than an hour to make. 
Compared to the standard cookie recipes, you can whip this up in a jiff. Plus, you can add layers upon layers of cookie cake. But, take note of the most important ingredient–the butter. On one hand, browned butter adds bold and nutty flavors to your cake.
Then there is also the need for softened room temperature butter, which can make or break your recipe. Avoid adding rock-solid or melted butter. By doing this, you'll be left with a dense or too spread out cake. 
Room temperature butter is important because it whips in the air that makes your cookie cake soft and fluffy in texture. Bring it out an hour or two before baking but if you weren't able to, you can either slice or grate your butter to soften it. Soft butter is also easier to cream with sugar, providing a seamless mixture.
Serve this recipe as a simple dessert laid out for your guests or a decadent alternative for a birthday cake. Simply pipe some birthday greetings onto the top of the cake and your creative birthday cake will be complete! One bite of this delectable treat and they'll be able to feel the love and warmth.
And, you can't munch on this cake without pairing it with our Strawberry Kiwi Milkshake recipe. Apart from milk, fresh fruit shakes are a great way to balance a sweet treat. Like Debi Fields, let's persevere in serving a huge yet delicious Mrs. Fields Cookie Cake. So, let's head right into the kitchen and whip up a timeless favorite
How To Make Mrs. Fields Copycat Cookie Cake
We're bringing Mrs. Fields in the comforts of your own home and this delicious cookie cake recipe is so easy to make. Its delectable goodness is something you wouldn't want to miss!
Advertisement
Continue Reading Below
Ingredients
For Cookie Cake:
½

cup

unsalted butter,

softened

½

cup

unsalted butter,

browned

½

cup

all-purpose flour

1

cup

brown sugar

½

cup

sugar

2

medium eggs

2

tsp

vanilla

½

tsp

milk

½

tsp

water

1

tsp

baking soda

½

tsp

salt

12

oz

chocolate chips
For Buttercream Frosting:
4

tbsp

butter,

softened

1¼

cup

powdered sugar

½

tsp

vanilla extract

1

tbsp

milk

food coloring,

1 to 3 drops

sprinkles,

optional
Instructions
Cookie Cake:
In a large bowl, beat brown sugar, granulated sugar, softened butter and browned butter until fluffy.

Add in eggs, vanilla extract, milk, and water and continue mixing until well-incorporated. Keep whisking until the mixture has no lumps.

Let stand for 3 minutes and whisk again for 30 seconds. Repeat the process until the mixture thickens and shines.

Mix in flour, baking soda, and salt. Fold in the chocolate chips.

Store the mixture in an air-tight container and refrigerate overnight.

Preheat your oven to 325 degrees F.

Spread your mixture in a 9-inch cake pan.

Bake the cookie cake for 15 minutes.

Once done, let the cookies cool on the pan for a few minutes.
Buttercream Frosting:
In a bowl, cream together the butter, powdered sugar, vanilla extract, and milk until smooth.

Gradually add the food coloring until it reaches your desired color.

Once done, scoop them into a piping bag and pipe your frosting on top of the cake.

Garnish it with some sprinkles and enjoy your delectable cookie cake!
Advertisement
Continue Reading Below
Advertisement
Continue Reading Below
Commonly Asked Questions
 How can I make this a chewier cookie cake?
If you prefer a chewier bite to your cookie cake, there are several ways to get it done. Some would suggest adding cornstarch to your mix while others may recommend using egg yolks instead of whole eggs. And our method for a chewier batch is by using brown sugar. The moisture in brown sugar results in a soft and chewy chocolate chip cookie cake.
How do I know when the cookie cake is done?
Make sure the top is lightly browned or you can use a toothpick by gently sticking it in the middle of your cake. If it comes out clean, then it's done. If not, bake it for a few minutes more until the mixture doesn't stick to the toothpick.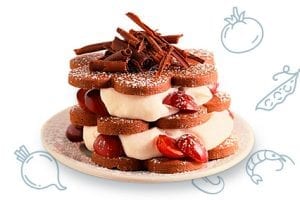 Conclusion
This Copycat Cookie Cake recipe will bring the delicious smell of Mrs. Fields into your own home. It makes a soft and delectable pan of cookie cake. The semi-sweet chocolate chips melt in your mouth together with the buttercream frosting. Each bite of this cookie cake is bound to envelop you like a mother's love.
Advertisement
Continue Reading Below
Topics:
Advertisement
Continue Reading Below
Advertisement
Continue Reading Below