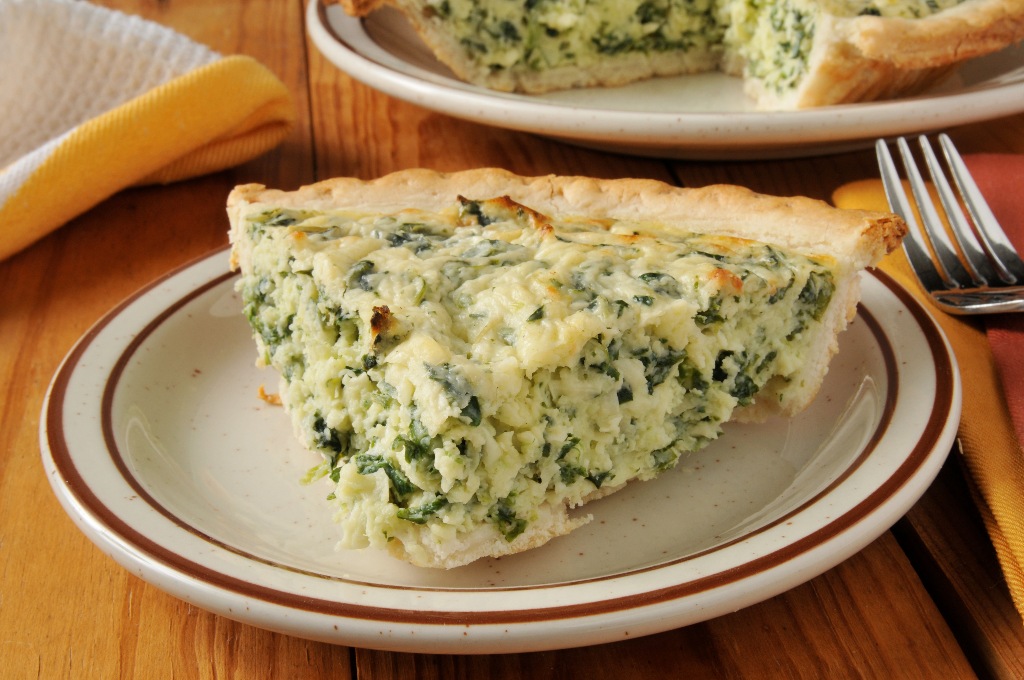 A slice of spinach quiche with golden crust
I've always loved quiche as much as the next person. Who wouldn't?! It has the richest and creamiest filling, thanks to the mash-up of cheese, milk, and heavy cream. In my version, though, I gave the usual quiche recipe a dairy-free makeover. Dairy-free quiche is just as heavenly – even without all of the things mentioned. The best part is, this vegetable quiche can be enjoyed by those who can't have milk in their diet.
Is there even a quiche without cheese, you ask? Well, YES! My dairy-free quiche recipe has no cheese, but you'll be surprised how delicious it is. And instead of regular milk, I made my non-dairy quiche with almond milk. I heard using coconut milk, soya milk, or any non-dairy milk can result in a fluffy texture as well. Or, you can skip the milk entirely and make your quiche with water instead of milk.
Fresh vegetables, including spinach and asparagus, took the center stage in my gluten-free and dairy-free quiche. Although, exploring different combinations of vegetables (such as broccoli and mushroom) sounds like a fantastic idea, too! I also went all-in with the seasonings when sauteing the vegetables. Paprika and chipotle powder added spicy notes to my dairy-free paleo quiche. My cheeseless quiche, filled with cooked veggies, eggs, and seasoning, is not just delicious. IT. IS. PHENOMENAL.
Everything was baked together in a flaky, buttery crust (which I made from scratch!). I used vegan butter, so my veggie quiche recipe was certified dairy-free! To that, I added all-purpose flour and ice water. You're more than welcome to use a premade crust, though. You can also skip the crust altogether and make a crustless quiche.
My vegetable quiche recipe makes for a great meal prep idea! After baking the spinach quiche, store it in an airtight container and place it in the fridge for three to five days. When ready to serve, pop the quiche in the oven to reheat. Serve this dairy-free quiche with a light green salad or hot soup to seal the deal.
How To Make Dairy-Free Vegetable Quiche
Enjoy this delicious dairy-free quiche that's loaded with vegetables. Everything is baked in a dairy-free pie crust for a healthy and filling meal!
Ingredients
For the Dairy-Free Pie Crust:
½ tsp salt

1 cup all-purpose flour

½ cup vegan butter, (or vegan shortening)

4 tbsp ice water
For the Quiche:
1 tbsp olive oil

1 white onion, small

1 red bell pepper, diced

10 asparagus spears

6 eggs

3 tbsp all-purpose flour

½ tsp baking powder

¾ cup unsweetened almond milk, (or rice milk)

½ tsp salt

½ tsp sweet paprika

½ tsp dried thyme

¼ tsp chipotle powder

⅛ tsp black pepper

3 handfuls baby spinach, fresh
Instructions
Dairy-Free Pie Crust:
Combine the salt and flour in a bowl. Cut the

butter

into the salt and flour mixture with a pastry cutter or fork, and mix until it is well combined.

Add the ice water, then stir with a spoon until the mixture clings together in a ball. There should be thin swirls of

butter

throughout the dough.

Lightly dust the rolling surface with flour, and roll the dough out as desired.

Transfer the crust from the rolling surface to the pie pan. First fold the crust in half twice. Then, lift and unfold the crust over the pie pan.

Preheat the oven to 350 degrees F.

Use a fork to poke a few holes on the bottom of the crust.

Bake it for 10 minutes. Remove and set aside.
Quiche:
Heat the oil in a large sauté pan over medium-high heat.

Add the onions, chopped red peppers, asparagus, and sauté for 5 minutes or until the onions are translucent and the asparagus is cooked. Remove from heat.

In a separate large bowl, whisk together the eggs, flour, baking powder, almond or rice milk, salt, paprika, thyme, chipotle powder, and black pepper.

Stir in the sauteed vegetables and fresh spinach, and stir until well combined.

Pour the egg and vegetable mixture into the partially baked pie crust. Use a spoon to even out the top.

Place in the oven and cook for 45 to 50 minutes.

Remove from the oven and allow the quiche to set for at least 5 minutes.

Slice the dairy-free quiche, serve, and enjoy!
Recipe Notes
If the dough is too dry or moist, add additional water or flour as needed. Don't overmix.

This dairy-free quiche will rise while baking but should settle back down once removed from the oven.
Nutrition
Calories: 

177.13kcal

Fat: 

12.62g

Saturated Fat: 

9.43g

Trans Fat: 

0.03g

Monounsaturated Fat: 

2.08g

Polyunsaturated Fat: 

0.78g

Carbohydrates: 

11.61g

Fiber: 

1.09g

Sugar: 

1.04g

Protein: 

4.56g

Cholesterol: 

79.98mg

Sodium: 

218.17mg

Calcium: 

64.78mg

Potassium: 

115.24mg

Iron: 

1.48mg

Vitamin A: 

59.78µg

Vitamin C: 

13.95mg