Grilling is the way to go if you want to have tasty food while enjoying the peaceful outdoors. From barbecues, beach trips, to camping — you can successfully try your hand at making this grilled salmon recipe using only a grill or smoker and, of course, the best lump charcoal at your disposal.
But as with any means of cooking, it's always best to use the best materials for grilling. And this article is all about a specific type of grill fuel. So continue reading to discover our top picks for the best lump charcoal to get this year and how to choose the best one! Apart from that, we've also answered some of the internet's most burning charcoal-related questions below.
The Best Lump Charcoal Options At A Glance
10 Best Lump Charcoal Options This 2022
To decide on the best items to include in this list, we carefully considered a few important factors. This includes brand reputation, product specs, and overall customer reviews. Continue browsing this section for a more in-depth review of the different types of charcoal products featured on this list.
What to Look For in the Best Lump Charcoal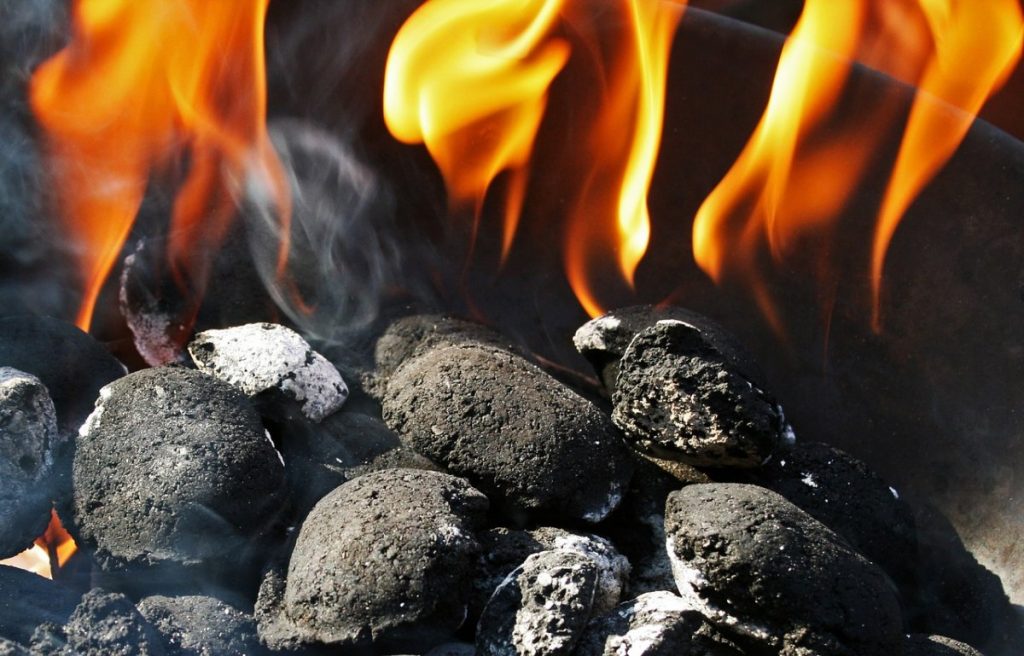 You might have noticed from our list that this type of product is produced differently depending on the manufacturer. So, how do you determine which one is the best lump charcoal to get for your outdoor activities or everyday cooking needs? To help you find the answer, you can use these important factors as a guide.
Source
Aside from figuring out where to buy charcoal, it's also important to know where they come from. With that in mind, lump charcoal brands should play an important role in your decision. Products that are sourced using left-over hardwood are ideal. This is because they are more eco-friendly and sustainable compared to those that are produced by taking down trees for charcoal. Aside from that, we also recommend going for those that don't have additives or fillers for safety reasons.
Type of Wood
The type of charcoal wood is also a crucial component since it influences the flavor and overall burning temperature of the product. For instance, wood from fruit-bearing trees such as apple and cherry tends to be milder. Whereas other popular types like hickory impart a more robust smoky taste. If you want something that offers a good amount of flavor that isn't overpowering, oak is a good middle ground. Although, you should also note that most hardwood types consist of some combination of these materials. If you want more consistency, briquettes are a good option.
Different types of wood burn at varying rates and temperatures as well. In general, oak tends to be more difficult to ignite, but they burn slowly and steadily.
Package Size
For special outdoor activities like camping where you'd have to move around a lot, it's best to go for single-burning options that are more compact and portable. However, if you'll be using it a lot for everyday cooking, you should go for medium-sized or larger bags. You should also consider what you'll be cooking as this can affect how much charcoal to use in general.
Packs that contain jumbo-sized lumps of charcoal are the best for Kamados or ceramic grills and other large grilling or smoking equipment since they burn hotter and longer than smaller bits. Also, be wary of packages that contain lots of powdered particles so you can get more out of your purchase.
READ ALSO: Pellet Grill Guide: What It Is, And The Best Pellet Grills To Choose From [2022 Edition]
Frequently Asked Questions
How do you light lump charcoal?
The best way to light lump charcoal is by using a charcoal chimney starter. However, don't worry if you don't have this tool because you can also make do without it. The second-best method is by using dry, used paper. All you have to do is slightly crumple them on the grill. Then, put your desired amount of charcoal on top and set the paper on fire. The lumps will catch the heat and ignite from there. If not, you also have the option of using lighter fluid. Although you should know that this contains chemicals which may not be the best for health.

Can you relight lump charcoal?
Yes. In fact, this is one of the best sustainable practices you can do if you're fond of firing up the grill to cook. The trick to this is simple, really. When you're finished cooking, shut the smoker so that the charcoal burning won't be exposed to any more oxygen. This will stop the lumps from completely turning into ash so you can reuse them two to three more times. When you're ready to cook again, all you have to do is light them up like usual.

How long does lump charcoal burn?
Burn time varies depending on the product and the environment you're in. Some lump charcoal types burn up to one hour, while others may last up to six. Ultimately though, briquettes generally offer a more consistent and longer burning time than most hardwood lumps.

What is the difference between charcoal and lump charcoal?
Charcoal is an umbrella term for the black combustible material that is produced by burning wood in the absence of oxygen. Don't confuse this with coal which is a mineral naturally produced without human intervention. Meanwhile, lump charcoal is a type of charcoal that is mainly used for grilling and smoking.

What's better, lump charcoal or briquettes?
This question has been around for a long time, and the answer really depends on your preference. You see, the advantage of lump charcoal vs briquettes is that they mostly consist of all-natural hardwood. They are better than briquettes if you want to stay away from chemicals, as the latter is usually made using a combination of charcoal and other things.
Another advantage of lump charcoal is that they tend to burn hotter than others. So if you're looking to get a good brown sear from using your grill, this is a good option. It produces minimal ash compared to briquettes, too.
On the other hand, go for briquettes if you want your fuel to be more uniform in terms of appearance since lump charcoal comes in different shapes and sizes. It's also more consistent to cook with.