You're probably sitting at home hoping you are on a vacation cruising around, drinking, and eating Caribbean food with your friends. After all, you most certainly deserve a vacation. Take a Mediterranean trip with a delicious seafood appetizer that you can enjoy at home. This 8-ingredient grilled shrimp recipe will make you feel like you're on vacation in 6 easy steps.
Rum Soaked Caribbean Shrimp Skewers capture Caribbean flavors without the fuss. We're marinating shrimp in pineapple juice and lemon which will add a fresh zesty kick and dark rum which adds a sweet caramel flavor. It is then perfectly grilled to add smokiness and enhance flavor. All of these combined give the dish its distinct tropical taste. Pair it with an easy-to-make mango and lime relish and you will instantly get that island feel in no time.
To stick with our tropical-themed recipe, scroll through our 12 Best Tequila Cocktails to match our Caribbean shrimp skewers. Seafood goes well with flavored cocktails so try it out!
What's In Our Grilled Shrimp Marinade                 
Rum is a liquor made from distilled sugar and is known for its sweet toasted sugar flavor. Rum is actually found in many Caribbean recipes, most especially in glazes and marinades. Among the many types of rum, we chose to use dark rum in this recipe because of its bolder taste. 
So why exactly is rum added in our Caribbean Shrimp Skewers? Well, Caribbean cuisine is known for having striking flavors coming from different spices. Liquor actually helps the seasonings dissolve in fat so that the flavors are absorbed more easily by the meat of the shrimp. 

Tip:
Make sure not to marinate the shrimp longer than 2 hours because marinating it in an acidic mixture can cook it up.
Rum works well with bright and tropical fruit flavors like pineapple and lemons which we used in making our shrimp marinade. Marinating the shrimp in this flavorful concoction will help them become juicier and softer. It will also prevent the shrimp from getting dry when grilled. 
Making Caribbean Grilled Shrimp Skewers
Among the many ways of cooking, we have chosen to grill our marinated shrimp skewers. We all love that brown outer layer and smokey flavor brought out by grilling and the beauty of this cooking method doesn't stop there. Grilling actually lessens the fat content of the meat as the oil melts and drips onto the griller. It's better than frying which requires more oil which then gets absorbed by the meat. 
To make the best shrimp skewers, here's a list of tips for you to keep in mind.
Use larger shrimp because it's less prone to overcooking.

Preheat the grill to medium-high and oil the grates.

Set aside some of the marinade so you can brush it on the shrimp while grilling and avoid dry shrimp.

It's best to cook at a high temperature to be able to keep the moisture in the shrimp which makes it tender and juicy.

If you're working with another meat like steak, skewer your shrimp separately. Same goes with vegetables. Shrimp cooks fast so we don't want undercooked steak and vegetables to go with it.

Tip:
To know if your shrimp is cooked, check if the thickest part of the shrimp. It is the opposite side of the tail where the head was connected. The part where the vein was removed should have turned opaque.
For an all-around griller, you can check out pellet grills and learn all about it in this Pellet Grill Guide. And for more grilled seafood goodness, try out our Grilled Salmon with Avocado Chimichurri for your main dish. 
Ready to serve a delicious seafood meal? Start with making our easy Caribbean Shrimp Skewers for your appetizer.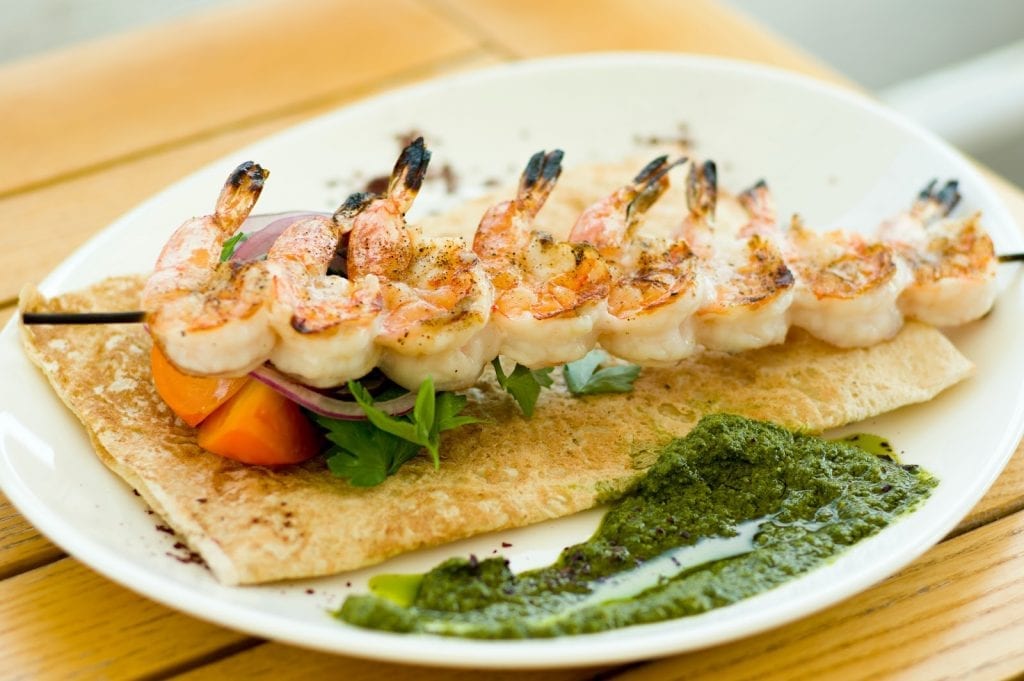 Rum Soaked Caribbean Grilled Shrimp Skewers Recipe
How To Make Rum Soaked Caribbean Shrimp Skewers
Grilled shrimp skewers infused with the tropical flavors of zesty lime, pineapple juice and dark rum will make a fresh Caribbean appetizer for seafood lovers.
Ingredients
For Shrimp Skewers:
½

cup

rum

32

jumbo shrimp,

deveined

8

tbsp

lemon juice

2

tbsp

cilantro,

chopped

1½

cups

pineapple juice

1

tsp

garlic,

chopped

⅛

tsp

salt and pepper
For Mango and Lime Relish:
1

ripe mango,

diced

1

tbsp

lime juice and zest

½

red onion,

chopped

1

tbsp

cilantro,

chopped

¼

tsp

salt

1

pinch

pepper
Instructions
Shrimp Skewers:
In a large bowl, combine all the marinade ingredients with your shrimp and mix.

Marinate in the refrigerator for 2 hours.

After marinating, thread the shrimp onto the bamboo skewers.

Grill each side of your marinated shrimp skewers for 3 to 4 minutes on medium-high heat.

Once the shrimp has turned into a salmon blush, go ahead and remove your shrimp skewers from the grill.
Mango and Lime Relish:
In a mixing bowl, add all of the relish ingredients and mix.

Serve your relish chilled alongside your shrimp skewers and enjoy!
Nutrition
Sugar:

17g

:

Calcium:

94mg

Calories:

209kcal

Carbohydrates:

23g

Cholesterol:

121mg

Fat:

1g

Fiber:

1g

Iron:

1mg

Potassium:

301mg

Protein:

11g

Saturated Fat:

1g

Sodium:

595mg

Vitamin A:

589IU

Vitamin C:

44mg
Nutrition Disclaimer
Commonly Asked Questions
How to thaw frozen shrimp?
It just takes 10 to 20 minutes to thaw frozen shrimp if you're not using fresh ones. Simply take out your shrimp from the freezer and place them under cold running water or submerge them in cold water. Never use warm or hot water to avoid ruining the texture of the shrimp and don't leave them as is to prevent bacteria from forming.
How to devein a shrimp?
When cleaning or peeling your shrimp, you might notice the black strip on its back. Although keeping it will not cause you any harm, you can easily get rid of it with a knife if you want. Although for convenience, you can always opt to buy deveined shrimps.
Do you peel shrimp before grilling?
Even though it's not necessary, it's advised that you peel the shrimp even before marinating to ensure that the marinade gets soaked up by the meat of the shrimp.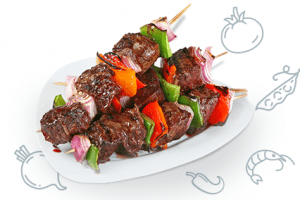 Conclusion
You don't need to spend a lot on trips or expensive restaurants to experience Caribbean cuisine. You can simply make this easy grilled shrimp recipe at the comforts of your home with your family and friends.
Topics: