Fishing experience is not complete without cooking what has been caught. If you're lucky to be fishing in the Atlantic, most likely you'll be able to catch whitefish species. If this is your first time trying to cook these fishes, you're in luck.
Read on as we guide you through an easy grilled whitefish recipe. This dish is as simple as it is easy and you can do it even in the comfort of your backyard.
Crank up the grill and set the flames on high. Take simple white fish meat and turn it into a dish worthy of a happy tummy. We've gathered the most simple ingredients with the easiest method of cooking for a perfectly made meal.
Easy Grilled Whitefish Recipe
Ingredients
4

oz

whitefish fillets

skin-on

4

tbsp

olive oil

for brushing

1/2

cup

soy sauce

4

tbsp.

garlic cloves

minced
Instructions
Combine the garlic and the soy sauce in a bowl.

Marinate the fillets in the marinade.

Afterwards, let the fillets sit (skin side up) in the marinade for 15-20 minutes.

Prepare the grill by setting it to high heat. Brush the fillets with the olive oil. Use a pastry brush to evenly cover the fillets.

Place the fillets skin side up so that the skinless side gets a nice grill.

Cook for 2-3 minutes and then flip the fillets over.

Cook for another 3-5 minutes until the fish is lightly opaque. You're now ready to serve up.
Commonly Asked Questions
What is a good white fish to grill?
The Mahi Mahi fish is the most ideal white fish to grill. It has a perfect firm texture that looks great once those charred patterns are seen on it. Plus, it's a whitefish meat that's full of flavor in every bite. 
Is grilled fish healthy?
Definitely! If you're looking for a healthier alternative during your BBQs or have some friends or family members who prefer eating fish than pork or beef, then an easy grilled whitefish is the best option to keep them full and happy.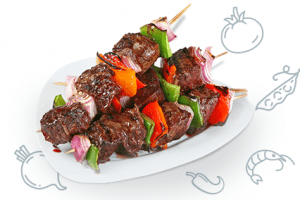 Conclusion
Though grilling fish may look easy - it actually is. Keep an eye out on what you put into your marinate because your meat will absorb the flavors to give you that delicious taste. Try opting for different marinates from different countries. You'll find that though fish may be a simple piece of seafood meat, it really absorbs the spices you put into it. So go and make magic in the kitchen with your next whitefish dish.