This baked potato on the grill recipe yields the perfect go-with-everything side dish. The salty, crispy crust and the creamy, fluffy inside of these grilled baked potatoes promise an unforgettable eating experience. This recipe proves, once again, that starchy spuds are the best meal accompaniments. It's perfect for game day gatherings and barbecue parties alongside fried chicken wings.
Whether roasted, baked, or fried, potatoes complement just about any meal. And if you want to expand your potato side dish repertoire, try cooking a baked potato on the grill. Simply season the spuds with salt and bake until tender. Then, grill them until the skin turns deliciously brown and crispy. For a show-stopping side dish, top with sour cream, cheddar cheese, green onion, and bacon bits! 
Tips on Making Baked Potatoes on the Grill
Perhaps you already know the basics of grilling and baking taters. Still, we want to show you a couple of tricks on how to bake a potato the right way and how to grill a baked potato—without any foil. Grilling potatoes directly on the grates and with no foil actually ensures a crispier result. 
Follow more of our handy tips below and serve the best baked potato recipe that'll wow everyone in your guest list. 
Choose starchy potatoes for the most delicious results

. Russet potatoes are the best choice since they have high starch content. And when you cook them, their super-starchy flesh turns oh-so-fluffy and their thick skins extra-crispy. The next best option is Idaho potatoes. If you're in a pinch, any medium baking potatoes would work just as well.

Use uniformly-sized potatoes. As much as possible, make sure that the spuds are of similar size for even cooking. Moreover, opt for smaller or medium potatoes–they're quicker to cook than the large ones.
Wash and pat the potatoes dry using a paper towel

. Rinse the potatoes under running water and scrub off any dirt or debris on the skin using a vegetable brush. After washing them, make sure that you pat them dry with a paper towel. Otherwise, they would have soggy skins when baked.

Prick the potatoes with a fork or a paring knife to let the heat escape. It's vital that you pierce the spuds a couple of times so that the heat escapes. This prevents the potatoes from popping.
Use neutral oil with a high smoke point

. Rubbing the spuds with oil, most often than not, promises crispier potato skin. The best oil to use are those that are neutral or flavorless and have a higher smoke point, such as avocado oil and grapeseed oil. They wouldn't impart unlikely and burnt flavors to your

BBQ baked potato

.

Don't forget to preheat the grill before placing the spuds on it. This particular step is essential as it ensures that the baked potatoes on the grill cook evenly.
Slather your taters with seasonings before cooking them

. Coating the potatoes with seasonings, unmistakably, enhances the flavor. You can rub them with sea salt or kosher salt, garlic powder, and ground pepper.

Top them with delicious baked potato toppings. You can top your grilled baked potato with green onion slices, shredded cheese, diced tomatoes, grilled vegetables, and your favorite salsa.
How To Make Baked Potatoes on the Grill
Cooked with oil and salt, these grilled baked potatoes have tender, fluffy insides and salty, crispy skins. Top with your favorite toppings for a more delightful side dish!
Ingredients
4

medium baking potatoes,

scrubbed

1

tbsp

oil

1

tsp

salt

½

cup

sour cream,

fat-free

½

cup

cheddar cheese,

low-fat, shredded

¼

cup

green onion,

sliced

¼

cup

bacon,

cooked and crumbled
Instructions
Preheat grill to medium-high heat.

Pierce potatoes with a fork or small sharp knife. Rub with oil and sprinkle with salt.

Place potatoes on a microwavable plate. Microwave on high for 8 minutes or until tender, turning after 4 minutes.

Place potatoes on a greased grill grate. Cook for 12 to 15 minutes or until potatoes are crisp and browned, turning occasionally.

Split potatoes and serve topped with remaining ingredients.
Recipe Notes
You can also coat the potatoes with

melted butter

instead of oil.

Leftovers will keep in the fridge for up to three days. Just reheat them in the oven, air fryer, or microwave when ready to serve again.
Nutrition
Sugar:

2g

:

Calcium:

159mg

Calories:

337kcal

Carbohydrates:

39g

Cholesterol:

41mg

Fat:

16g

Fiber:

3g

Iron:

2mg

Monounsaturated Fat:

5g

Polyunsaturated Fat:

1g

Potassium:

961mg

Protein:

11g

Saturated Fat:

7g

Sodium:

843mg

Trans Fat:

1g

Vitamin A:

387IU

Vitamin C:

43mg
Nutrition Disclaimer
Frequently Asked Questions
How to grill baked potatoes with foil?
It's actually easy to make grilled baked potatoes with foil. Just preheat the grill to medium-high and coat the potatoes with a neutral oil (or butter) and your desired seasonings. Then, wrap each spud in two layers of foil. Make sure that you pierce the potatoes so they can easily take on the smoky flavor. Then, put them on the grill and bake for around 20 to 30 minutes.
How long does it take to cook a baked potato on a grill?
The cooking time actually varies depending on the grill temperature. At around 375 to 450 degrees F, the baked potatoes are done grilling for 20 to 30 minutes. Although, you should also consider whether the spuds are covered with foil or not. Without the foil, it only takes less than 30 minutes to cook them on the grill. Conversely, potatoes do not cook faster when wrapped in foil. Baked potatoes in foil are grilled for around 30 minutes to more than one hour. Whichever method you prefer, the finished potatoes will be smoky and fluffy!
How to know if the potatoes are done?
Ideally, grilled baked potatoes should have a crispy exterior and tender insides. One way to test the doneness of the grilled spuds is by checking their internal temperature using an instant-read thermometer. If it reaches at least 205 degrees F, your taters are already done cooking. If you don't have a meat thermometer, try pricking them with a paring knife. You'll know if the baked grilled potatoes are done when they're tender and the knife easily pierces through.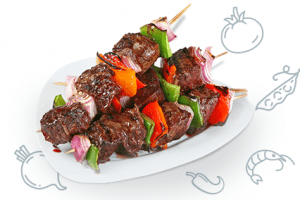 Conclusion
Cooking a baked potato on a grill yields a smoky, fluffy, and delicious result. Everyone will surely love the tender insides and the crispy skin. It's just a bonus that this recipe is a breeze to follow. Serve this appetizing potato side dish during a game day or an ordinary weeknight dinner!
Topics: