If you're up to something extra for a barbecue party, making this smoked beef roast recipe is a no-fail way to go. Flavored with the best garlic bbq dry rub, the tender smoked roast beef with its charred crust will surely impress your guests. Serve it alongside some roasted potatoes and a couple of roasted garlic for a delicious smokey feast or use the leftovers as a roast beef sandwich filling.
Tips on Making Hickory Smoked Beef Roast
Hickory wood chips have a bold aroma that perfectly highlights the beef. We also opted for tri-tip as its gorgeous fat marbling makes a tender, unbeatably flavorful roast. But you can use this recipe and these tips on how to smoke a roast for any cut of beef and still achieve a perfect beef roast every time. Here's how:
Smoke the beef low and slow.

This allows the fat to gently melt and the meat to tenderize while making sure it doesn't dry out. Ensure that the smoker doesn't go beyond 250 degrees F and over 165 degrees F for the internal temperature of the roast. A probe thermometer will help you monitor this. A rump, round, or chuck of 3 to 4 pounds will need 4 to 6 hours of cooking, while heavier cuts and brisket will take longer, up to 10 hours, to tenderize.

Whichever cut you choose,

pick one with a good amount of fat

.

Remove the silver skin, but leave the fat on.

Fat means flavor, and the fat will also naturally baste the

smoked beef roast

to keep it moist.

When serving the

roast beef

,

always slice against the grain

or the visible muscle lines on the meat. It looks more presentable that way.

Reheat the smoked beef roast in an oven or on the stovetop with a tablespoon of water

for every cup of meat to make sure it doesn't dry out. We don't recommend reheating it in the microwave as the texture could turn gummy.

Don't have a smoker box? No worries. As an alternative, you can make a DIY smoker foil packet. Wrap the wood chips in aluminum foil, seal them into a packet, and poke four or five small holes on top.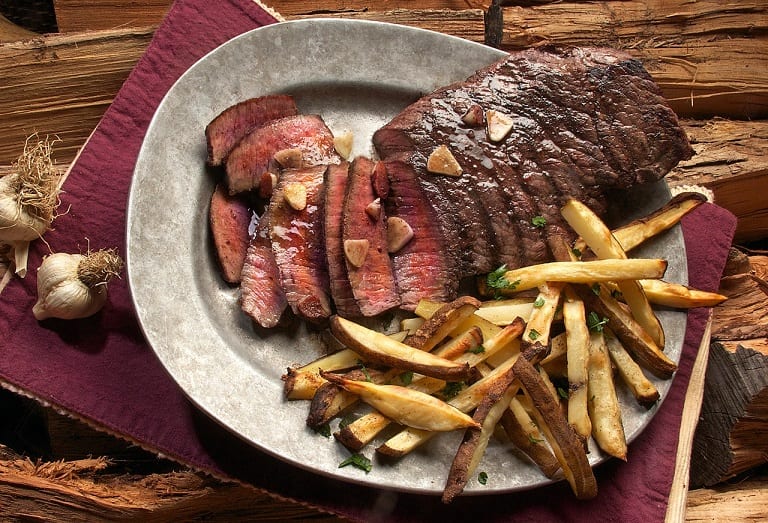 Hickory Smoked Beef Roast Recipe
How To Make Hickory Smoked Beef Roast
This smoked beef roast is dry-rubbed with herbs and spices and smoked to perfection with robust hickory chips. The result is a tender, flavorful beef roast that's perfect for outdoor barbecue lunch and any special occasion.
Ingredients
½

cup

Worcestershire sauce

1

tbsp

onion powder

1

tbsp

garlic powder

1

tbsp

black pepper,

coarse ground

1

tbsp

salt

1

tsp

cayenne

1

tsp

oregano

2

tbsp

olive oil

3

lbs

tri-tip roast

½

lbs

Hickory chips
Instructions
Preheat the smoker to 250 degrees F. Position the coal to occupy only half the space.

Pat dry the beef using paper towels. Place it in a tray, then pour and massage the Worcestershire sauce all over it.

In a mixing bowl, prepare the dry rub by combining the onion powder, garlic powder, pepper, salt, cayenne, and oregano. Mix everything together.

Sprinkle and rub the spices on the meat on all sides. Make sure that no part is left unseasoned.

Place the wood chips on top of the coal. Place the beef on the cool side and let it smoke for 3 hours and 30 minutes.

Afterward, take the beef and place it in an aluminum tray or wrap it in aluminum foil to catch the juice. Make sure to cover and seal it well. Then, place it back to the smoker for another 30 minutes.

Take it off the heat and let it rest for 20 minutes before slicing. Serve and enjoy your smoked beef roast!
Nutrition
Sugar:

2g

:

Calcium:

93mg

Calories:

428kcal

Carbohydrates:

7g

Cholesterol:

147mg

Fat:

22g

Fiber:

1g

Iron:

5mg

Monounsaturated Fat:

12g

Polyunsaturated Fat:

1g

Potassium:

961mg

Protein:

47g

Saturated Fat:

7g

Sodium:

1510mg

Vitamin A:

165IU

Vitamin C:

4mg
Nutrition Disclaimer
Frequently Asked Questions
Why are my wood chips not smoking?
Wood chips need a good amount of moisture in order to smoke. Too wet, and they produce steam before they smoke; too dry and they release soot instead of smoke. Don't use kiln dried wood chips as they are too dry. It's also best not to soak the wood chips in water. Use the wood chips straight from the pack, put them in a smoker box or foil packet, and make sure to place them in a preheated smoker.
What is the best type of beef roast to smoke?
Tri-tip has a good marbling of fat which makes it great for a long cooking time like smoking. Like brisket, tri-tip also has a great flavor. Plus, it takes less cooking time of only around 4 hours, while brisket needs 10 hours to fully cook and tenderize.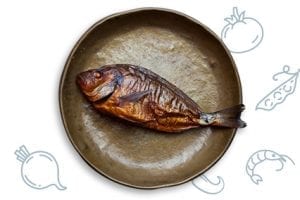 Conclusion
With our easy recipe, you can definitely master smoking a beef roast and achieve perfectly tender, juicy meat every single time. Make it this weekend for your family and friends.