Herbes de Provence-Crusted Lamb Chops Recipe
Recipes.net Team
Published
September 21, 2020
Homemade Cooked Lamb Chops with Peas and Carrots
Your cookout would never be complete without a good plate of grilled lamb chops. This lamb chops recipe is for all the meat-lovers. It's juicy, full of remarkable flavors from the herbs, and so easy to make! You'll be serving up these delectable chops in no time. 
What you should know about lamb chops
Lamb chops are some of the best go-to meals for BBQ gatherings or quick dinners. The best parts for these are usually loin and chops. They cook faster than most lamb parts and are perfect for marinating with herbs. This part of the lamb is versatile, and can be grilled (like ours), roasted, or baked. While some may opt to marinate lamb with citrus juice or vinegar, using acidic marinades may run the risk of over-marinating. Overnight marinade with acidic ingredients can break down the proteins and make your expensive lamb chop mushy.  A better lamb chop marinade is any herb mix of your choice. Or in our case, the herbes de provence. As cooking lamb chops with a herb mix does not break apart the tasty fats of your meat, it is the preferred choice of lamb chop marinade for most experienced chefs. Not to mention, the bold flavors of herbs make your lamb even more flavorful compared to acidic marinades.
Our recipe uses loin lamb chops for a bigger surface area to rub those aromatic herbs. And because we're grilling these, they will have the best char for added taste. But the secret to keeping the juices locked in is the herbes de provence mix. It sounds like a complicated mix, but the herbs in there are some that you already have in your pantry.
What is herbes de provence?
Grilled lamb chops work best with a herb mix. In our recipe, we used herbes de provence to really bring out the flavor of the meat. Herbes de Provence is a herb blend which consists of fennel, tarragon, thyme, rosemary, savory, marjoram, and oregano. 
They sound familiar, don't they? Well, that's because you can actually find each of these herbs at the grocery. Most supermarkets already have herbes de provence shakers. But you can easily recreate these at home by using a tablespoon of each herb. What's more, you can even personalize it with some extra herbs and spices to make it even more aromatic! Lavender is one of the favorite optional additions by many home chefs to give this herb mix a gentle floral fragrance. After personalizing your herb mix to your liking, store it in an airtight container. Now, you'll have a ready-made herbes de provence to use for any recipe you like! 
Now doesn't a plate of grilled lamb chops sound even more tempting? This recipe comes with powerful flavors of herbes de provence, garlic, and mustard. So if you're planning out that BBQ gathering, you can multiply the recipe to serve a big crowd. Your guests will love it and will be begging to get a glimpse of this recipe.
And if you're thinking of what to serve with lamb chops, think no further. We've got the best sides here. Serve your loin lamb chops with our Corn on the Cob with Cheese and Lime Recipe. To hype up the rest of your party, make some boozy Strawberry Jello Shots. And to end things on a sweet note, treat your guests to some M&Ms Brownie Trifle. The grilled lamb chops and these recipes are foolproof for a fun and belly-filling cookout. Try them out today!
How To Make Herbes de Provence-Crusted Lamb Chops
A delightfully juicy and luscious loin lamb chops dish grilled to perfection. It's coated in a crusty herbes de provence mix to lock in the best flavors. The mustard and pepper adds a sharp and spiced taste for added zing.
Preparation Time:
15

mins
Ingredients
1

tbsp

herbes de Provence,

dried

2

tbsp

Dijon mustard

½

tsp

kosher salt

¼

tsp

black pepper,

freshly ground

1

garlic clove,

minced

8

lamb loin chops,

4 oz each, trimmed

Cooking spray
Instructions
Prepare your grill, letting the temperature reach edium heat.

Combine the herbes de provence, dijon mustard, kosher salt, freshly ground black pepper, and garlic in a bowl. Rub them evenly over both sides of the loin lamb chops. Marinate for at least 10 minutes.

Coat your grill with cooking spray.

Place the lamb on the grill rack then grill for 4 minutes on each side.

Serve warm with some roasted vegetables or grilled corn, and enjoy!
Recipe Notes
Not sure how long to grill lamb chops? Try four minutes on medium heat for medium-rare. For medium, cook it for five minutes on medium heat. You can also sear the sides for 1-2 minutes for added char.
Nutrition
Calcium:

57mg

Calories:

710kcal

Carbohydrates:

1g

Cholesterol:

167mg

Fat:

61g

Fiber:

1g

Iron:

5mg

Potassium:

494mg

Protein:

37g

Saturated Fat:

27g

Sodium:

503mg

Sugar:

1g

Vitamin A:

38IU

Vitamin C:

1mg
Commonly Asked Questions
What other lamb parts can I use for this recipe?
If you don't have loin lamb chops on hand, using chops, neck or shank parts are also great. These parts have larger surface areas, and are great to add your herbes de provence blend onto.

Can I marinate my lamb chops overnight?
You can definitely do this for when you're marinating with herbs! Make sure to place them in an air-tight container or a Ziploc bag to seal in freshness and refrigerate overnight. Though if you're in a pinch, letting the herb blend sit for 10 minutes at room temperature on the loin lamb chops works just as well.
Can I serve these lamb chops as soon as they're off the grill?
Serving and cutting into these lamb chops too early will force the flavorful juices out of your meat. To ensure tasty grilled lamb chops, let them rest for 10 to 15 minutes after grilling. This will help the fibers of your chop relax and reabsorb the rich flavorful moisture of the meat. If you're worried about the chops going cold, simply place some aluminum foil on top to retain their heat.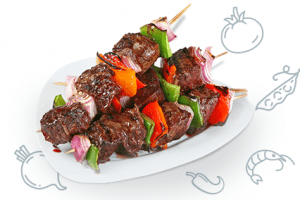 Conclusion
Grill these herbes de provence crusted lamb chops at your 4th of July party or BBQ gathering! It will be an instant favorite among friends and family. Serve them with grilled vegetables or corn to keep your guests full for the whole party.
Related BBQ & Grilled Recipes