Level up your afternoon cookout by cooking grilled lamb chops with herbes de provence. This easy-to-make recipe is for all meat lovers. It serves juicy and tender meat that's full of remarkable flavors from the herbs. You'll be serving up these delectable chops in no time.  Don't know what to serve with this dish? Make this garlic corn for a flavorful side and this brownie trifle for dessert.
What Is Herbes de Provence?
Although the French term sounds sophisticated, herbes de provence simply consists of thyme, rosemary, tarragon, marjoram, oregano, and fennel. You can make the mix yourself with these easily available herbs or buy a pre-mixed version. It doesn't only add a tremendous amount of flavor to your lamb chops, it also helps seal the moisture in the meat. 
Tips on Making Grilled Lamb Chops
This grilled lamb chops recipe works well as a quick dinner or a delicious dish you can entertain guests with. The best thing about it is that you can easily serve this famous French dish at home with minimal ingredients and preparation. Meanwhile, here are some useful tips for you to take note of in making this recipe:
Use loin and chops lamb cuts.

They cook significantly faster than other cuts and are perfect to marinate with a dry rub. They can be roasted, baked, or grilled like ours.

Avoid using acidic marinades for your chops

. The acids in certain ingredients will break down the protein and will make your expensive meat mushy.

A classic lamb marinade is made up of any herb mix that you desire.

In our case, it's the herbes de provence. Dry herb mixes don't break apart the flavorful fats in the meat. Therefore, we recommend using this type of lamb seasoning as a marinade. In addition, herbs have aromatic and bold flavors that will leave your cooked meat tasting earthy and a lot more savory.

You can make your own mix of herbes de provence if you can't find premixes in your local store.

Just be sure to keep them in an airtight container or a sealed Ziploc bag to keep them fresh and refrigerated.

Defrost your meat well and at room temperature

before grilling. This allows for evenly cooked meat.

Sear your lamb chops on high heat.

This will create a nice brown crust and will lock in the moisture. Once you've achieved this, lower the heat and continue to sear for another 3 minutes.

 
How To Make Grilled Lamb Chops with Herbes de Provence
A delightful plate of juicy and luscious grilled lamb chops prepped and cooked to perfection. It's coated in a crusty herbes de provence mix to lock in the best flavors, with mustard and pepper for an added zing.
Ingredients
1

tbsp

herbes de Provence,

dried

2

tbsp

Dijon mustard

½

tsp

kosher salt

¼

tsp

black pepper,

freshly ground

1

garlic clove,

minced

8

lamb loin chops,

4 oz each, trimmed

Cooking spray
Instructions
Prepare your grill, allowing temperature to reach medium heat.

Combine the herbes de provence, dijon mustard, kosher salt, freshly ground black pepper, and garlic in a bowl.

Rub them evenly over both sides of the loin lamb chops. Marinate for at least 10 minutes, best if overnight.

Coat your grill with cooking spray.

Place the lamb on the grill rack then grill for 4 minutes on each side.

Serve warm with some roasted vegetables or grilled corn, and enjoy!
Recipe Notes
Not sure how long to grill lamb chops? Try 4 minutes on medium heat for medium-rare. For medium, cook it for 5 minutes on medium heat. You can also sear the sides for 1 to 2 minutes for added char.
Nutrition
Sugar:

1g

:

Calcium:

57mg

Calories:

710kcal

Carbohydrates:

1g

Cholesterol:

167mg

Fat:

61g

Fiber:

1g

Iron:

5mg

Potassium:

494mg

Protein:

37g

Saturated Fat:

27g

Sodium:

503mg

Vitamin A:

38IU

Vitamin C:

1mg
Nutrition Disclaimer
Commonly Asked Questions
What other lamb parts can I use for this recipe?
If you don't have loin lamb chops on hand, using chops, neck, or shank parts is also great. These parts have larger surface areas and are great to add your herbes de provence blend onto.
Can I marinate my lamb chops overnight?
You can definitely do this when you're marinating with herbs! Though if you're in a rush and can't wait to eat this dish, letting the herb blend sit for 10 minutes at room temperature on your chops works just as well.
Why are my lamb chops tough?
It's almost always the cut that's the problem. Round-bone and blade chops come from different and tough muscle sections, which be tough when grilled. These cuts are best for slow cooking methods. The loin would be one of the best cuts of lamb to grill to avoid it toughening during the cooking process.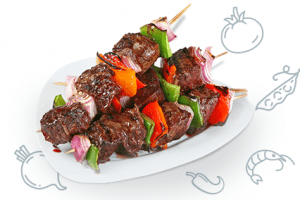 Conclusion
Tired of grilling the usual steak and ribs? Try our grilled lamb chops with herbes de provence crust for your 4th of July party or festive BBQ gathering! It will be an instant favorite among friends and family. Serve them with grilled vegetables or corn to keep everyone filled.
Topics: