Tickle your taste buds with the fruity and crunchy combination of our Pear and Pepper Relish Recipe! No grilled hotdogs will be left untouched in your next backyard barbecue afternoon sessions when you serve it with this special spiced Pear Relish Recipe. Plus, there are tons of great dishes that go well with this sweet relish recipe. You'll even be surprised how versatile this is!
So if you're looking for an added layer of flavor for your favorite dishes, you're in for a treat! This homemade pear relish recipe blends perfectly with any food, it will be a new staple in your kitchen.
What To Serve With Our Relish Recipe
This sweet relish recipe is the next best thing if you're a kitchen beginner yet loves a tasty burst of flavors. It can easily amp up any plain dish and surprise your taste buds with an added tang! Even more, you can spruce up simple home-style cooking nights into an elegant dinner, just like when it's paired with our soft and tender Easy Porkchop Dinner Recipe. The sweet and tangy blend of pear and vinegar adds a refreshing touch to a juicy pan-seared pork chop. 
However, if you're after a hamburger relish, search no more! Aside from the fact that this relish is the best hotdog relish, it pairs well with hamburgers too! Try it with our Copycat Recipe For Red Robin's California Chicken Burger for a mix of spice and tang instead of dill pickle chips. The layer of crisp veggies, sweet relish, and savory Monterey jack cheese make the ultimate chicken burger!
Furthermore, make the most out of the refreshing flavors of Mediterranean dishes when you pair this easy relish recipe with our Lemon and Herb Fish Skillet Recipe! With tons of dishes that go best with this pear relish recipe, no pears will be put to waste as you can give this to your loved ones too. They will be surprised you made it on your own, and will for sure ask you for the recipe. So, what are you waiting for? Let's make your next must-have condiment!
How To Make Our Pear Relish Recipe
A vibrant mix of colors and unbelievably good on plain dishes, this easy pear relish is a sure hit for days you're too tired to make something! It's also an easy recipe so if you're worried you haven't canned anything in your life, making this one will be a delight!
Some recipes include jalapeno peppers to their sweet relish dish. But with this recipe, we're sticking to the basics and following old fashioned pear relish recipes. Aside from our juicy main ingredient, we're mixing in red and green bell peppers for our homemade relish ingredients. These peppers don't pack much heat so if you're not a fan of spiciness, this is the perfect recipe for you.
You can also use Splenda or stevia instead of sugar if you're looking for a sugar-free recipe for pear relish. These sugar alternatives won't affect the preserving safety qualities of our relish but it'll have a darker and runnier relish.
Be sure to boil your pear relish ingredients for an hour to prevent it from getting mushy and runny. Now that we've got the cooking covered, let's head to how you should can your relish!
How To Can Your Pear Relish
Canning fresh fruits and vegetables are fairly easy. But it's still important to know how to prepare your jars, and how you should handle it. Be sure to wash your jars, lids, and rims with soap to prevent it from accumulating bacteria.
Then using a ladle or a funnel fill your jar with your pear relish leaving half an inch of headspace. Next, with a bubble remover, slide it into the jar to remove excess bubbles from our pear relish. You can also use stainless knives as a bubble remover alternative. Move it towards the center of the jar and repeat this 2 or 3 times around it. Removing excess bubbles helps with keeping our pear relish last longer so we can enjoy it fully.
Finally, cover your jar and put it back in your canner, and boil them again for a bath canning for 15 minutes. Turn off the heat, and leave it in the canner for 5 more minutes. Remove it in the canner and enjoy with your favorite dishes!
More Relish Recipes You Can Try
Aside from this scrumptious Pear Relish Recipe, we have tons of relishes you'll be curious to try! Just like our sweet Cranberry Relish Recipe that's perfect to pair with a savory delicious Turkey for Thanksgiving or with your hearty sandwich ideas.
If you're looking for another variety of this relish, our Hot Dog Relish Recipe makes the classic sweet and tart flavor of a relish that works well with the meaty taste of hotdog! It's a combination of dill relish, sweet relish, and hamburger relish so it's packed with different kinds of flavors.
For the right balance of sweetness and heat, our Texas Cranberry-Jalapeno Relish Recipe makes your lamb dishes a sure star of the evening! And for a tangier relish recipe, our Kiwi Relish Recipe completes the vibrant colors of our relish dishes.
Now that we're equipped with variations of food and relish recipes, let's head on to making our homemade sweet relish recipe!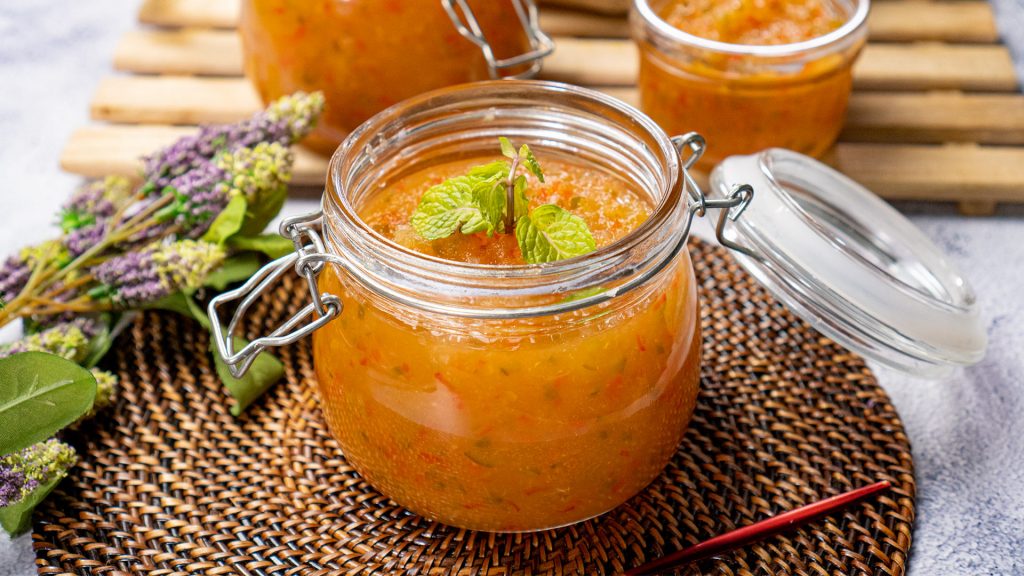 Pear Relish Recipe
Try our easy Pear Relish Recipe with your favorite main dish for an added punch of flavor! Just one bite of this pear relish and it's a sure burst of complex flavors.
Ingredients
4

pears,

peeled, cut into pieces, and ground

1

cup

red bell peppers,

seeded and chopped

1

cup

green bell peppers,

seeded and chopped

1

cup

onions,

large, chopped

2

cups

sugar

1

cup

vinegar

1

tbsp

salt
Instructions
Mix all the ingredients together in a large pot and cook them for about an hour until the mixture forms a thick consistency.

Stir the mixture frequently. Once done, ladle the relish into hot sterilized pint jars.

Cover and process them via boiling water bath canning for 15 minutes.

Serve with your favorite sandwich or pan-seared dishes and enjoy!
Nutrition
Sugar:

81g

:

Calcium:

25mg

Calories:

357kcal

Carbohydrates:

90g

Fat:

1g

Fiber:

5g

Iron:

1mg

Monounsaturated Fat:

1g

Polyunsaturated Fat:

1g

Potassium:

275mg

Protein:

1g

Saturated Fat:

1g

Sodium:

1168mg

Vitamin A:

900IU

Vitamin C:

59mg
Nutrition Disclaimer
Commonly Asked Questions
Can I make this pear relish ahead of time?
Of course! You can make it ahead of time, keep it in the fridge, and serve it whenever you want to. Aside from the added flavor the vinegar provides, it also helps in preserving our relish because of the acid in it. It increases the acidity in our other ingredients killing microorganisms that cause spoilage.
Does relish go bad?
Just like all kinds of condiments and foods, relish does go bad. Homemade relishes can last for up to 2 weeks when stored in your fridge. Make sure to label your jar with the date it was made so you can easily count the days.
What is a relish recipe made of?
Our relish recipe is made of pears, red and green bell peppers, onion, vinegar, sugar, and salt. But there are other varieties of relish that are made from pickles, cranberries, kiwis, and a bunch more of other fruits.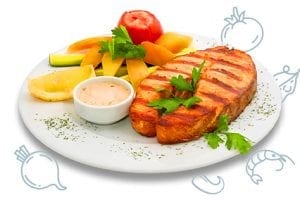 Conclusion
Looking for an extra blanket of flavors for your favorite dishes? Add a pinch of this pear relish recipe and it'll be a great discovery for your condiment must-haves! This relish recipe is so addicting you'll be adding this to almost every savory dish you'll have.
Topics: