Trade your regular cup of joe for something new and trendy with our Dalgona Coffee Recipe! This new coffee trend from South Korea is famous for its unique look and simple ingredients. With just instant coffee, brown sugar, hot water, and milk, you have a drink that seems as if a professional barista made it! You'll recognize Dalgona coffee right away because of its distinct appearance. It has a creamy, frothy light brown coffee mixture poured on top of cold, white milk. The contrast between the thick, light brown topping and clear white milk base creates a look that's nothing short of iconic.
Dalgona coffee, or whipped coffee, became a bit hit in social media as a DIY or do-it-yourself type of coffee drink. Its unique name came from a popular South Korean actor who ordered a cup of whipped coffee in Macau for a show, and said that the coffee tasted like dalgona, a sugary honeycomb toffee candy in South Korea. From then on, people began making their own homemade versions of this delicious coffee drink! And true to its name, this trendy drink does taste deliciously sweet! However, you can still relish the hints of caffeine thanks to its coffee mix. Just a sip of this addicting drink will leave you bursting with energy!
There are many versions out there, but nothing beats our classic Dalgona Coffee Recipe. With our version, you won't experience the 'dalgona fails' that others do. With our easy instructions, you'll be serving an energizing and creative drink to your loved ones at home in no time! If you liked this recipe, then try something stronger for your caffeine fix with our Vietnamese Iced Coffee Recipe.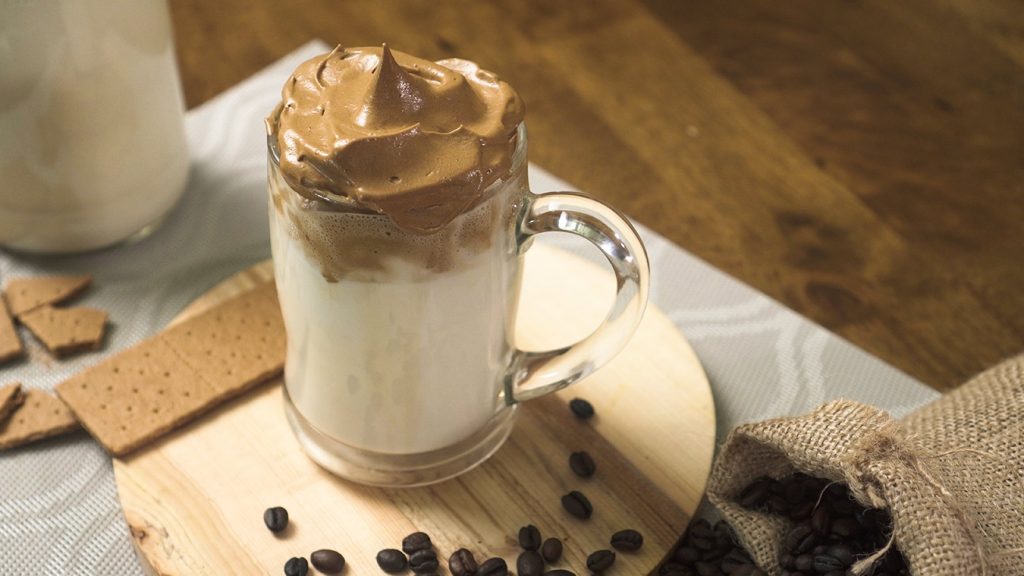 Dalgona Coffee Recipe
How To Make Dalgona Coffee
Try our version of the popular Dalgona Coffee with this easy-to-follow recipe. Just one sip of this sweet coffee drink and you'll be discovering what the online hype is all about!
Ingredients
2

tbsp

instant coffee

2

tbsp

brown sugar

2

tbsp

hot water

chilled milk of your choice
For Serving:
Instructions
Combine all ingredients in a mixing bowl.

Using a hand mixer, beat the mixture until it starts to turn frothy, about a minute.

Continue beating until it starts to thicken, about 6 minutes.

You should see that it starts to have a "body" to the thickening mixture, about 8 minutes. Continue beating.

Your mixture should start to form ribbons when the hand mixer is lifted, pass the 10-minute mark. Continue beating.

Your mixture should reach soft peaks by the 17-minute mark. This is pretty much done. The mixture should resemble heavy cream that is "light" in weight & should form soft peaks. Your mixture should also cling to a spoon.

Fill up a mug with milk of your choice until it reaches ¾'s full, *roughly 16½ fl oz.

Slowly top the mug with your beaten coffee mixture. If done correctly, your mixture should float on top of the milk.

Garnish with coffee or cocoa powder.
Recipe Notes
While most use chilled or cold milk for this recipe, you can also use hot milk if you prefer a warmer version. Also, if you don't have a hand mixer available, you can just manually mix the ingredients using a whisk or fork. Lastly, although we used 12 fl oz of chilled milk for our beer mug, if you are using a regular glass, a good starting point would be 8 fl oz of your preferred milk. You can then adjust the amount based on your liking.
Nutrition
Sugar:

23g

:

Calcium:

34mg

Calories:

127kcal

Carbohydrates:

31g

Fat:

1g

Iron:

1mg

Potassium:

354mg

Protein:

1g

Saturated Fat:

1g

Sodium:

12mg
Nutrition Disclaimer
Commonly Asked Questions
Why is the coffee not frothy?
If your mixture is still not frothing up, you may have put too much water, or not whisked the mixture long enough. Just like in any recipe, the amount of ingredients is important to getting the best final product. Make sure to follow the recipe and put enough hot water in the mixture. Also, follow and be mindful of our instructions on how long to beat the mixture. Making this coffee drink will require a lot of patience, but it's all for a sensational cup of coffee!
Why is my dalgona coffee bitter?
You may have used either dark roast instant coffee or old instant coffee. Although not expired, old ingredients may no longer deliver the best results when it comes to flavor. Make sure to use the right amount of newly-opened instant coffee to get the best version of this drink.
Can I only use instant coffee?
Dalgona coffee recipes mainly use instant coffee, although there are alternative options you can always choose from. If you don't have any instant coffee, you can settle for instant espresso powder or even drip coffee. To use the drip coffee method, first add 3 ½ tbsp of ground coffee powder and 5 tbsp of hot water in a cup, and let it steep for 2 to 3 minutes. Next, extract the coffee liquid using a coffee filter; this should give you 2 tbsp of strong coffee. Now all you have to do is add the sugar and then you can move on to whipping the mixture! However, keep in mind that with the drip coffee method, you'll have to whip it longer than the original recipe. Also, the consistency won't be the same as when you're using instant coffee.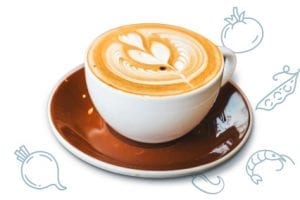 Conclusion
Join the dalgona coffee challenge and make your own cup of this trendy drink at home! The smooth, velvety, and sweet taste of this coffee drink is sure to bring delight and excitement to the dining table.