In this recipe, we make a fan-favorite dish from Taco Bell's menu: Black Beans and Rice! Taco Bell is a popular American fast-food chain that serves Mexican food. A lot of people have come to love their menu. Black beans and rice is also a classic Mexican meal. It can be enjoyed as a main dish, and not just a side for tacos. It's the perfect meal for parties and picnics because of how easy it is to make in big amounts.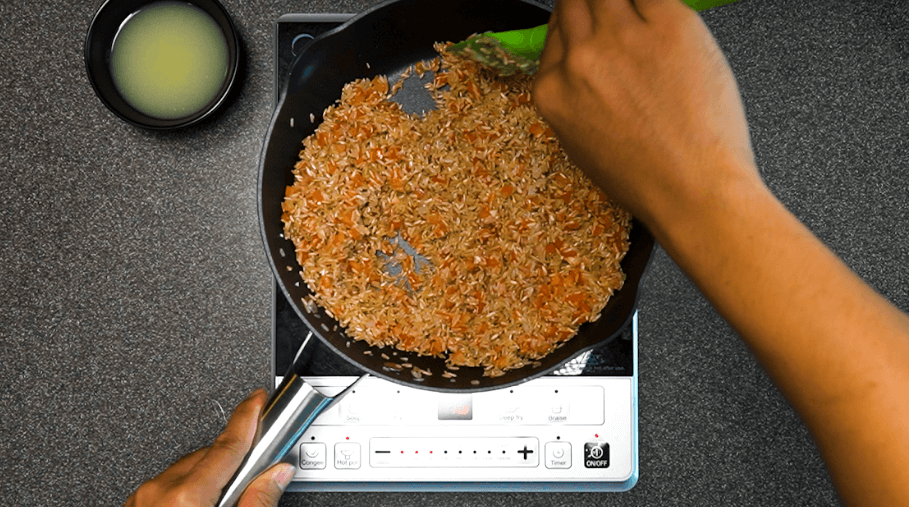 This delicious dish is also great for those who are on a diet, or are looking after their health. In this recipe, we use veggies like black beans, tomatoes, and the healthier brown rice instead of white rice. Brown rice is known for having lower carbs and calories, and contains important nutrients. If that's not healthy enough for you, this recipe lets you try healthier alternatives to brown rice. This meal is also sure to excite your taste buds. It uses a lot of spices and flavorful ingredients, which is the signature taste of Mexican cuisine.
With this recipe, you can make classic black beans and rice at the comfort of your own kitchen! Just follow these simple steps and you'll be serving this meal in no time. It's perfect for lunch or dinner, so we're sure that you will love it. No need to fall in line at Taco Bell! And for dessert, we recommend you give our Copycat Taco Bell's Caramel Apple Empanada a try.

Tip:
Those who are
h
ealth
-conscious can also replace brown rice with quinoa
or
cauliflowers
 for a healthier, low carb alternative!
No need to worry about losing flavor, these ingredients are
just
as tasty as brown rice.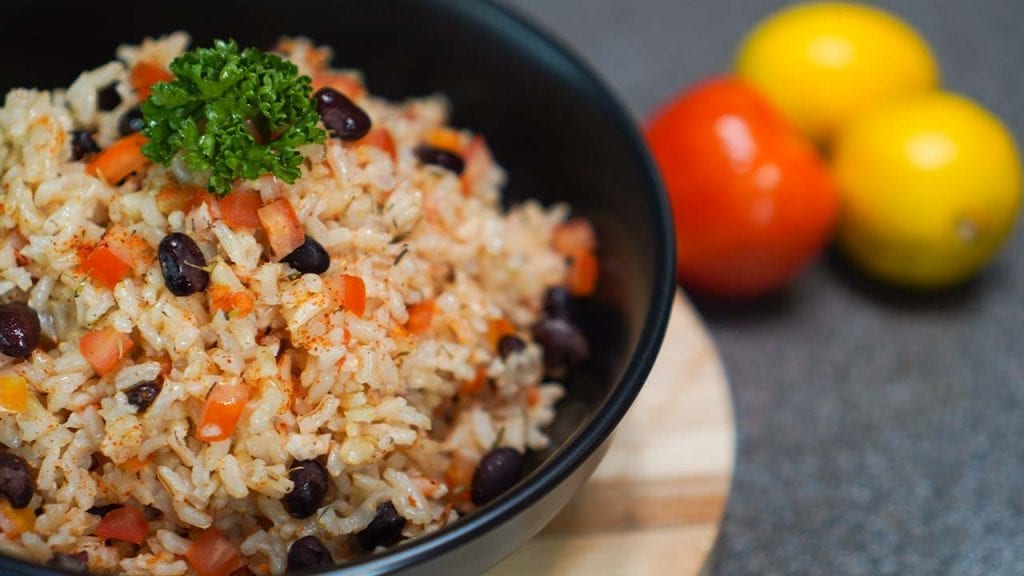 Copycat Taco Bell's Black Beans And Rice Recipe
How To Make Copycat Taco Bell's Black Beans And Rice
Just a spoonful of our rich black beans and creamy, soft rice will surely satisfy your Taco Bell cravings. Whether you\\\\\\\\\\\\\\\'re in a hurry for work or something popped up at the last minute, our Taco Bell-inspired Black Beans and Rice recipe is the answer to all your worries!
Ingredients
½

tbsp

olive oil

1

tsp

garlic,

minced

2

tbsp

yellow onions,

minced

2

cups

tomatoes,

diced

½

tsp

rosemary,

dried

½

tsp

thyme,

dried

3

cups

brown rice

½

cup

lemon juice

3

cups

water

½

cup

black beans,

canned and cooked

¼

tsp

cayenne pepper

¼

tsp

chili powder

parsley,

optional, for garnish
Instructions
Heat olive oil in a pan over medium heat.

Add the garlic, onion, and tomatoes, then saute for 4 minutes.

Add rosemary, thyme and, finally, brown rice. Continue to sauté for 2 minutes.

Add the lemon juice and continue stirring until rice is evenly coated.

Transfer the sautéed rice into the rice cooker. Add 3 cups of water, and cook the rice according to the rice cooker's instructions or until the rice softens and the liquid evaporates.

Next, transfer the cooked rice into a big bowl.

Add the black beans, cayenne pepper and chili powder. Mix thoroughly.

Garnish the black beans and rice with parsley, and serve!
Recipe Notes
Though you may let your rice simmer for 20 minutes, it's ideal to check it every 5 to 10 minutes just to be sure. If you prefer a sticky texture to your rice, just add more broth to the stockpot - but not too much that it comes out as rice soup. Just enough liquid that the rice can absorb should be enough.  But if you're looking for a healthier alternative other than brown rice, substitutes like quinoa and rice cauliflower work if you're looking into low-carb meals but still craving for some Taco Bell. 
Nutrition
Sugar:

7g

:

Calcium:

63mg

Calories:

478kcal

Carbohydrates:

95g

Fat:

7g

Fiber:

11g

Iron:

3mg

Potassium:

863mg

Protein:

13g

Saturated Fat:

1g

Sodium:

19mg

Vitamin A:

1435IU

Vitamin C:

69mg
Nutrition Disclaimer
Commonly Asked Questions
What goes well with black beans and rice?
Both these food have a soft and chewy texture. If you pair it with meat, like chicken or beef, your eating experience will be a lot better. Meanwhile, others love to eat this dish together with taco, burrito, or even enchilada. We recommend you add this dish to Chipotle-Inspired Ground Beef Soft Tacos or Spicy Chicken Enchiladas.
Are brown rice and black beans healthy?
Both black beans and rice are a good source of protein and fiber. Brown rice is often regarded as the healthier alternative to white rice since it has lower carbohydrate and calorie content. Black beans are also known to help ward off heart disease as it contains vitamins and nutrients like vitamin B6, potassium, and folate. Combined with its lack of cholesterol, consuming black beans can help support one's heart health.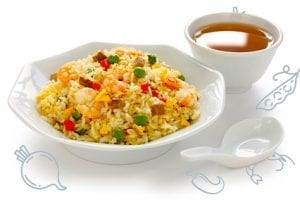 Conclusion
If you're craving for the taste of Mexican food at Taco Bell, this Copycat Taco Bell's Black Beans And Rice recipe is perfect for you. It's easy to prepare, amazing to taste, and definitely filling! You can even switch up your grains and beans to suit your personal palate. Experimenting on other spices is also a must-try. Who knows, you might even make a better version than ours! For the meantime, this simple black beans and rice recipe will guide you and your Taco Bell cravings to food heaven.