Take a break from grilled chops and learn how to cook some delicious stuffed pork chops! This apple stuffed pork chops recipe offers a delicious combination of sweet-savory flavors with savory bacon, sweet fruits, and crunchy nuts. These are best served with rice, mashed potatoes, or some sauteed spinach for a truly filling dinner meal!
What's in Our Stuffed Pork Chops Recipe?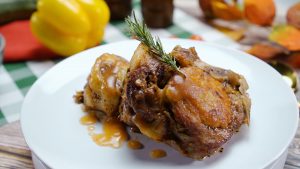 If you are in search of a recipe that requires minimal effort yet packs a lot of flavors, these apple stuffed pork chops will not disappoint. Our tender stuffed pork chops are made with ingredients that may already be in your pantry. You can easily prepare these chops at home if you want a dish with mouthwatering sweet and savory flavors.
Curious about what to stuff your pork chops with? Let us break it down for you. You'll be surprised how simple ingredients can level up your regular pork chops.
Pork loin chops

– Use bone-in cuts for these

stuffed pork chops

to ensure that fillings won't pop out of the other side. We recommend buying 1-inch thick pieces to get an even meat-to-filling ratio in every bite.

Bacon strips

– The fat from the bacon strips will contribute to the savory flavor of this dish.

Cornbread stuffing mix

– For convenience, we suggest using cornbread stuffing mix. But if you want it homemade, you can try making it with our

vegan cornbread

recipe

. 

Tart apple

–

Tart apples are best to use when

cooking stuffed pork chops with apples.

They are sweet and crisp, which adds texture to the stuffing.

Pecans

– Adds a delicious crunch. You can also use pistachios, walnuts, or almonds.

Raisins

– We used raisins, but feel free to use figs, apricots, or cranberries

Chicken broth

– Moistens and binds the stuffing together.

White onions

– Offers a mildly sweet flavor.

Rubbed sage

– Adds a warm and earthy taste with hints of mint and lemon.

Ground allspice

– Adds a warm flavor that's similar to cloves, nutmeg, and cinnamon

Vegetable oil 

– Great for cooking meat at high temperatures.

Unsalted butter

– Butter cannot handle high temperatures on its own, so adding it to oil will help cook the

pork chops

while adding a rich and savory flavor.
How To Make Pressure Cooker Stuffed Pork Chops
If you are new to cooking stuffed meat dishes, then not to worry. Aside from the hearty flavors, it's fairly easy to make this stuffed pork chops recipe thanks to the pressure cooker. 
It only takes 1 hour to make and is a great dish to prepare if you want a fancy pork chop dish with minimal effort. Along with this, cooking your stuffed pork chops in a pressure cooker will make them extra tender. 
Here's how to make pressure cooker stuffed pork chops:
1. Cook the bacon and onions.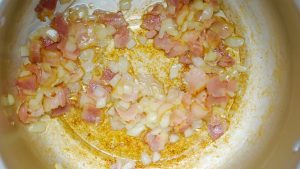 Begin by sautéing the bacon and onions together. No need to add oil, as the fat from the bacon will act as the grease.
2. Combine the stuffing ingredients.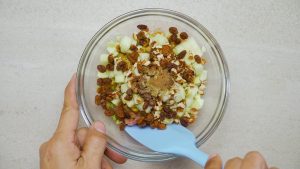 Mix the cooked bacon and onions, stuffing mix, apple, pecans, raisins, 2 tablespoons of broth, sage, and allspice.
3. Stuff the pork chops.
Grab the 1-inch thick pork chops and cut a pocket in each by slicing almost to the bone.
4. Brown the stuffed pork chops.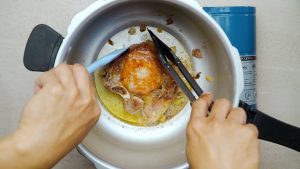 Using oil and butter, brown the pork chops on both sides. Season with salt and ground black pepper.
5. Then, add the broth.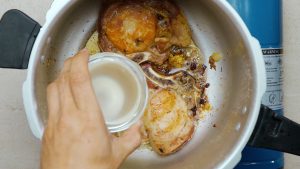 Cook the pork chops in chicken broth to allow the savory flavors of the broth to seep into the meat.
6. Close the pressure cooker and cook until tender.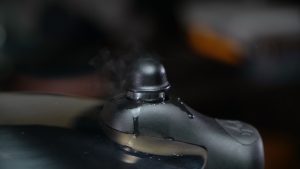 Remember that the pressure regulator should maintain a slow steady rocking motion.
7. Serve your easy stuffed pork chops!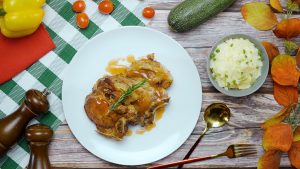 Drizzle your pork chops with apple sauce and serve with steamed rice or mashed potatoes.
Interested in creating more delicious pork chop recipes? If you want sweet and savory flavors, this oven-baked BBQ Pork Chops and Rice will be your best bet. Trying to cut on rice? These Broiled Pork Chops serve tender chops with crisp cabbage and apple.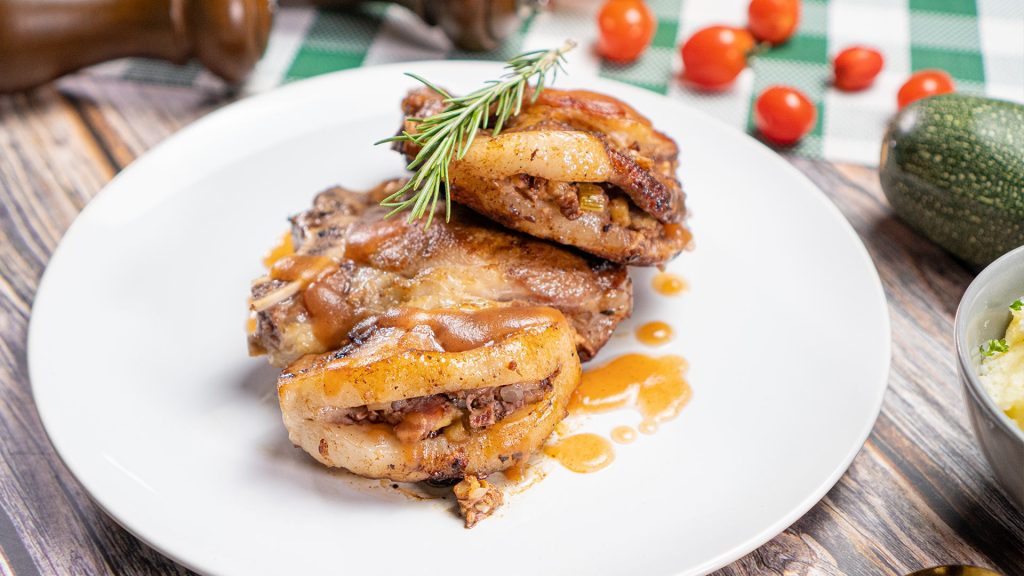 Pressure Cooker Stuffed Pork Chops Recipe
How To Make Pressure Cooker Stuffed Pork Chops
This recipe for stuffed pork chops with stuffing made with apples, bacon, and nuts turns simple pork chops into a fancy meal. A sweet and savory dish that's reminiscent of the holiday season, yet perfect to serve any time of the year.
Ingredients
3

pcs

bacon strips,

diced

¼

cup

white onions,

chopped

½

cup

cornbread stuffing mix

½

cup

tart apple,

peeled and chopped

2

tbsp

pecans,

chopped

2

tbsp

raisins

¾

cup

chicken broth,

divided

¼

tsp

rubbed sage

¼

tsp

ground allspice

2

pcs

pork loin chops,

bone-in, skinless, 1 inch thick

1

tbsp

butter

1

tbsp

vegetable oil
For Serving:
For Garnish:
Instructions
In a pressure cooker, cook the bacon and onion over medium heat until the bacon is cooked. Set aside.

In a small bowl, combine the bacon mixture, stuffing mix, apple, pecans, raisins, 2 tablespoons of broth, sage, and allspice. Set aside.

Cut a pocket in each pork chop by slicing almost to the bone then fill with stuffing.

In the pressure cooker, brown pork chops one at a time in butter and oil on both sides. Sprinkle it with salt and pepper to taste.

Add the broth and close the cover securely. Place the pressure regulator on the vent pipe.

Bring the pressure cooker to full pressure over high heat for 5 minutes.

Reduce heat to Medium-High and cook for 10 minutes. The pressure regulator should maintain a slow steady rocking motion. Adjust heat if needed.

Remove the pressure cooker from the heat and let it cool first before opening.

Serve your stuffed pork chops with rice or mashed potatoes, and with a drizzle of apple sauce. Enjoy!
Nutrition
Sugar:

12g

:

Calcium:

46mg

Calories:

349kcal

Carbohydrates:

45g

Cholesterol:

4mg

Fat:

18g

Fiber:

5g

Iron:

2mg

Monounsaturated Fat:

10g

Polyunsaturated Fat:

4g

Potassium:

296mg

Protein:

5g

Saturated Fat:

3g

Sodium:

697mg

Vitamin A:

320IU

Vitamin C:

4mg
Nutrition Disclaimer
Frequently Asked Questions
How do I cook pork chops so they don't dry out?
The main reason why your pork chops are dry is because of overcooking. For instances where you're unable to check on the meat, cooking it in some type of liquid will help. In this stuffed pork chops recipe, the broth will help keep the pork chops moist. Furthermore, seasoning them directly with salt will also keep the moisture while cooking. To make moist and juicy pork chops, it's best to set them aside when the internal temperature reaches below 145 degrees F. The residual heat will continue to cook your stuffed pork chops, and will then raise the temperature to a good 145 degrees F.

What is the secret to tender pork chops?
Overcooking pork chops can make them tough and chewy. Use at least 1-inch thick pieces of meat to lessen the chances of overcooking. It's also easier to work with if you want it slow-cooked in liquid. Though it may take time, slow-cooking helps the connective tissues of the meat break apart. This helps in making your pork chops more tender.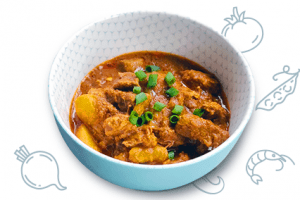 Conclusion
This stuffed pork chops recipe made with sweet fruits, savory bacon, and crunchy nuts will let you have the holiday flavors you're craving no matter the day. Prepare this using your pressure cooker for tender, fall-off-the-bone juicy pork chops. Serve it with rice or mashed potatoes for a filling and comforting meal.