Been wanting that familiar aroma of freshly-baked homemade bread or maybe you have been craving Jiffy Cornbread for a while, but have already dedicated to switching to a vegan diet? Don't worry as we have got you covered. This 5-ingredient recipe is all you need to make some vegan comfort food in less than an hour.
Cornbread has been around for centuries in South America. It was a staple back then since corn is easy to grow and does not require a lot of ingredients. In fact, cornbread was made by simply mixing cornmeal, which is basically dried corn that has been grounded, watered, and salted. Over time, the recipe evolved and people started mixing in other ingredients to their cornbread recipes, such as buttermilk, eggs, and baking soda.
This vegan cornbread recipe is different since it does not contain eggs or any dairy ingredients. It is ideal mostly for people who have chosen to go on a vegan diet. Despite not having these animal-based products, it is moist, sweet, and fluffy with a crunchy edge, perfect to pair with soy or almond milk for either breakfast or snack. Pairing with a glass of Chardonnay that has a hint of vanilla is also a great option if you are feeling fancy. This vegan cornbread will surely satisfy your cornbread cravings.
Vegan Cornbread – No Animal Shortening. No Dairy. No Eggs.
Even the famous Jiffy Cornbread Mix joined the bandwagon in supporting the lifestyle that's free from consuming animal-based products. They replaced their old cornbread mix with a vegetarian alternative by substituting lard with vegetable shortening.
It is always good to be conscious of what we put inside our bodies. In fact, what we choose to consume or do on a daily basis determines our health. If you are thinking of going vegan or maybe you're just allergic to dairy, then this vegan cornbread is fantastic to start with.
Similar to Jiffy's, this vegan cornbread recipe does not contain animal shortenings such as lard or butter. We will be using canola oil as our preferred substitute. Furthermore, eggs will not be used in this baking recipe.
Making Cornbread Without Eggs
In most of our favorite baked treats, eggs are always present. It binds the ingredients together and makes them rise better, and are moister.  However, you'll be glad to know that leaving out eggs in your recipe will work out just fine – as long as the right substitute ingredients are used. 
Now you might be wondering what can be used in place of eggs. In this recipe, we have included egg-substitutes such as flour for binding, baking powder for leavening, and oil for moisture. But there are other options for your preference:
Binding – flaxseeds, silken tofu

Leavening – baking soda

Moisture – oil, butter, apple sauce, banana
These ingredients are not just used for this vegan cornbread but can be used for other baked recipes too.
Pans To Use In Making Cornbread
The variety of cookware can be overwhelming and may leave you unsure of which to buy. This discussion will help you narrow down your choices so you can start baking this vegan cornbread in no time.
Cast Iron Pans
Cornbread is typically made by using cast iron pans. Cast iron pans need to be well-greased with oil which will act as a coating and ensure that what you're cooking or baking will not stick to its surface. Cast iron pans also have the ability to retain heat well and can keep the cornbread warm for a longer period of time. However, the downside of using this is that it is heavy and requires a bit of maintenance.
Stainless Steel Pans
On the other hand, you can opt for a stainless steel pan. It does not require much maintenance and distributes heat more evenly than the cast iron one. Both allow the edges to crust and get crispy. Just make sure to grease the pan properly and allow the pan to heat up before using. 
Square Springform Pans
Square pans are the least recommended ones to use since it will not give your cornbread its classic crust. Instead, it will result in a softer cake-like cornbread. The same goes for springform pans with glass bases. However, springform pans are convenient to use since the base can simply be unlocked to be utilized as a serving plate when your cornbread is ready to be served.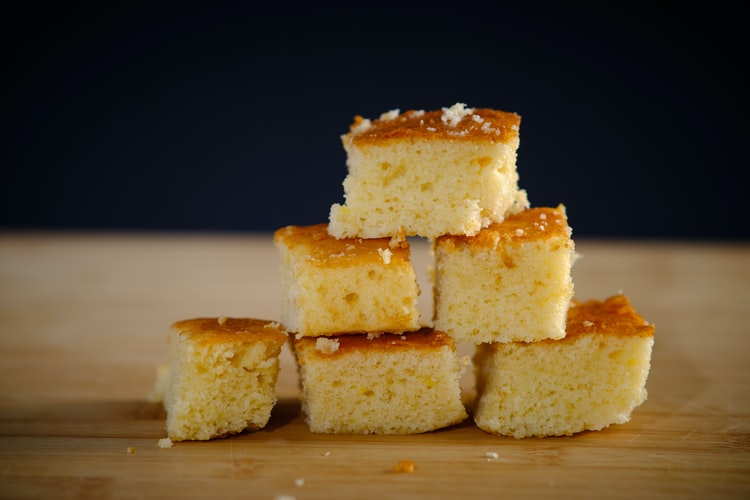 Vegan Cornbread Recipe
How To Make Vegan Cornbread
This non-dairy and easy-bake sweet delectable is going to be your new favorite snack! Pair this soft and tender Vegan Cornbread with a delicious soup or entree or enjoy them as is.
Ingredients
1¼

cups

all-purpose flour

1

cup

yellow cornmeal

⅔

cup

granulated sugar

1

tsp

salt

1

tbsp

baking powder

1¼

cup

almond milk,

unsweetened

⅓

cup

canola oil
Instructions
Preheat the oven to 400 degrees F.

Lightly grease an 8x8-inch square baking pan or a 9-inch round cake pan.

In a large bowl, combine the flour, cornmeal, sugar, salt, and baking powder and stir.

Pour in the almond milk and canola oil. Stir until well combined. Pour the batter into the greased pan.

Bake for 20 to 25 minutes or until a toothpick inserted into the center of the cornbread comes out clean.

Slice your vegan cornbread and serve. Enjoy!
Nutrition
Sugar:

11g

:

Calcium:

92mg

Calories:

200kcal

Carbohydrates:

31g

Fat:

7g

Fiber:

2g

Iron:

1mg

Potassium:

57mg

Protein:

3g

Saturated Fat:

1g

Sodium:

335mg
Nutrition Disclaimer
Commonly Asked Questions
What can I mix in with my cornbread?
If you want a twist to your regular vegan cornbread, there are several ingredients you can definitely add into your mix. For that fresh and zesty flavor, try blueberries and lemons. If you are feeling under the weather and want something sweeter, go for brown sugar and pecan, or maple and walnut. Or maybe you are missing the homey feeling of Thanksgiving – You could throw in some orange and cranberries. However, if you want to stick to veggies, you can always opt for fresh corn with basil or red bell peppers. It is really up to you and what your taste buds are up for.
How can I make cornbread without an oven?
Have a broken oven or you just simply do not own one? No worries! You can always use your pressure cooker by following the simple steps in this Easy Pressure Cooker Cornbread. Prepare your vegan cornbread batter and cook it for just 22 minutes.
What to eat with cornbread?
Plain cornbreads go well with a lot of foods. For a hearty meal, go for soups, stews or beans. We recommend trying this Spicy Black Bean Soup especially for cold days to warm yourself up. You may also find interest in the Vegan Sweet Potato, Kale and Chickpea Soup for a filling meal. If you have a sweet tooth, you can try adding jam or even ice cream for that hot-and-cold experience.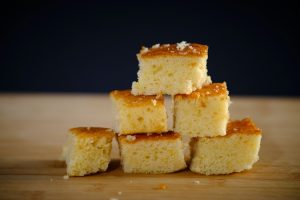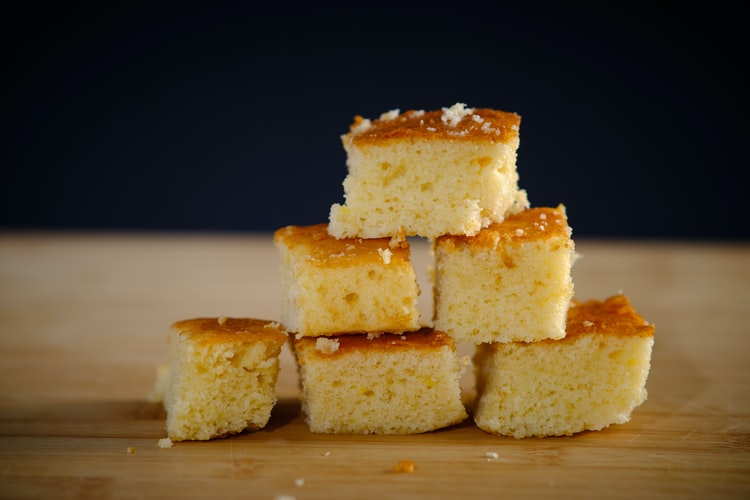 Conclusion
Being vegan might be restricting and creates the impression that people who are on a vegan diet do not get much fun when it comes to food. However, this vegan cornbread recipe does not only prove that you can get creative with fruits and veggies, it also shows that leading a healthy life does not need to be expensive and a hassle.