I have a lot of thick pork chop recipes that I love making from time to time. My favorite easy dinner and lunch recipe so far is this broiled pork chops dish that I cooked with red cabbages and apples for extra flavor. This recipe is different from the usual fried or baked pork chops that I've made before, but I personally like the taste of this oven-broiled version. It's more savory and delicious, especially with the inclusion of the crisp red cabbages and apple salad. 
I used bone-in pork chops for this broiled pork chops recipe since it's better for broiling. Boneless pork chops work as well, but they can dry out too quickly if you overcook them so keep watch. The bones, however, help in keeping the meat moist and impart flavor to the whole dish. But, of course, you can choose either type of pork chops to use. Regardless, the taste will remain appetizing. I bought those 1-inch thick pork chops so it's extra meaty. These usually take around 10 to 12 minutes to cook. If you bought smaller chops or ¾-inch chops, however, you'll only need to cook it for around 8 minutes or less. 
You should also check the internal temperature of the pork chops to really make sure that it's cooked properly. I used one of those meat thermometers to check if the internal temperature is 145 degrees Fahrenheit. Then, I let it rest for 3 minutes before cutting it. This ensures that the inside of the pork is not pink in color. The internal temp guarantees that the pork chops are tender, flavorful, and safe to eat.
After purchasing my pork chops, I prepared my pork seasoning or dry rub. I went with a simple spice mix which includes chili powder, salt, and pepper only. Other people would include garlic powder and smoked paprika as well for a bit of a garlicky and smoky element. Sometimes, they would just buy those ready-made dry rub seasoning mix to cut the preparation time. Feel free to do any of those methods. I used chili powder instead of smoked paprika since the subtle spice of the pork blended well with the accompanying red cabbages and apples. 
Afterwards, I cooked these two ingredients on a skillet while I was waiting for the pork chops to finish. Then, I simply combined the shredded cabbages and sliced apples with the sauteed onions, apple cider vinegar, salt, pepper, and a bit of water. These would serve as an extra flavoring for the broiled pork chops. When my pork chops were finished, I took them out, let them cool a bit, and then served them on a plate with the cabbages and apples for some healthy eating. I enjoyed munching on these for lunch and even saved some of it for dinner!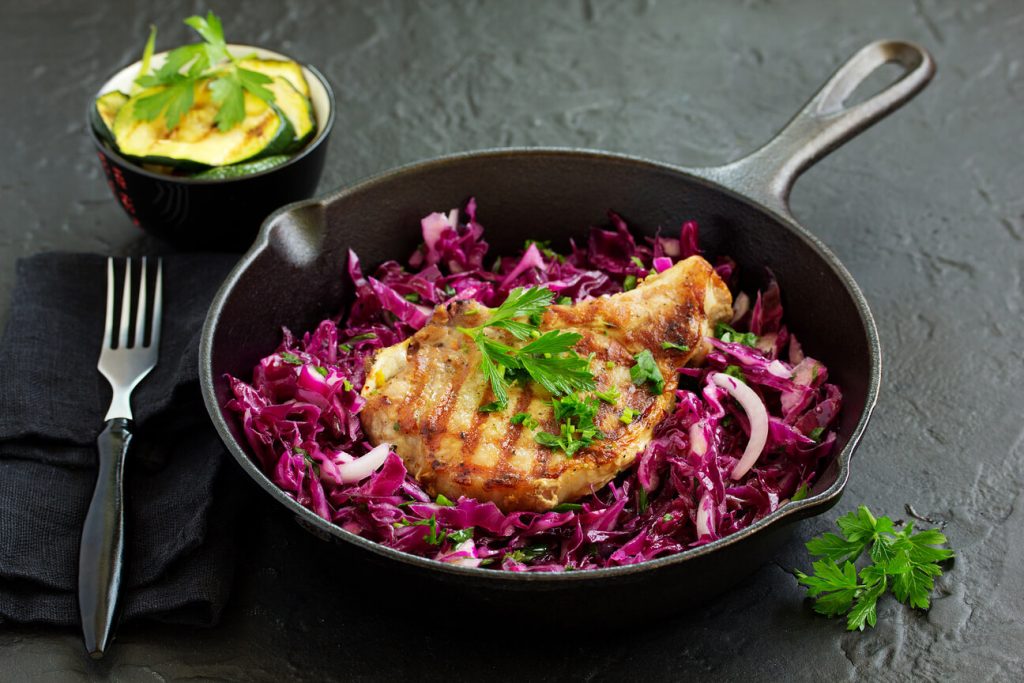 Broiled Pork Chops Recipe
How To Make Broiled Pork Chops
Simple and tasty is the way to go with these broiled pork chops. It comes with a side of red cabbage and apple salad.
Ingredients
2

pcs

Gala apples

4

pcs

pork chops,

bone-in

1

pcs

red cabbage,

small head

1

pc

red onion,

medium

apple cider vinegar

black pepper

chili powder

salt

virgin coconut oil
Instructions
Heat oven on broiler setting and position rack about 6 inches from the top.

Place pork chops on a broiler pan (or baking dish if there is no broiler pan) and season both sides with chili powder, salt, and pepper.

Place dish in the oven and broil, flipping halfway through cooking time, until chops are cooked through and browned at the edges. This takes 10 to 12 minutes. Transfer to a cooling rack when done.
Red Cabbage and Apple Salad:
Wash, core, and cut apples into thin bite-sized pieces. Transfer to a large bowl.

Wash cabbage, quarter, and cut off the core. Thinly slice crosswise into shreds and add to the bowl with apples.

Heat a large skillet over medium-high heat.

Peel and thinly slice onion into half rings.

Coat the bottom of the skillet with oil. Add onion and cook, stirring frequently, until softened.

Add cabbage, apple, water, vinegar, salt, and pepper to the skillet; stir to combine. Cook, stirring occasionally, until cabbage is tender-crisp.

Serve pork chops with cabbage on the side. Enjoy!
Nutrition
Sugar:

1g

:

Calcium:

1mg

Calories:

2kcal

Carbohydrates:

1g

Cholesterol:

1mg

Fat:

1g

Fiber:

1g

Iron:

1mg

Monounsaturated Fat:

1g

Polyunsaturated Fat:

1g

Potassium:

5mg

Protein:

1g

Saturated Fat:

1g

Sodium:

1mg

Vitamin A:

3IU

Vitamin C:

1mg
Nutrition Disclaimer