Who says you can't eat something healthy and tasty at the same time? The veggie sandwich that's just like Panera's will prove those naysayers wrong! Our 5-minute veggie sandwich recipe is incredibly easy to make. You'll never have to line up at Panera again to get a taste of this veggie goodness.
A veggie sandwich, essentially, contains any type of vegetable you wish to add on. There isn't a particular rule on what you should and shouldn't put in it. At the end of the day, it all comes down to the flavor combinations and the toppings of your choice. This copycat Panera veggie sandwich is proven and tested to be one of the best. If you want more tasty vegetarian recipes, you can also give our Burger King Veggie Burger a shot.
Now you know what veggie sandwiches are, in general. But what exactly goes on in Panera's veggie sandwich?
What's In The Panera Mediterranean Veggie Sandwich
Panera sandwiches range from vegan to all meat. But while the Panera veggie sandwich isn't exactly vegan, it's still customizable to their customers' liking. A Panera Mediterranean Veggie Sandwich contains few, but tasteful ingredients. The fillings are assembled on a tasty tomato basil bread. Their fillings include emerald greens, cucumbers, tomatoes, onions, feta, jalapeno hummus, and Peppadew peppers.
You truly get a taste of the Mediterranean with the hummus and feta. Then there are the Peppadew peppers that add a bit of sweet and spicy note to the sandwich. Combined together with the other veggies, it makes for a refreshing sandwich.
So if that sandwich is your cup of tea, stick around as we show you how to make veggie sandwich in three easy steps.
Our Version Of The Sandwich
We have every ingredient you could get from a classic Panera Mediterranean Veggie Sandwich. From the veggies, the jalapeno hummus, tomato basil bread, down to the special Peppadew peppers. But what sets our veggie sandwich apart from Panera, you might ask?
For starters, we use all-natural ingredients in our recipe. Panera is known to have been using a few artificial flavors, including sweeteners and honey in their sandwiches. So if you're looking for healthy sandwiches, ours is the way to go. There's no hidden sugars or honeys in this one, just the freshest and most scrumptious ingredients for the best veggie sandwich.
Next, while we used tomato basil bread just like Panera, you can always substitute with alternatives like baguettes, sourdough, and focaccia. We also have a few more alternatives that you can easily check out in our CAQ down below.
And lastly, while we only use feta cheese in this recipe, don't hesitate to think outside the box by adding in some of your favorites. A few great additions would be some brie, provolone, and Swiss cheese. You can also do a tasty combo of feta cheese and blue cheese for added saltiness and flavor.
It sounds even more appetizing now, right? At the end of the day, our veggie sandwich recipe is wonderfully versatile. So feel free to add in more favorite Panera toppings like arugula, pickled red onions, and almonds. Have a complete Panera meal with this veggie sandwich and a bowl of their French Onion Soup.
Lunch at home has never been more delicious and tasty! Try out this Panera Mediterranean Veggie Sandwich today.
How To Make Copycat Panera's Mediterranean Veggie Sandwich
You no longer have to drive over to Panera to get a taste of the best veggie sandwich. Make this delightfully refreshing veggie sandwich with fillings of hummus, tomato, peppadew peppers, and more on a bed of tomato basil bread.
Ingredients
2

slices

tomato basil bread

3

tbsp

hummus,

jalapeno

1

lettuce,

fresh leaf

1

tomato,

thinly sliced

1

cucumber,

thinly sliced

1

red onion,

thinly sliced

2

tbsp

feta cheese,

crumbled

2

Peppadew peppers,

chopped
Instructions
Spread the jalapeno hummus on both slices of the tomato basil bread.

Layer lettuce, tomato, cucumber, red onion, feta, and Peppadew peppers on one slice of bread.

Top with the second slice of bread, slice in half, then serve and enjoy!
Recipe Notes
To liven up your Panera veggie sandwich, feel free to toast your tomato basil bread in the toaster or in a hot pan before assembling.
Nutrition
Calcium:

360mg

Calories:

537kcal

Carbohydrates:

81g

Cholesterol:

30mg

Fat:

15g

Fiber:

14g

Iron:

5mg

Monounsaturated Fat:

1g

Polyunsaturated Fat:

1g

Potassium:

1716mg

Protein:

27g

Saturated Fat:

6g

Sodium:

860mg

Sugar:

24g

Vitamin A:

4090IU

Vitamin C:

50mg
Nutrition Disclaimer
Commonly Asked Questions
Is this veggie sandwich vegan?
No, it is not vegan due to the presence of the feta cheese. However, vegans can definitely opt out of using this type of cheese in place for their favored vegan cheese or a vegan feta cheese option. If you don't favor feta very much, feel free to substitute it with some vegan ricotta or cream cheese. Any of these cheeses will still yield the same tasteful result.
What other bread can I use?
Tomato basil bread is highly recommended to go with this veggie sandwich as they would in Panera. However, you may also choose to use any type of bread to your liking! Some recommendations that go well with the Panera Mediterranean veggie sandwich are white whole grain and classic white miche. If you wish to make your own sandwich bread at home, you can also check out our Low-Calorie Italian Bread Recipe.

What can I substitute for the jalapeno hummus?
Jalapeno hummus can be found in many grocery stores and supermarkets. But feel free to change it up to regular hummus or make your own hummus at home. You may also choose to do regular hummus and add bits of chopped jalapenos if you so desire.

Is there another pepper I can use aside from Peppadew peppers?
The Peppadew peppers in this recipe add the perfect balance of sweet and spicy and can be found in most groceries. But you may also opt for pickled cherry peppers or pimentos. They may not yield the same sweetness you'd get from the Peppadew peppers. However, if you're still craving for that bit of sweet taste to the peppers, you can toss them in some honey for extra flavor.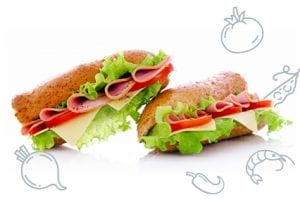 Conclusion
This is the best veggie sandwich you can possibly imagine! It's got the best combination of fresh vegetables and added heat from the peppers and jalapeno hummus for a tasteful sandwich. You can make this anytime at home for a quick lunch or snack. Try these with a serving of some of your favorite soup and an ice-cold drink to get a fully loaded meal.