Craving for something to satisfy your sweet tooth? You've come to the right place. Nothing can beat a brownie in terms of providing that teeth-tingling sweetness. In this recipe, we'll show you how to make fudge brownies inspired by the brownie recipe of Panera Bread.
These fudge brownies are moist and chewy, you might want to forget your diet for a while. Follow these simple steps and you'll have these scrumptious and heavenly Panera Bread-inspired fudge brownies.
Serve it with milk or coffee, this simple fudge brownies from Panera Bread will leave you wanting more. Lucky for you, you won't need to get out of the house to have them.
Panera Fudge Brownie Recipe Video
How To Make Panera Fudge Brownie
Lucious and decadent chocolate flavored brownies with a creamy chocolate frosting.
Advertisement
Continue Reading Below
Ingredients
Brownies
½

cup

soft unsalted butter

3

oz.

chocolate,

unsweetened, chopped

1

cup

brown sugar

2

large eggs

1

tsp.

vanilla extract

¾

cup

flour

1

tsp.

baking powder

½

tsp.

salt

½

cup

semisweet chocolate chips
Frosting
6

tbsp.

soft unsalted butter

⅓

cup

unsweetened cocoa powder

⅙

tsp.

salt

¼

cup

powdered sugar

½

tsp.

vanilla extract

5

tbsp.

milk
Instructions
Preheat the oven to 350 degrees F and prepare a square baking dish.

Combine the chocolate and butter for the brownies in the microwave for 1 minute.

Stir until the mixture is smooth. Set aside.

Add in the sugar, eggs, and vanilla extract until pale & fully combined.

Carefully pour the melted chocolate into the creamed sugar mixture & mix until combined.

Sift together the flour, baking powder, and salt. Fold both the dry & wet mixture together until combined.

Fold the chocolate chips and pour into a greased pan.

Bake 30 minutes until a toothpick comes out clean.

Let the brownies cool completely.

Meanwhile, make the frosting by creaming the butter, cocoa powder, and salt together with a mixer. You can also use a hand whisk, if preferred.

Mix on low to incorporate the powdered sugar.

Add the vanilla and milk slowly until you reach the consistency you want.

Spread the frosting on the brownies and serve.
Advertisement
Continue Reading Below
Advertisement
Continue Reading Below
Commonly Asked Questions
How Will I Know If the Brownies Are Done?
The old toothpick method can be helpful in determining whether or not the fudge brownies are already done. Stick a toothpick in the middle of the pan. If it comes out clean, then it is already good to go.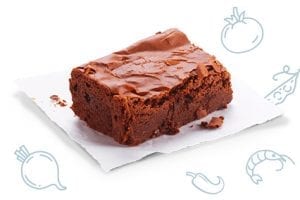 Conclusion
Enjoy these Panera-inspired fudge brownies. It's sweet and delicious. It will definitely satisfy your sweet cravings. Experiment on the fudge by extending the time inside the microwave.
Advertisement
Continue Reading Below
Topics:
Advertisement
Continue Reading Below
Related Bars And Brownies Recipes
Advertisement
Continue Reading Below