Feeling like there's something lacking in your usual dining? Check out this grilled salmon recipe and discover how you can turn the traditional grilled salmon into something more flavorful! We'll show you how to make herb grilled salmon recipe, the Olive Garden Way.
The secret of this grilled salmon recipe, of course, is in the fresh parsley that we'll be infusing into the salmon. Feel free to experiment and add in your preferred herbs to give your grilled salmon a more personal flavor. This stunning and sophisticated dish is perfect for lunch and dinner dates.
If you're outdoors, you might want to try and fish salmon. Using salmon caught in the wild can also add more flavor to this grilled salmon recipe, because of the variety of food it eats. You can also switch up your salmon seasoning by making your own. Learn more about it by reading our Recipe Notes just after the instructions!
Serve this herb-grilled salmon with your preferred wine, and it will feel like a fancy dinner. To make your dinner a complete fine dining experience, serve your grilled salmon with Pecan Chicken Salad.
Olive Garden's Herb Grilled Salmon Recipe
How To Make Olive Garden's Herb Grilled Salmon
Serve perfectly grilled salmon topped with garlic herb butter for a healthy and scrumptious dinner. Discover how you can make your salmon flavorful like Olive Garden's.
Ingredients
For Grilled Salmon:
1

lb

salmon fillets with skin

4

tsp

olive oil,

extra virgin

2

lemons

2

tbsp

Italian seasoning

salt and pepper
For Garlic Herb Butter:
½

cup

butter,

unsalted

1

clove

garlic

¾

tsp

fresh parsley,

chopped
Instructions
Garlic Herbed Butter:
Combine all ingredients in a small bowl.

Transfer your butter mixture onto a greased paper. Roll until it forms a cylindrical shape.

Twist both ends tightly & keep in the chiller until ready for use.
Grilled Salmon:
Preheat a greased flat griddle to medium heat.

Using a halved lemon, squeeze its juice around the salmon.

Season the salmon with salt, pepper, & Italian Seasoning, rubbing them well on both sides. Allow the salmon to briefly marinade on a slotted tray, at least for 15 minutes.

Place the salmon on the grill skin side down and brush with oil on both sides. You may also use cooking spray if preferred.

Cook the salmon, flipping it regularly until it is cooked through.

Bring your butter out from the chiller & slice a ½-cm thick ring. Return any excess back to the chiller, & discard any paper wrapping of the cut portion.

Once the salmon is cooked, serve it with rice, lemon wedges, your garlic butter on top, & your choice of vegetables.

Serve and enjoy!
Recipe Notes
You can serve your grilled salmon with rice or salad. 

Garnish with rosemary or parsley and squeeze in additional lemon juice. 

If you're out of Italian seasoning, you can make your own homemade salmon seasoning by mixing 2 tablespoons each of basil, oregano, and parsley with 1 tablespoon each of rosemary, thyme, and garlic powder. Mix thoroughly until all of the herbs are combined.

For extra flavor and zest, you can also place a layer of lemon slices underneath your salmon and prevent it from sticking to the pan.

 
Nutrition
Sugar:

1g

:

Calcium:

76mg

Calories:

428kcal

Carbohydrates:

7g

Cholesterol:

62mg

Fat:

35g

Fiber:

3g

Iron:

2mg

Potassium:

674mg

Protein:

24g

Saturated Fat:

7g

Sodium:

319mg

Vitamin A:

1103IU

Vitamin C:

29mg
Nutrition Disclaimer
Frequently Asked Questions
Do I put my salmon directly on the grill or should I use foil?
We grill our salmon wrapped in aluminum foil to retain moisture, making the salmon meat tender. Through this, we're also allowing the flavors to seep through its flesh. Grilling with foil also prevents the fish from sticking to the grill. But if you want a crispy and perfectly browned exterior for your salmon it's best to grill it directly with the skin on. Just remember to make sure that the grill is hot or you can brush some oil on the fish before grilling to make sure it doesn't stick.
How do you properly grill salmon?
It all starts with the right grill. We recommend using a gas grill when cooking salmon since you can easily adjust the heat. The ideal temperature for grilling salmon is between 350 to 400 degrees Fahrenheit. We highly recommend oiling the grates and covering the grill while you cook. This will allow the fish to cook evenly and retain its flavor. Also, remember to first grill the fish skin-side down, let it cook for 3 to 4 minutes, and flip once the skin turns crisp.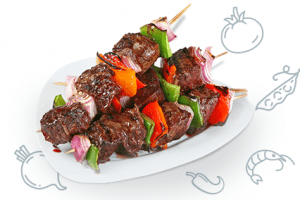 Conclusion
Enjoy this herb-grilled salmon for your next cookout or summertime dinner. It's simple, easy, and absolutely delicious! You can also play with the flavors of your grilled salmon by experimenting with the herbs. Add some basil or rosemary, it's totally up to you!