If we're talking about classic comfort food desserts, nothing beats Krispy Kreme's glazed donut. Just by reading that, We're sure you've imagined the signature treat of Krispy Kreme—a soft and fluffy golden donut covered in a sheer sweet glaze. Try it once and you'll never forget the taste and scent that will leave you wanting more! We love our glazed donut with a cup of coffee for breakfast or brunch. But let's be honest, we'd enjoy it any time of the day! For other light and delicious breakfast recipe ideas, try out our Sprite Apple Dumplings and Rice Griddle Cakes.
Krispy Kreme's Original Glazed is a timeless recipe that dates back to the 1930s. It's a plain, simple and classic sweet treat that we'll never get tired of having. Another amazing thing about it is that it's delicious and tempting enough to eat as it is. At the same time, it gives your palate a new trip for the senses once enjoyed hot! This crispy and creamy donut off the pan will give you a fluffier and chewy bread with a stunning glossy finish from the sweet glaze that gives a party of sweet flavors in your mouth.
We can't deny that it's a crowd favorite. Whether you want to make them for yourself or as the perfect dessert for a party or as a gift. We have no doubt that this homemade copycat Krispy Kreme Original Glaze recipe is the way to go. Making donuts might intimidate you, but worry not because we made it easy for you in this glazed donut recipe! In less than 3 hours, you can enjoy delicious light and fluffy donuts covered in that signature sweet glaze. The best thing about it is that you can enjoy your favorite KK glazed donut whenever and wherever you want!

Tip: You can try making different flavors for the glaze, just choose which flavoring or extract to use! But the classic glaze is gonna be hard to beat.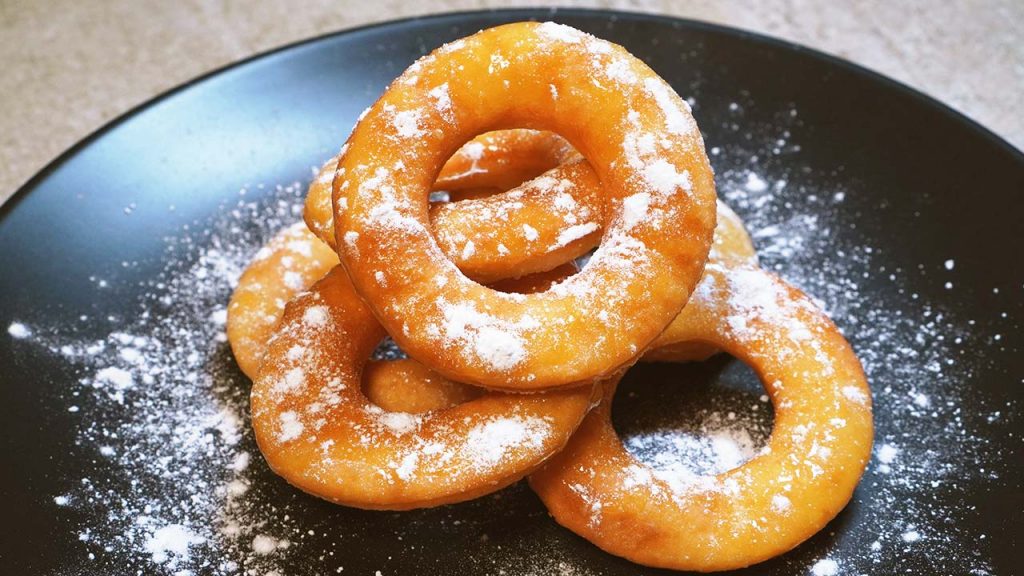 Krispy Kreme-Style Glazed Donut Recipe
How to Make Krispy Kreme-Style Glazed Donut
The easiest homemade copycat glazed donut recipe inspired by Krispy Kreme's Original Glaze. Serving fried golden donuts covered in a sheer sugar glaze that melts in your mouth. Every bite is sensational with the soft and chewy bread that goes perfectly with our classic sweet glaze.
Resting Time:
2

hrs
10

mins
Ingredients
For Yeast Mixture:
4½

tsp

yeast

½

cup

water,

lukewarm

1

tsp

brown sugar
For Dough:
2

cups

all-purpose flour

1

egg

¼

cup

brown sugar

1

tsp

salt

4

tsp

butter

½

cup

milk
For Glaze:
2

tsp

butter

3

tbsp

evaporated milk

1½

tsp

vanilla extract

1

cup

powdered sugar
Instructions
Yeast Mixture:
To make the Yeast Mixture: Add the yeast, water, and brown sugar to a bowl and mix well.

Set aside and let it bloom for about 5 minutes.
Dough:
In another bowl, add the flour, egg, brown sugar, salt, butter, and milk. Mix well.

Add in the bloomed yeast mixture and continue to mix until well combined.

Transfer the dough mixture onto a flat surface dusted lightly with flour and knead. Knead until the dough has become smooth and elastic, about 5 to 10 minutes. Form into a ball.

Transfer dough to a greased and floured bowl and cover with a clean kitchen cloth. Let the dough rest for 1 to 2 hours, or until it has risen to double its size.

Lightly dust a flat surface with flour and turn the dough out onto it. Roll the dough out until ¼-inch in thickness.

Cut out the doughnuts using a doughnut or cookie cutter.

Let the dough rest for 10 minutes.

Fry the doughnuts at 375 degrees F for about 45 seconds each side or until golden brown. Cook your doughnuts a few pieces at a time to avoid overcrowding your pot. Drain excess oil.
Glaze:
To make the Glaze: Melt butter in a pan over low heat. Add evaporated milk, vanilla, and powdered sugar. Whisk until smooth.

Place doughnuts on a cooling rack, and pour the glaze onto the doughnuts. Allow to set.

Garnish with powdered sugar, and serve!
Nutrition
Sugar:

16g

:

Calcium:

30mg

Calories:

173kcal

Carbohydrates:

32g

Cholesterol:

16mg

Fat:

3g

Fiber:

1g

Iron:

1mg

Potassium:

73mg

Protein:

4g

Saturated Fat:

1g

Sodium:

233mg

Vitamin A:

129IU

Vitamin C:

1mg
Nutrition Disclaimer
Commonly Asked Questions
How would I know if my donuts are ready to be fried?
Check your donuts by lightly pressing them. If the indentation you make immediately disappears, your dough is not yet ready. But if the indentation stays, then the donut is good to go. If you have time, we recommend letting the dough first rise in the refrigerator for about 8 hours or even overnight, and then letting it rise for the second time at room temperature for 1½ to 2 hours, which is what we did in this recipe.
How can I shape my donuts without a donut cutter?
If you don't have a donut cutter, you can use jar tops or covers to cut the initial donut shape out and use the end of a large piping tip, a pub-style glass, or a baby food jar, to cut out the inner donut hole. A regular-sized drinking glass and a small shot glass can give similar results.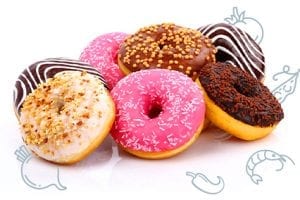 Conclusion
Who can resist fried golden donuts that go perfectly with a layer of sweet glaze? We're bringing this timeless combo into your kitchen and you'll love making it again and again! Enjoy it warm with your melted glaze or let your hardened glaze melt in your mouth in every bite. Hurry and make this classic glazed donut recipe for a new favorite dessert recipe and enjoy your favorite KK donut just the way you want it.